East Grand Forks School Board to set date for special meeting to consider relaxing COVID-19 requirements
COVID-19 numbers in the district have fallen since the board last month voted to require masks for students in sixth grade and younger. The board will meet early next week on a to-be-determined date to go over updated COVID-19 numbers and discuss future mitigation strategies.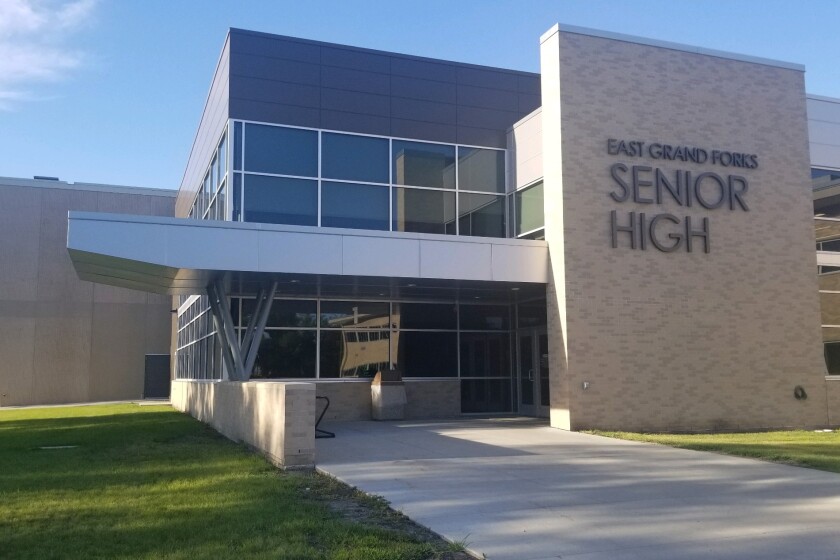 We are part of The Trust Project.
The East Grand Forks School Board intends to call a special meeting sometime next week to go over COVID-19 numbers in the district and discuss the possibility of relaxing some COVID mitigation strategies. A date has not yet been set for the special meeting, but it likely will be held Monday or Tuesday, Oct. 18-19.
The school year started with the board recommending, but not requiring, masks for all students. As COVID numbers rose quickly after the start of the school year, the board decided in mid-September to require masks for students in grades six and younger, since that age group is unable to be vaccinated.
Since then, COVID numbers in the district have decreased, and at the regular School Board meeting Monday night, Oct. 11, Kolness said it's clear that tightening those safety measures was the right call.
"The mitigation strategies that have been put in place have helped dramatically," he said. "Am I considering making a recommendation to potentially transition to a lesser mitigation strategy? I am. But I want to look at the information and make sure we're in a good place. I do worry that if we go through there and increase the number of cases in the district, and we aren't requiring masks, then we're going to have more kids in quarantine, and we really want them in school."
Still, multiple parents spoke during Monday night's board meeting to oppose the masking requirement.
Faced with questions about whether the district has accepted money to implement a mask requirement, Kolness replied it has not. The district receives federal ESSER funds intended to provide COVID relief to schools. As part of that funding, schools are required to post safety mitigation plans online, but funding is not contingent on the contents of that plan, including whether masks are required.
Here's what else happened Monday night:
Polk County Public Health Director Sarah Reese reported that COVID-19 numbers in the county have risen from 21 cases in July to 178 cases in August to 510 cases in September, with October numbers projected to look similar. She noted that children and teens appear to be getting sicker in much higher numbers than in past surges, with children ages 0 to 19 making up more than 40% of cases in recent months. To her knowledge, none of the patients currently requiring ICU care is younger than 19, she said.
Since the last board meeting, Kolness reported district enrollment has decreased by about five students. In that time however, the district has picked up seven new students who don't speak English, including students who speak primarily Somali, French and Spanish. District enrollment is currently about 1,900 students.