East Grand Forks Public Schools requires masks, testing for unvaccinated employees
A federal "emergency temporary standard" prompts East Grand Forks Public Schools to require its employees to either get vaccinated or wear a mask and regularly get tested for COVID-19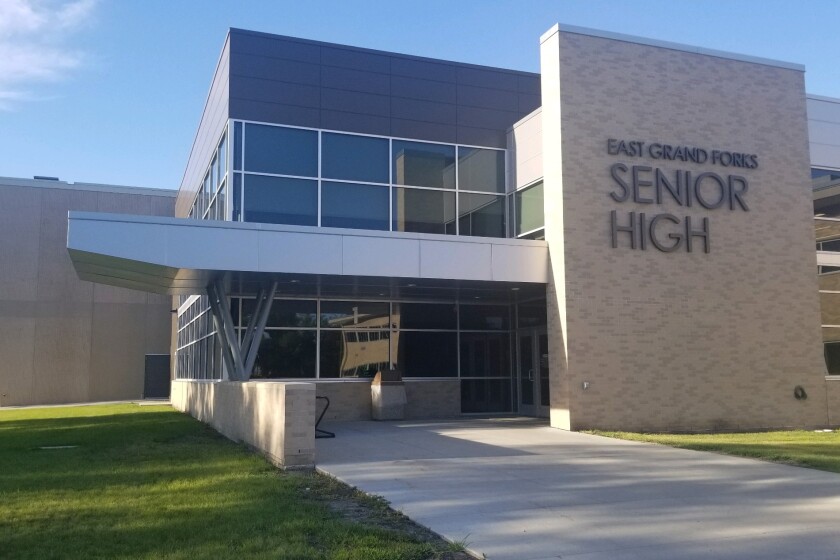 We are part of The Trust Project.
EAST GRAND FORKS — East Grand Forks Public Schools staff will be required to make a choice: provide proof they've been vaccinated against COVID-19 or wear a mask on the job and be regularly tested for the virus.
School board members voted unanimously on Monday, Jan. 10, to adopt policy 491, which requires employees who are not fully vaccinated to wear a mask when they're indoors or driving with another person for work purposes. Unvaccinated district employees who report to work at least once per week must, per the policy, also be tested for COVID at least once every seven days and provide documentation of their test to the district. Unvaccinated employees who report to work less frequently than that must be tested before heading to their workplace.
The policy is a direct result of an "emergency temporary standard" put in place by the Occupational Safety and Health Administration via an executive order issued by President Joe Biden on Sept. 9. The temporary standard pushes businesses with more than 100 employees to require their workers to be vaccinated or to get tested once per week.
"However we feel about it or don't feel about it, as of right now, it's the law," Brandon Boespflug, the school board's president, said Monday of the policy. "So we have to do it."
The rule is currently being challenged in the U.S. Supreme Court . District leaders could have adopted a harsher policy that, according to Superintendent Mike Kolness, required employees to be vaccinated or not work at all.
Across the river in North Dakota, Grand Forks Public Schools leaders have not instituted a similar vax-or-mask policy. That's because "local education agencies" are not subject to OSHA regulation unless the state in which they reside has instituted an OSHA-approved state plan. Minnesota and 20 other states have such a plan, but North Dakota does not.
Staff at Grand Forks Public Schools did not reply when the Herald asked if they were prohibited from instituting a policy that's the same or similar to OSHA's temporary standard.
Fewer formal meetings and an enrollment dip
In related news, East Grand Forks School board members on Monday:

Agreed to schedule fewer regular board meetings. They're now set to meet on the second Monday of each month and schedule on the fourth Monday, as needed, either a second meeting or a "work session" during which they can informally discuss school district business. District staff surveyed 14 other northwest Minnesota school districts, including Thief River Falls and Crookston, and found that only two others had regular meetings twice per month.
Were briefed on districtwide enrollment, which is slightly lower than it has been in previous years. School district administrators counted 1,886 students across all grades there this month, a figure that's lower than the ones recorded each January since the 2016-17 school year.