Drivers in Grand Forks seem to have overcome hesitancy about roundabouts, engineer says
Three roundabouts in Grand Forks have worked well according to traffic engineer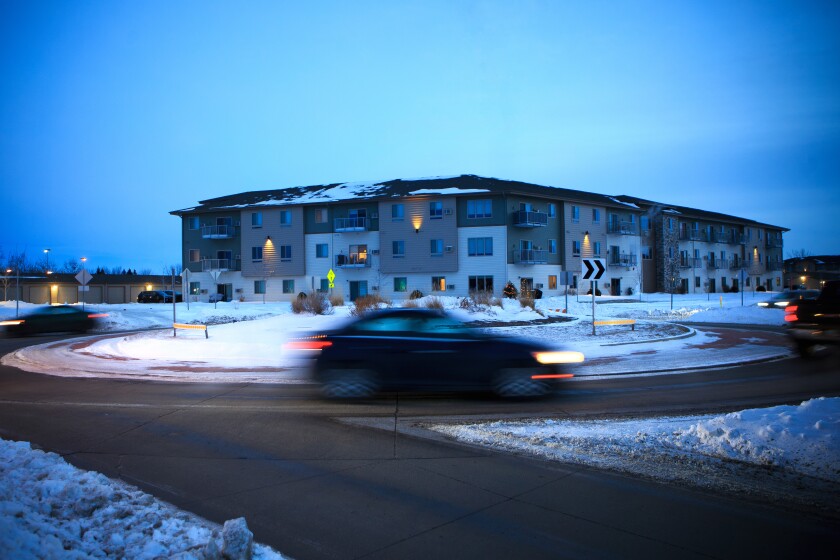 GRAND FORKS — Drivers in Grand Forks are gaining confidence with roundabouts, a city traffic engineer says.
The roundabout on 24th Avenue South and South 34th Street, one of three utilized on a daily basis in Grand Forks, was at first met with skepticism from residents.
"When we initially put that one in, we had many people that doubted it would work very well, but it has," said Jane Williams, Grand Forks traffic engineer.
Three roundabouts have been installed in the city: one at the three-way intersection of 24th Avenue South and South 34th Street, one connecting South 34th Street to 40th Avenue South and another at Grand Forks International Airport.
From 2018 to 2020 there were four crashes on the roundabout at 24th Avenue South and South 34th Street. Williams said three of those crashes were on ice and snow and one was a rear-end accident. Also, two incidents occurred when drivers hit a sign, and not another vehicle.
Crash data for the other two roundabouts was not immediately available, Williams said.
The crashes that do occur at roundabouts are often less severe than those that occur at other intersections as the traffic is moving much slower, at around 15-20 mph, and the crashes tend to be sideswipes.
"In a lot of cases they are safer from the standpoint that instead of having crashes where you have high volumes of vehicles in both directions, with a roundabout they're going much slower," Williams said. "If you have a sideswipe, there may not even be any damage to the vehicle and no one gets hurt."
Several studies have touted the safety of roundabouts. According to the American Association of State Highway and Transportation Officials, roundabouts reduce fatal and injury crashes by 78% compared to intersections with traffic signals. Roundabouts reduce fatal and injury crashes by 82% compared to intersections with two-way stops.
Roundabouts also can be safer for pedestrians and bicyclists to cross, depending on the level of traffic. While some busier intersections would require a traffic signal for pedestrians to use, "in a low-volume situation, it's great," Williams said.
Roundabouts are designed to keep the flow of traffic moving. This can have environmental benefits as well with the reduction of air pollution from the use of brakes. Studies have shown that roundabouts reduce emissions of carbon monoxide, nitrous oxide, carbon dioxide and hydrocarbon.
Still, hesitancy surrounding roundabouts is always anticipated when plans are in the works to install them, as people may not know what to expect.
"A lot of traffic engineering is based on perception and life experience," she said. "Every single person has a different life experience that when they look at something, they may react to it differently."
When deciding if a roundabout should be placed at an intersection, Williams said extensive planning is needed to determine the safest option for drivers and pedestrians, and what works best at the intersection. If an intersection is lopsided or if the traffic volume isn't the same on either side, then a roundabout may make the most sense.
The cost of the type of intersection also factors into the planning.
"You can put in a four-way stop, which is the most inexpensive, but then you'll have to look at what type of crashes you'll have," Williams said.
While the cost of installing a roundabout and a traffic signal is the same — approximately $500,000 — roundabouts cost less to maintain.