In wake of 'inexcusable' social media posts, Grand Forks superintendent will form committee to address racism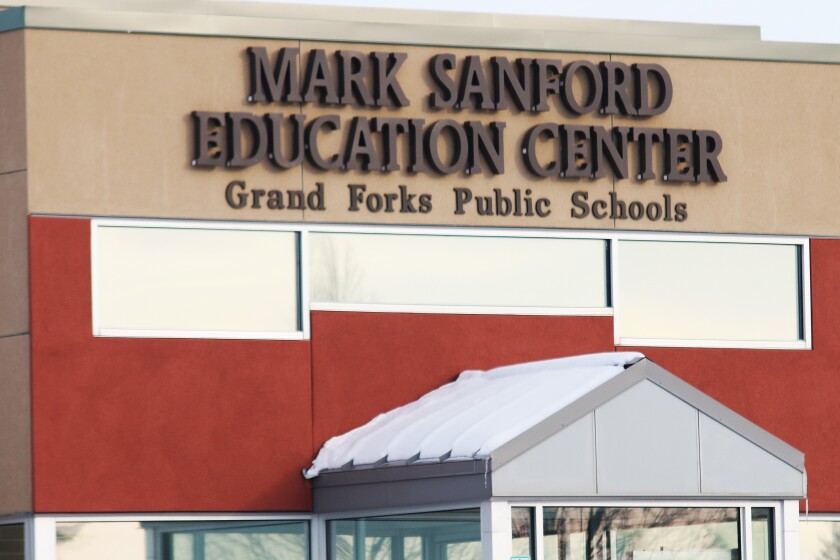 Superintendent Terry Brenner will immediately assemble a committee on diversity, equity and inclusion to deal with issues raised by what he called "reprehensible language" posted by some Grand Forks Central High School students on social media late last week.
The turn of events "magnifies the issue of racism," Brenner told the Grand Forks School Board at its meeting Monday, June 8.
He found the posts to be "vile, vulgar, racist, intimidating, threatening, inexcusable and unwelcoming," he said.
"The last few days have been personally and professionally troubling for me," he told the board.
The posts displayed an "utter lack of humanity," said board member Shannon Mikula, noting that teachers and student leaders should be included in the committee's efforts.
"Some newcomers to our community are being told to go back to their country," said Cynthia Shabb, a board member and executive director of Global Friends Coalition.
The district will take steps to "reshape our policy" concerning bullying, Brenner said. "We need to add more teeth here."
Numerous steps the district has taken over the years to create a welcoming culture "are clearly not enough," he said.
Brenner said he envisions mandatory courses that provide "a deep understanding of the issues" and other actions to ensure that every student who enters a Grand Forks school experiences an environment of "inclusivity, respect, and physical and emotional safety."
A statement regarding this matter will be posted on the school district website Tuesday, June 9, he said.
The district has conferred with Grand Forks police regarding the possibility of criminal charges, and is seeking legal counsel concerning future action, Brenner said. Consequences for the students involved could include suspension, he said.
Board President Bill Palmiscno praised Principal Jon Strandell's quick action in the form of emails to Grand Forks Central High School families.
"(They) were excellent," he said.
The board can expect a recommendations report from the Long-term Facility Task Force, which has been studying the district's facilities and budget picture, in mid-October or early November, said Tom Weber, senior business consultant for the SitelogIQ firm hired by the board to provide pre-referendum services.
Interruptions caused by the pandemic delayed the progress of the 50-member group, Weber said. The group began meeting March 12, shortly before the public health emergency was declared.
Members are eager to tour facilities, as soon as it's possible within COVID-19 guidelines, to see firsthand the building conditions they've been studying and discussing recently in their weekly Zoom meetings, Weber said.
Board member Doug Carpenter, who was assigned, along with Amber Flynn, by the board to monitor the group's progress, has attended most of the meetings, he said.
"The process has been going really really well," Carpenter said, complimenting the district administration staff for their responses to questions from the group. "I think we'll get some good recommendations out of this process."
In other action, on second reading of the policy, the board approved, by a vote of 7-2, increasing School Board member's annual compensation by $1,000. The action takes effect at the beginning of the 2020-21 school year.
Board members' compensation will be increased from $4,000 to $5,000; the board president's compensation will be increased to $6,000.
Cynthia Shabb reminded board members that the School Board voted to decrease compensation by $1,000 several years ago.
Even at the newly increased levels, Grand Forks School Board compensation is lower than any other in the state, she said.
Voting in favor of the motion were Carpenter, Flynn, Jacqueline Hoffarth, Eric Lunn, Jeff Manley, Shabb and Matt Spivey. Voting against it were Shannon Mikula and Palmiscno.
West Elementary School, which will continue to meet next year within Discovery Elementary School, will not have a kindergarten next year because of low enrollment, said Jody Thompson, associate superintendent of elementary education.
In a recent survey, West parents were asked what school their children would attend. At this point, the West kindergartners total 7, Thompson said.
Parents have been given the option of having their children attend Lake Agassiz or Winship elementary schools.
Some parents have expressed concern about West's future, saying that if their children "are at Discovery for this (coming) year, they'd never go back to West," said Arlene O'Halloran, a West teacher who addressed the board.
Several board members said West is being considered as part of all the district's facilities by the Facility Task Force. Brenner said the task force has been asked to come up with recommendations that "would be best for all 19 of our campuses, and not just one."
The board also accepted bids for two types of bonds at "significantly lower" interest rates than the district has been paying.
At the lower rates, the school district will realize about $700,000 in interest savings over the next 14 to 15 years, Scott Berge, the district's business manager, told board members.
"There is no added risk," Berge said, and "the rates are lower than in the pre-COVID environment."
In other action, the board recognized and thanked board member Spivey and student members Riley Thoreson and Oliver Wolfe, who recently graduated from Red River and Grand Forks Central high schools, respectively, for their service on the board