Grand Forks teachers union worried about trend of physical violence in local schools
In the last year and a half, there have been more than 160 reportable incidents in Grand Forks Public Schools related to teachers receiving some sort of injury from students. It is a growing issue nationally, as reports in Florida, Iowa and elsewhere attest. The Grand Forks district, meanwhile, notes that it has made efforts to improve safety and security.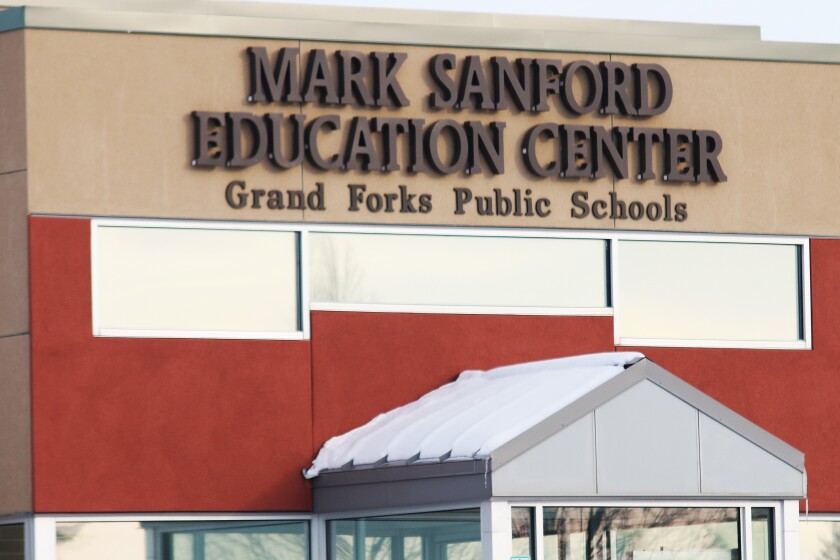 Grand Forks Public Schools students have caused scores of reportable injuries to school staff in more than 160 incidents since the beginning of the 2018-19 school year. The injuries include cuts, bruises and punctures to arms, limbs and soft facial tissue, a dislocated tooth and more.
The local educators' union worries the incidents represent a growing trend of students' physical and verbal abuse that has been insufficiently addressed.
"What we are concerned about is a lack of resources that are available to do what's best for students, and what's best for students is going to be what's best for educators as well," Amanda Weston, president of the Grand Forks Education Association, said as the Herald sought specific data related to teacher injuries earlier this week. "Some things that you're going to hear about are, like, verbal aggression but also emotional abuse and emotional aggression. And two, we had reports of teachers getting head trauma injuries, broken fingers, cuts, lacerations, bruises, things like that."
Earlier this year, in an October interview with the Herald, Weston described shifting student needs that are "overwhelming" education.
"Grand Forks Public Schools has not asked the community of Grand Forks for increased assistance in decades," she said then. "We are in a crisis. Even with all hands on deck, the quality of our children's education is in jeopardy the way we are able to currently serve them. The need for more resources, especially more personnel, is critical. The resources to appropriately train that personnel is equally critical."
Deeper details of incidents and the injuries that resulted from them were obtained by the Herald Friday via an open-records request. The documents, which cover the past year and half, offer previously unreported insight into the issue, one that is a concern in school districts elsewhere in the country.
A pair of documents provided to the Herald by school district spokeswoman Tracy Jentz detail incidents and resulting injuries to teachers, paraprofessionals and other staff. A significant majority of the incidents involved special education staff, but range through other school staff, including a cook manager who received lower arm contusions, and an associate principal who suffered a lumbar "sprain/strain."
According to Grand Forks Public Schools records, there were 105 incidents – involving students causing at least some sort of injury to staff – reported during the 2018-19 school year. During the current school year, through Nov. 1, there have been 59 incidents, which tends to indicate the number could be higher this year than last year.
During that year and a half span, staff have reported roughly 60 "sprain/strain" injuries, about 80 "contusion" injuries and several dozen others that include lacerations, punctures, inflammation or dislocation.
Among the injuries are "facial soft tissue" lacerations described in a Sept. 13 incident with a special education teacher, and a "sprain/strain" on "nose, left eye, facial soft tissue" for a substitute paraprofessional in an incident from several days earlier. Other staff injuries include lacerations to the chest and neck and a "sprain/strain" to the "facial bones."
Initially, the Herald was provided only incident numbers, without details of the injuries. In correspondence with Herald staff, district officials declined to give more specific information, citing legal advice and a commitment to student privacy mandated under federal education law.
The Herald responded with a letter that cited a state law that declares "a public entity may not deny a request for an open record on the ground that the record also contains confidential or closed information."
Friday, the district provided the documents.
The names of all staff involved in the incidents have been redacted from the documents, as have some staff members' job titles. The Herald agreed to accept the redacted information in its request.
Though the data released on Friday only describes relatively recent incidents, Weston said the classroom "behavioral health" problem — which she said includes both physical and verbal abuse from students — is growing.
"Students are coming to school with more behavioral health issues," Weston told the Herald in October. "Kids are coming in with deficits in social skills and problem-solving skills. They are coming in without the same skills they used to have. This is not just a school issue — it's a community-wide issue."
And at the heart of the Grand Forks Education Association's position is a plea for more resources to deal with the problem. It's an argument that intersects with many of the community's local economic concerns , which have centered on low unemployment combined with a need to build a larger, more robust workforce.
"We're very understaffed," Weston said this week. "So the resources that we're talking about would be additional paraprofessional support, additional training — a lot of times, when paraprofessionals come into our district, it's a very transient job, and also it is a job that doesn't offer benefits or leave. And so you're going to find that people are under-prepared and undertrained to be paraprofessionals. So we're really needing the resources to reach out and to pay appropriately so that we can attract the best candidates to be in those positions.
"Two, we just need more help with outside resources," Weston continued. "We're looking at needing help to bring in mental health and behavioral health therapists, being able to maybe provide alternative settings, so the students can be truly actually taught in their least restrictive environment."
Paraprofessional staff have been involved in the majority of the district's recent incidents involving student-on-staff injuries. For example, of the 105 occurrences in 2018-19, paraprofessionals were involved in at least 60 reportable incidents.
Financial resources have been a pressing issue for the district. The school is weighing the future of a local referendum that would seek funding for tens of millions of dollars in deferred maintenance needs.
And concerns about teacher safety have been echoed around the country recently. A special educator in Bremerton, Wash., recently filed a federal civil-rights lawsuit alleging a hostile work environment after she said local school officials failed to take concerns for her safety seriously. The safety of educational staff is a serious issue in Florida, as well, according to a South Florida Sun Sentinel investigation.
The national television network CBS recently reported on student aggression, profiling a former teacher from Iowa who quit her job, saying she was "frustrated and, frankly, scared" by her students.
Earlier this month, Jentz, the Grand Forks Public Schools spokesperson, provided the Herald with a list of curriculum and programs used to help decrease student misbehavior and "connect families to community resources." She also pointed to a slew of recent staff hired in the 2018-19 school year, including "two full-time equivalents elementary behavior facilitators" — staff that can "assist with observations, create behavior plans, and train paraeducators and teachers" — and said the district also expanded its social work and counseling staffs.
In a prepared statement emailed to the Herald, Superintendent Terry Brenner said the district's administration is "acutely aware of the rise in student behavior that results in adult injury." He pointed out that the district recently received a certification for its "safe, supportive and collaborative learning environments."
"Moreover, it's important for everyone to know that we work within the parameters of the law to provide the least restrictive learning environment for all students, which could include alternative learning settings," he said. "Like schools across the nation, we are engaged in professional development and specialized training for staff that mitigates the likelihood of aggressive student behaviors."
In addition to adding staff, Jentz said the district has made other strides to help improve safety and security.
Among the efforts, as reported by the district:
Professional Assault Crisis Training (Pro-ACT) is offered multiple times throughout the year for general and special education employees. This training provides a framework and principles for responding to the behavioral needs of students.

Professional development is provided on Adverse Childhood Experiences (ACEs), Trauma-Sensitive Schools, and suicide prevention and intervention.

Prevent-Teach-Reinforce (PTR) training, which increases the capacity of special education employees to create and implement effective behavioral support plans and functional behavioral assessments.

Special education employees hold monthly meetings at all school sites to provide technical assistance and direct support for employees with students having behavioral needs.

State Systemic Improvement Plan (SSIP) has been initiated to focus on the use of evidence-based practices for students with behavioral, social-emotional, and mental health needs.

Grand Forks School Board policy on Restraint and Seclusion, which is based on guidance from the National School Board Association. This information is reviewed and updated to include new legislation.

Seclusion And Restraint Procedures (SARP) are in place and a committee reviews the SARP protocol, data, and cases, with data being reported to the state of North Dakota.Integrated curriculum and programs that have been proven to increase school safety.
Individual student safety plans are developed which reinforces teaching self-regulation and behavior replacement strategies. Families are included in the creation of these plans.

Alternate spaces are available to allow students to reset during dysregulation.

The Student Transitional Education Program (STEP) provides an alternate setting for students who benefit from a smaller setting, where an emphasis on increased support for emotional and behavioral needs is provided on an individual basis.

Participation by district representatives on the Attendance Community Team (ACT), a bi-weekly meeting through Northeast Human Service Center to connect families to community resources.

Multi-Tiered Support Systems (MTSS) - both academic and behavioral.

When student supports are not working, we review the student's Individualized Education Plan (IEP) with their IEP Team (ex: parent(s)/guardian(s), special education case manager, regular education teachers, and administration).