Grand Forks school district gathers public input on priorities for use of anticipated $26 million in federal funds
Online survey shows math and reading instruction and access to mental health support rank as top priorities as schools seek to recover from impact of pandemic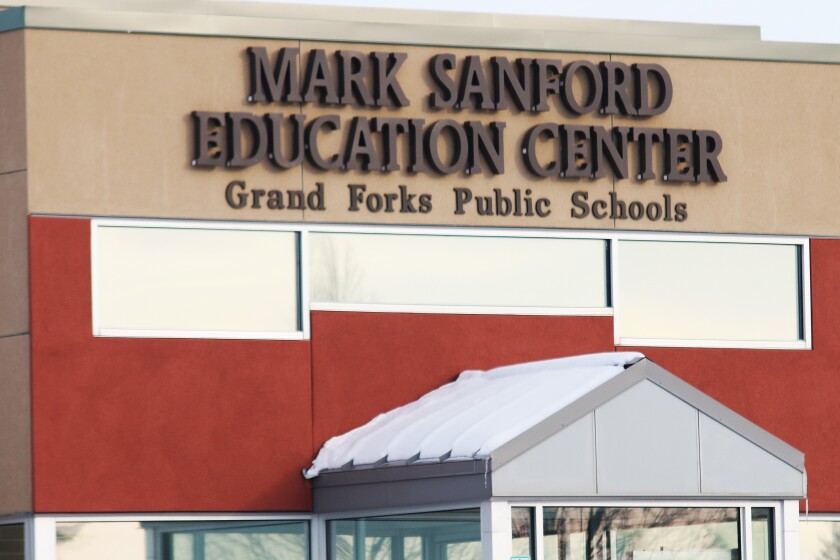 More support for reading and math instruction and the mental health needs of students ranked as top priorities in a recent survey on how best to use $26.7 million in federal funds the Grand Forks school district expects to receive in the next couple of years.
Nearly 40% of respondents to the district's online survey, conducted June 18-22, cited more access to mental health support, provided by counselors and school social workers, as top priority investments in the second and third rounds of ESSER funding. More access to mental health support was ranked at the top by 39.6% of respondents. ESSER stands for Elementary and Secondary School Emergency Relief.
Respondents were asked to select up to seven specific areas related to teaching and learning. For that item, 44.4% of respondents recommended hiring up to 16 reading and mathematics paraeducators.
The school district received "good feedback" from the survey, said Superintendent Terry Brenner at the Monday, June 28, special meeting of the School Board. Receipt of the ESSER funds "will bolster (the district's) general fund ... (and) help us catch up a little bit."
A total of 20% of the ESSER III funds must be directed toward "learning loss" caused by the pandemic, said Catherine Gillach, assistant superintendent of secondary education. For that effort, "we have a huge punch list."
The federal ESSER funds are part of the government's CARES Act. These funds are meant to reimburse schools for expenses incurred because of COVID-19, including indoor air quality improvements, technology and hiring teachers for distance learning, and learning loss caused by disruption in the traditional education model.
In the recent survey, other needs that school leaders and district administrators listed as concepts for respondents to consider included expanded summer school; adding school-year academic and social-emotional extensions and supports; providing more building-level supports; enhancing technology; and facility projects to improve indoor air quality.
A total of 859 responses were submitted in the survey, which was sent to all Grand Forks public school employees, parents, guardians, and students who were in grades 6-11 this past school year, and community members.
Respondents were asked to identify their affiliation with the school system -- whether student, current employee, current parent or guardian, or community member -- and what, if any, school they are affiliated with.
The Grand Forks school administrators expect to receive about $8.2 million in ESSER II funds and about $18.5 million in ESSER III funds, according to Scott Berge, business manager for the school district.
Results of the survey were presented to the Grand Forks School Board at a special meeting Monday, June 28. At that meeting, the board also finalized the results of the June 22 referendum and approved the district's application for ESSER II funds which was due in the state Department of Public Instruction office Wednesday, June 30.
Nearly 38% of survey respondents cited the need for facility projects to improve air quality and reduce potential transmission of viruses and bacteria.
Other concerns that were ranked as important included academic and social-emotional learning supports, at 36.8%, and behavioral health supports and interventions, at 35.9%.
Nearly 41% of respondents identified the need for the district to contract with two local mental health providers to increase school-based mental health supports.
A total of 42.5% respondents prioritized more reading and math supports for kindergarten-8th grade students.
Almost 40% cited the need to hire up to three additional school social workers; 36.7% prioritized more classroom and library materials for all schools; and about one-third of respondents ranked expansion of mindfulness curriculum for all elementary schools as a top priority.
The district's Mentor Center, which opened in January on the UND campus to provide extra academic and social-emotional support for middle and high school students during the pandemic, was also cited by 31.4% of respondents as a top priority that should be funded for the next two school years.
Asked to identify one area the district should focus on investing the largest amount of ESSER II and III funds, 29.2% of respondents said it should be integrated services for students most in need. Another 23.5% cited facility improvements, such as HVAC upgrades to improve air quality, and 23.4% prioritized the purchase of high-quality classroom materials and assessments.
Support to integrate social-emotional learning instructional practices was cited a priority by about one-fifth of respondents and professional development for adults was cited by 3.4%