Grand Forks School Board weighs second attempt to pass higher mill levy for building fund
Board will vote on resolution regarding another election at its July 26 meeting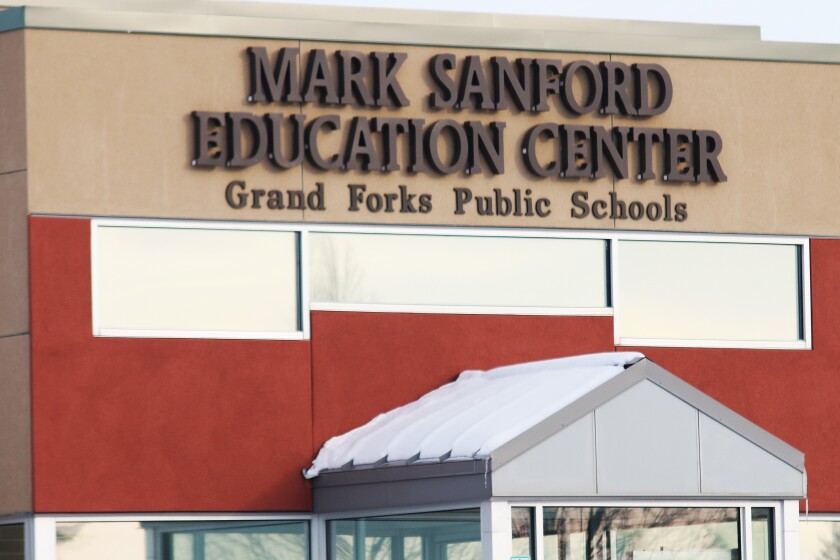 Administrators for Grand Forks Public Schools will prepare a resolution, for the School Board's consideration, to place a mill levy increase for the building fund before voters in a special election this fall. The move was decided at the board's meeting Monday, July 12.
It is expected the board will act on the resolution at its next meeting, July 26. If the resolution is approved, the election would be scheduled for Sept. 28.
When Grand Forks residents voted June 22, about 55% were in favor of the proposed 10-mill increase, but the measure required at least 60% approval to pass. In that election, voters also rejected the board's plan to issue $86 million in general obligation bonds for the construction of a new $64 million north-end school, which would house Valley Middle School and consolidate Winship and Wilder elementary schools, as well as fund other construction projects throughout the district.
In Monday's post-mortem of the election, Superintendent Terry Brenner said he believes the $86 million bond issue "was too big of an ask" and that the K-8 consolidation plan was not well-received by voters. That, coupled with the economic hardships caused by the pandemic, likely doomed the plan.
Some board members said they and others supporting the referendum did not convince voters of the infrastructure needs of the district.
The board needs to come up with "a reasonable argument" and "a reasoned approach to funding (to prove) we can make prudent investments and we can spend wisely," Shannon Mikula said. The plan would show "here's what we want to do in five years and in 10 years" to rebuild trust, she said.
Jeff Manley echoed similar concerns, noting that the $86 million ask was "a little too high for people to swallow." Some voters also were concerned that the new school's location, on the Valley site, would bring too much traffic to the area; others did not want to see a portion of University Park used for a new school.
"People like their neighborhood schools and are not ready to consolidate," Manley said.
Bill Palmiscno said people he talked with felt the ask was too high and it was "too large of a package."
"And when people are confused, or don't understand, they vote no. We have to keep it simple," he said.
Several members said that to realize a successful vote this fall, the board must engage the public with a robust communications plan, with clear and consistent messaging.
The June 22 vote represented "a huge outcry against consolidation," Mikula said. "Consolidation is not the only answer. Do we have bigger fish to fry than consolidation? I think so."
Doug Carpenter said, "While the ask was high, I think we didn't prove the need for that ask."
But it doesn't change the district's dire financial situation, he said. Engaging the community in discussion about a referendum next June should also start "almost at the same time."
Board members generally supported bringing the mill levy increase back to voters again, since it achieved a simple majority of votes, but fell about five percentage points short of passing.
"Let's get it right," said Chris Douthit. "We certainly have a lot of issues that are pressing. At least get it to 6% more, and then move forward."
If the Sept. 28 vote on the mill levy fails, the issue could not be brought to voters for at least a year after its initial failure, said Scott Berge, the district's business manager. The district would not be able to hold an election as part of the June 14, 2022, primary election; it would have to hold it sometime after that date, he said.
The board also approved the two-year contracts for district administrators. The salary for Berge has been set at $151,615 for year one and $154,951 for year two. The salary for Catherine Gillach, whose title has been changed from assistant to associate superintendent of secondary education, has been set at $158,000 for year one and $161,412 for year two. The salary for the district's chief academic officer, Amy Barstch, has been set at $125,834 for year one and $128,569 for year two.
During a portion of the meeting reserved for public comments on non-agenda items, board members heard from eight members of the public about concerns regarding the teaching of critical race theory in the schools and concerns about the impact of mask-wearing on children's health and academic progress. By law, board members are not permitted to respond to speakers, but Board President Eric Lunn indicated that their concerns will be addressed at a later meeting.
Speakers included those who identified themselves as parents, a nurse practitioner and a biochemist. Some cited statistics on the detrimental effects of masks on children's physical and emotional health.
Erin McSparron said all COVID restrictions in the district, such as mask-wearing and social distancing, should be lifted immediately and the use of Plexiglas dividers and contact-tracing cease.
In other business, board members:
Elected Lunn as president of the board and Amber Flynn as vice president; Flynn had been serving this past year as president
Were informed that a window in the main office at Ben Franklin Elementary School had been broken over the weekend and that a plan to replace it is underway.