Grand Forks School Board Finance Committee asks administrators to reduce next year's budget by $3.2 million
Any cuts would have to be carried through into future years, according to Doug Carpenter, board member and committee head.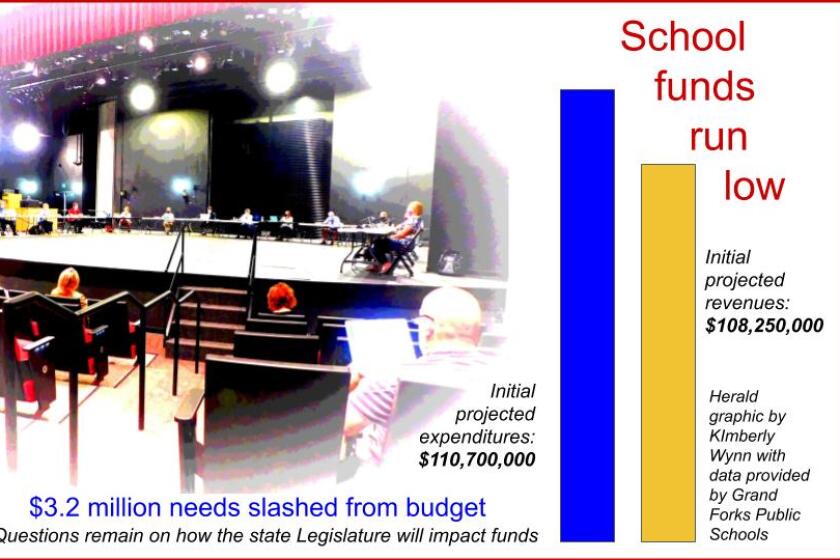 Grand Forks School Board's Finance Committee has asked school district administrators to find ways to cut $3.2 million from the '21-22 budget and bring those recommendations to the full board next month.
"We have very severe issues with declining fund balances," Doug Carpenter, board member and committee head, told the board at its regular meeting on Monday, Nov. 9.
Those reductions, totaling $3.2 million, would come out of $110.7 million in projected expenses and "will have to be carried forward for future years, too," Carpenter said.
The directive came out of recent Finance Committee meetings, in which members focused on long-range budget planning. Other voting members of the committee are Amber Flynn, board president, Shannon Mikula and Bill Palmiscno.
If the '21-22 budget is reduced by $3.2 million, it would mean that projected revenues would be $750,000 more than projected expenses, said Scott Berge, business manager for Grand Forks Public Schools.
The goal is to eliminate deficits and build up the district's general fund balance over the next several years, Berge told the Herald on Thursday, Nov. 12.
These figures are estimates and are subject to change, because actions by the 2021 North Dakota Legislature -- such as a change in the per-pupil state aid payment -- could impact the budget, he said.
If a referendum, which has been planned for 2021, is unsuccessful, "much more" than a $3.2 million budget reduction would be needed, said Eric Lunn, School Board vice president, at Monday's board meeting.
Carpenter said finance committee members who met Monday, Nov. 2 -- and plan to meet Wednesday, Nov. 18 -- discussed five-year budget planning and scenarios that would affect that planning, including "if the referendum does or doesn't pass, and what's anticipated to come out of the next (state legislative) session."
If the referendum fails, the board would consider "other steps we'd have to take," he said.
A sizable portion of the deficit spending that the district incurred in recent years has been tied to facilities, Carpenter said.
Those expenses have been a "major influence on our deficits," but the infusion of federal monies for COVID-related expenses has taken pressure off the physical plant improvement costs, Berge said.
At Monday's board meeting, Carpenter also cited the "good news" that nearly $3 million in federal resiliency grant funding is flowing to the district through the state, and that requirements concerning how it's spent have been expanded to include technology and physical environment improvements in schools.
The funds are part of the federal government's effort to help schools deal with expenses arising from the coronavirus pandemic. In the September aid infusion, funds were restricted to school staffing expenses, such as salaries for increased custodial and public health needs. Those restrictions are no longer in place.
The current stipulation, however, is that materials and equipment must be ordered and received by Dec. 31, he said.
At the board meeting, in response to a question by Cynthia Shabb about how the district is prioritizing physical plant projects, Berge said several projects have been identified as high priorities. They include heating and ventilation projects, totaling $2.95 million, at Grand Forks Central and Red River high schools, Ben Franklin and Century elementary schools and the Mark Sanford Education Center.
"We've been able to chip away at" these projects, according to Berge, a non-voting member of the finance committee. The new federal resiliency funds "would allow us to make significant upgrades at buildings with significant numbers of students," he said.
The funds also would allow the district to invest in "white boards," which are used as teaching aids. Some of these boards have failed at several schools in the district. Federal funds, totaling $369,000, will be used to replace them.
Berge said he is confident the district can receive the materials by Dec. 31.