Grand Forks School Board approves tax increment plan
Decision is another step toward advancement of four redevelopment projects, with total investment of $116 million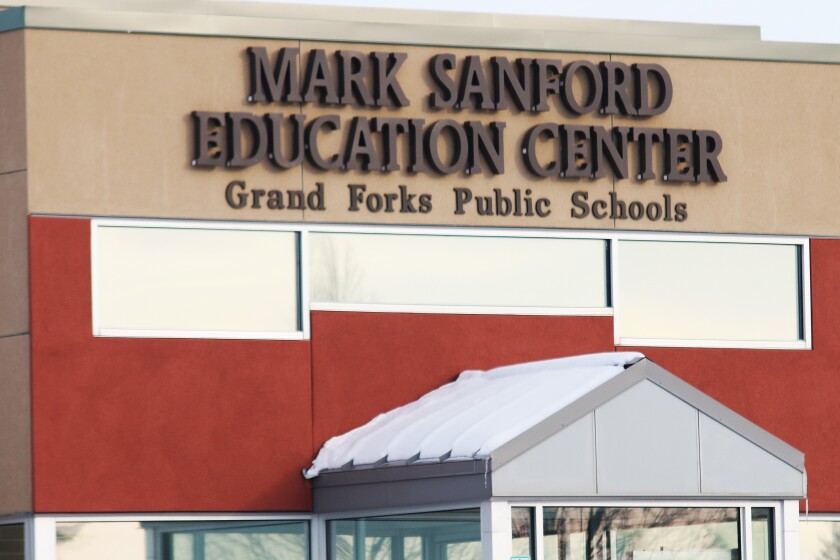 We are part of The Trust Project.
The Grand Forks School Board approved, by unanimous vote, the applications for tax exemptions for four redevelopment projects at its regular meeting Monday, Jan. 25.
The tax exemption plan would affect three proposed projects downtown and one on the UND campus.
The projects, which have received preliminary Grand Forks City Council approval for "tax increment financing," commonly known as a TIF, represent a total investment of $116 million, according to Todd Feland, Grand Forks city administrator. Through a TIF, property taxes remain for a predetermined number of years as if development never occurred. Once the time span is finished, the property is taxed at its new value.
The plan, which received approval last week from the Grand Forks County Commission, will go before the City Council for a public hearing and final approval Monday, Feb. 1, Feland said.
If given final approval, all the projects, except a project at the Lyons Auto site downtown, would start this summer, Feland said. Developers of the Lyons project intend to finish another large construction project, in south Grand Forks, before starting the Lyons project, he said.
Northridge Construction is proposing a $27.3 million project to replace the Lyons Auto Supply with a several-story-building to house office, retail and apartment units across from City Hall on Fourth Street.
The Beacon by EPIC, a $48.9 million project, would replace the defunct Townhouse motel with apartments, retail space and a plaza for public events at 710 First Ave. N. If the TIF plan gets final approval, work would begin with groundbreaking for the first two buildings this summer, with groundbreaking for a third building in summer 2022.
A consortium of developers is poised to invest $7 million into renovation of St. John's Block on Third Street and DeMers Avenue.
The Burian and Associates firm is proposing a $25 million plan to replace UND's Memorial Stadium with a five-story building, "Memorial Village," housing the UND Athletic Department on the main floor and apartments on the upper floors. If the project receives final approval, demolition of Memorial Stadium would begin this summer, Feland said.
The School Board heard details of the four development projects from Mayor Brandon Bochenski, City Council President Dana Sande and other city leaders, as well as the developers and Keith Lund, president and CEO of the Grand Forks Region Economic Development Corporation, at its Jan. 11 board meeting.
At Monday's meeting, in response to a question from Board President Amber Flynn, Feland said he does not expect that the bonding bill under consideration by the state Legislature will negatively impact this TIF package, but "will only supplement (it)."
Board member Doug Carpenter supports the TIF plan, "much as I dislike the process," he said, noting that he doesn't see it as economic development, per se, because it doesn't add primary sector jobs to the local economy.
He advocated changing the state law that requires approval of taxing entities because "we either rubber stamp it or be the bad guy."
Attorney and board member Shannon Mikula said the tax exemptions will be "starving the district funds for a significant period of time, 20 years (and) you don't drive economic development without a healthy school district."
She emphasized that developers should not be allowed to challenge the assessed value of the redeveloped properties; that would be "inappropriate," she said.
Mikula added that "it is encouraging to see these projects happen," and said she "would like to see a nice indoor soccer complex (built) in our community."
Grand Forks "is low in experiential opportunities," Feland said. "We're about at 30% of where we should be."
Board member Cynthia Shabb said she hoped that the plaza space in The Beacon by EPIC would include fun, public events that do not include alcohol consumption.
In other action, the board unanimously approved the early retirement applications of 18 longtime teachers throughout the school district. Offering early retirement benefits to qualified teachers has been discussed extensively by board members in the past. At its Jan. 11 meeting, the board voted to rescind the early retirement policy, effective at the end of this school year.
Also, Shabb encouraged fellow School Board members to reach out to state Rep. Steve Vetter of Grand Forks and urge him to remove school board candidates from the list of elected officials who, in a bill he is sponsoring, would be required to declare their party affiliation.