Grand Forks School Board approves election to increase building fund levy, discusses plan to sell West Elementary
Mask-wearing will be optional in summer school and Intro to Kindergarten class next month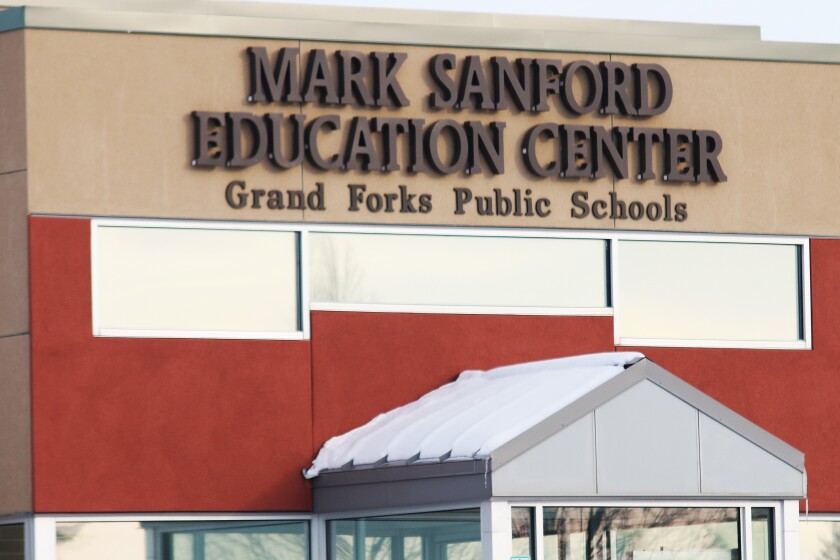 We are part of The Trust Project.
The Grand Forks School Board on Monday, July 26, discussed a plan proposed by school district administrators for selling West Elementary School .
Board members also passed a resolution to hold a special election seeking voter approval to increase the school district's building fund levy from 10 to 20 mills. The election is set for Sept. 28 at the Alerus Center.
In a June 22 citywide vote, the question of raising the building fund mill rate by 10 mills failed to receive the required 60% approval to pass . It received a 54.6% yes vote. Another measure seeking approval to issue $86 million in general obligation bonds for a K-8 school on the city's north side and other construction projects also was defeated, with a 30% yes vote.
Superintendent Terry Brenner also announced Monday evening that, as the district prepares to resume summer school for students in grades 1-8 on Aug. 2 and the Intro to Kindergarten class for incoming kindergarten students, masks are optional and not required in Grand Forks public schools.
"This will likely be our truest litmus test as we enter the 2021-22 school year," Brenner said. "We are fully aware that the most recent CDC guidelines suggest masking for all unvaccinated students which, for sure, would be students ages 11 and under within our school district. We are also cognizant that our community is 'fully open' and implementing a mask mandate would have its challenges."
The district's position on this is supported by Debbie Swanson, director of Grand Forks Public Health, he said.
Several Grand Forks residents, including a parent of school-age children, addressed the board on the question of mask-wearing -- both in favor and against -- in the upcoming school year.
District administrators will continue to watch local COVID numbers and how the pandemic's variants may influence any change of course, Brenner said. No decisions regarding mask-wearing for students or staff in the coming school year have been made, but administrators will provide an additional Smart Restart update to the board before the start of the 2021-22 academic year, he said.
Regarding the process by which the school district would sell West Elementary, Scott Berge, the district's business manager, indicated that the school district would advertise for bids for three weeks and collect sealed bids. The bid selection would be made by the School Board.
In accordance with requirements of the state historical society, the district would gather information from bidders on how the building would be used, Berge said. West is listed on the National Register of Historic Places.
Brenner said that, based on talks with city officials, the property could be developed for single-family homes.
West has been closed since February 2020 when unhealthy levels of radon were discovered in the building. Its students and teachers were transferred to Discovery Elementary School. The School Board voted to close West permanently during an April 14, 2020, meeting.
Extensive discussion also ensued after the board heard a report from the Grand Forks Region Economic Development Corporation about plans for an application for up to $10 million for a Grand Forks career academy. The 2021 North Dakota Legislature has approved $70 million, from a federal CARES Act infrastructure package, for career and technical education centers in the state.
The application, which will build on the school district's CTE program, will include substantial input from area leaders in education, business and industry. It will focus on creating a workforce pipeline for high-demand, high-paying careers in this region.
While board members were generally supportive of the concept, Chris Douthit and others questioned the long-term sustainability of such a center.
"We as a district will be asked to carry that load," said Shannon Mikula. And these questions "must be solidly answered."
In other business Monday evening, School Board members:
Voted to terminate negotiations with SitelogIQ to provide guaranteed energy saving performance services for the district, as the district has been unable to negotiate a satisfactory contract with that company, Berge said.

Approved the appointment of School Board members to various School Board and community liaison committees.

Approved employment contracts for Morgan Dontis and Alyssa Nyberg, special education teachers at Twining School on Grand Forks Air Force Base and Community High School, respectively; Rane Nelson, counselor at Century Elementary; and Allyson Paradee, innovations teacher at Valley Middle School.

Held an executive session, a meeting closed to the public, to discuss the preparation, mitigation and response procedures to be taken in the event of a safety concern at a School Board meeting. There has been no evidence of a threat to safety, said School Board President Eric Lunn, but consideration and planning are necessary because "it's just the way the world is now (with) society getting angrier and angrier." Procedures should be in place "even for (potential emergencies), like a fire," he said.