Grand Forks International Airport to receive $18 million via federal CARES Act
Numerous airports in region also set to receive funding, ranging from $16 million at Devils Lake to $20,000 at smaller airports.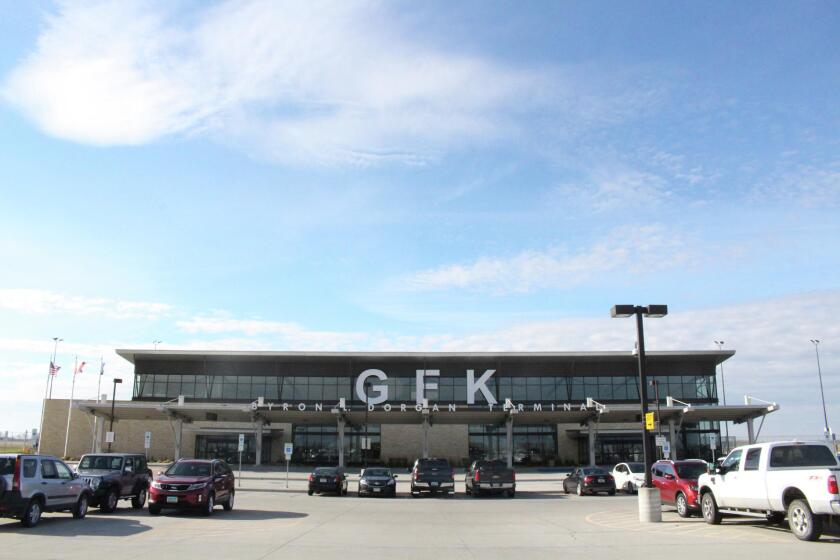 Grand Forks International Airport will receive $18.5 million in federal grant money, one of numerous airports in the region slated to receive dollars from the government's CARES fund.
The Coronavirus Aid, Relief and Economic Security Act, signed by President Trump late last month, calls for $10 billion in funding as part of a federal economic relief effort for U.S. airports that have been adversely affected by the COVID-19 pandemic.
According to the wording of the CARES Act:
● Primary commercial service airports, with more than 10,000 annual passenger boardings, will receive funds based on their annual boardings data.
● All commercial service airports will receive funds based on the number of passengers that board aircraft there, as well as based on the debt of the respective airports, and the amount of money the airport has in reserve.
● General aviation airports will receive funds based on their airport categories, such as National, Regional, Local, Basic and Unclassified.
While the bill was signed March 27, the disbursements are just now being announced.
According to a release sent by the office of U.S. Sen. Kevin Cramer, R-N.D., the funding is intended to support continuing operations and replace lost revenue resulting from the sharp decline in passenger traffic and other airport business due to the COVID-19 public health emergency.
Grand Forks' total is $18,855,574. It compares to the dollars slated for airports in Fargo ($21.6 million) and Bismarck ($20.2 million). The airport in Devils Lake will receive $16,882,627.
Other Grand Forks-area airports in North Dakota, and their allotted dollars, are Cavalier ($30,000), Cooperston ($20,000), Grafton ($30,000), Hillsboro ($30,000), Langdon ($30,000), Northwood ($30,000), Park River ($20,000), Pembina ($20,000) and Walhalla ($1,000).
Grand Forks-area airports in Minnesota that received funding include Baudette ($20,000), Crookston ($30,000), Fosston ($20,000), Hallock ($30,000), Mahnomen ($30,000), Roseau ($30,000) and Thief River Falls ($30,000).