Grand Forks City Hall expected to reopen to the public
Alerus Center also announces it will reopen.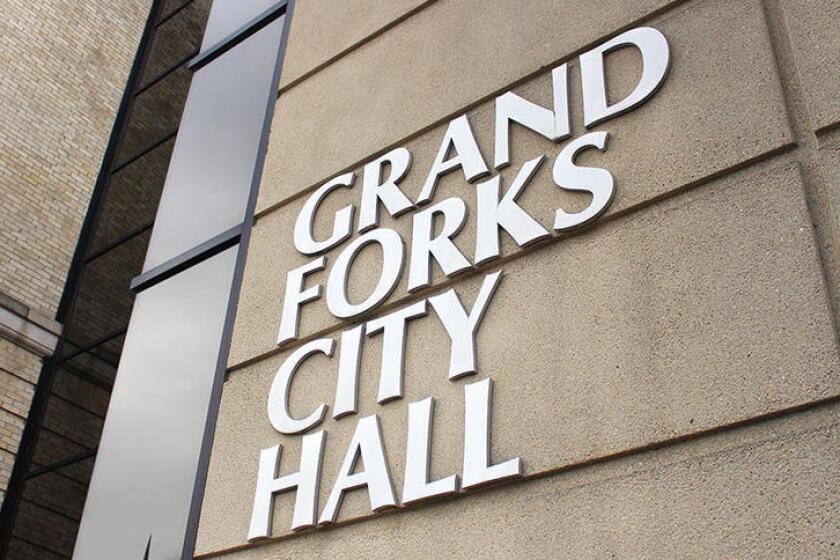 In one of his very first acts in office, Mayor Brandon Bochenski is expected to reopen Grand Forks City Hall to the public on Wednesday morning.
Public access at City Hall has been sharply restricted during the pandemic, with many city employees working from home and the building closed to the general public. But Bochenski's order, expected to be made official Tuesday evening, would reopen doors and bring city business closer to regular order.
"It does have some symbolism — I think more as a signal to the business community," Bochenski said on Tuesday, hours before he was set to be sworn in. "We're asking the business community to be open, yet City Hall isn't. It's a signal to business confidence."
City Administrator Todd Feland said the reopening will come with precautions, like signage encouraging guests to follow public health officials' recommendations — which, in recent months, have urged physical distancing and mask-wearing. City staffers will continue to stagger shifts and some will continue working from home.
"We'll have some Plexiglas up. We'll be directing the public to certain areas of the building," Feland said. "We'll be doing those mitigating measures with the opening."
The city-owned Alerus Center also is expected to be reopened to the public on Wednesday, per a statement issued by facility leadership, with events in the parking lot beginning this week. Feland said that occurs in conjunction with Bochenski's order.
East Grand Forks City Hall remains closed, a city staff member said, in conjunction with state policy.
At Grand Forks City Hall, Bochenski said reopening comes with close monitoring of local cases that will allow local leaders to close the building to the public again if there is a spike in infections.
The move comes while the threat of a local resurgence in the virus still looms. Grand Forks County has the second-highest number of confirmed coronavirus cases in the state, at 365, though it trails far behind Cass County's 2,143 cases (as of Tuesday morning), which by itself represents nearly two-thirds of all cases statewide.
And in Fargo, City Hall is already reopened as of early May, though with certain protocols still in place. City spokesman Gregg Schildberger said guests are screened with an electronic entry system — in which city staff remotely ask about guests' visit and steer them elsewhere if more appropriate — and added that City Commission chambers have a capped capacity (though video feeds and overflow space are available elsewhere in the building).
And city halls around the state are reopening now. In Minot, administrative staffer Tami Troklund said the city welcomed the public back on June 15, with ample hand sanitizer and markings on the floor to help with social distancing. Staff aren't required to wear a mask, she said, "but if they want to, they can."
In Bismarck, city spokeswoman Gloria David said the City-County Building reopened on June 16, with signage throughout the building encouraging the public to stay home if they're ill and stay apart when they can. Hand sanitizer and masks are available, she said.
Asked to address lingering risk — and any concerns the public might have about a reopened City Hall — Bochenski said it "gets back to confidence."
"The risk is low enough where it's time to get reopened, and we need that confidence as a city and it's really a signal to the business community," Bochenski said. "There's a lot of people that are working that can't work from home around the city. I think it sets a good example, showing that there's a route to do this, and the city's taking that on as one of my first actions."