Grand Forks City Council halts, at least momentarily, a plan to allow gambling at restaurants
A plan to allow Grand Forks businesses with a Class 4 liquor license to host games of chance was voted down by Grand Forks City Council members on Monday, but it could pop up again during a broader review of the city's alcohol policies later this month.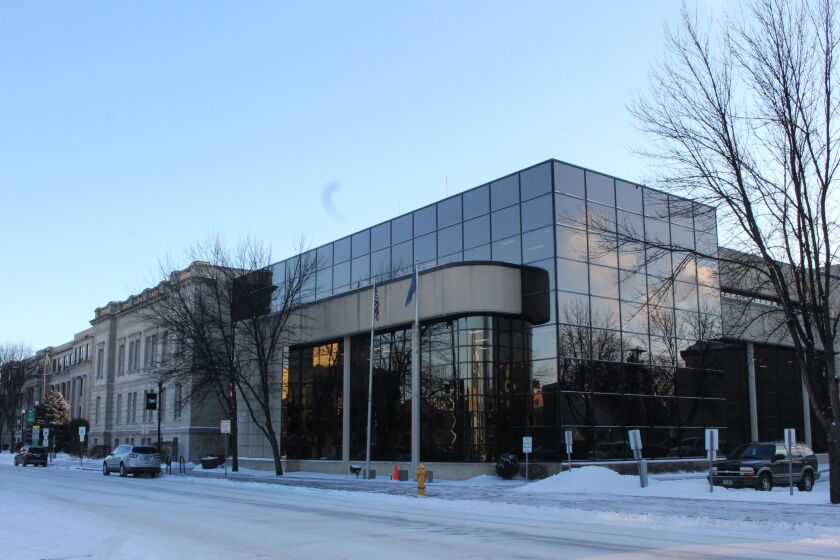 At least for the moment, Grand Forks officials shot down a plan to allow restaurants with bar service to host games of chance.
City Council members on Monday voted 5-2 against a plan to allow businesses with a Class 4 liquor license – restaurants such as Rhombus Guys pizza parlor or Ely's Ivy, where patrons can order alcohol – to set up designated areas for blackjack, pull tabs and so on. Mike McMenamy, whose bar, McMenamy's Tavern, has a Class 1 license that allows it to hold gaming already, told council members that allowing more businesses to host games of chance would make it easier for minors to gamble and could mean other businesses – convenience stores, for instance – would ask for similar accommodations.
"If you do this and if you allow this, you're going to be opening up a great big can of worms," said McMenamy, warning that restaurants would want electronic pull-tab games. "I firmly believe that it's going to be hard for the restaurants to police it and they're going to have troubles with minors getting at it."
Monday's vote didn't outright halt the plan because council members are still set to take a broader look at Grand Forks' alcohol policies later this month .
The civic impetus for the move came in part from Grand Forks-area nonprofits, foremost among them the Grand Forks Youth Hockey Association, whose leaders hope to rake in the proceeds from bar and restaurant gambling but noted that most of the space to do so is already occupied by other nonprofits and charities.
Council member Bret Weber suggested tabling the idea until city leaders can meet for that larger-scale review. And council member Jeannie Mock said she'd had a change of heart since voting in favor of the plan at last week's council meeting.
"Perhaps it's because Mr. McMenamy called me and got into my head, but I'm a little bit more hesitant," Mock said. "I can see why more nonprofits would like the opportunity, but I'd like to fully understand the implications if we would change the license, the necessity of changing the license versus perhaps reviewing our current licenses and the differences between all of them."
Mayor Brandon Bochenski noted that a minor would presumably need to produce an ID when they cash out their winnings.
"If it's straight a competition thing and you're concerned that you're going to lose some customers to other places, I can see that concern," Bochenski told McMenamy. "But I think that's a difficult one for this body to have to decide because we try to do the best we can at keeping the private sector – leaving that to its own devices."
Voting in favor of the proposal were Danny Weigel and Kyle Kvamme. Voting against were Katie Dachtler, Weber, Mock, Council President Dana Sande and Ken Vein.
In related news, council members:
Formally agreed to reduce electrical "franchise fees" for large-scale electricity users, a move designed to attract businesses such as data centers. The city has been approached by such a business, but Bochenski and City Administrator Todd Feland both declined to name it.
Approved a Renaissance Zone tax break for a project that would reshape the former site of El Roco bar, which closed earlier this year. The redevelopment plan calls for an expansion of the former bar into commercial storefronts and, potentially, a restaurant.
Approved a plan to pay Badman Design $316,800 to build eight "light pillars" along North Third Street. City leaders approved in September a similarly expensive plan to install 10 more pillars along DeMers Avenue after briefly shelving it at the beginning of the COVID-19 pandemic amid financial worries.
Heard a mayoral proclamation that deems March 1, 2021, "School Safety Patrol Day." School safety patrollers are students who wear vests and help their classmates arrive at school safely each morning and leave safely each afternoon. The American Automobile Association helps train the safety officers at several Grand Forks-area elementary schools, and this year marks the 100th anniversary of the association's program. A representative from AAA presented Bochenski with a flag noting the occasion in front of several current safety patrollers.