Grand Forks' Career Impact Academy receives state allocation of $10 million in matching funds
New center for career and technical education will prepare students and adult learners for high-paying, in-demand jobs in this region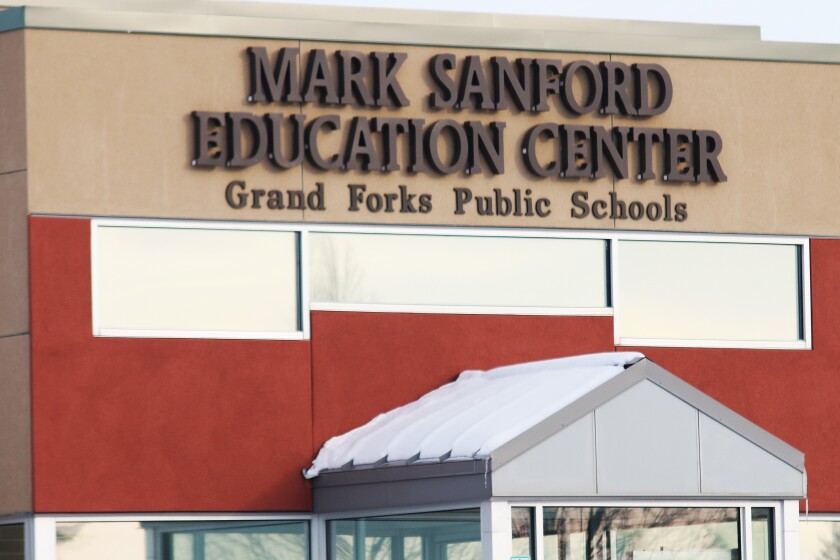 We are part of The Trust Project.
GRAND FORKS — The Career Impact Academy, which is planned for construction in northwest Grand Forks, has received $10 million in matching funds from the North Dakota Department of Career and Technical Education, Grand Forks Public Schools has announced.
The allocation was approved during a special meeting held virtually Monday morning, March 14. Grant funds were matched on a dollar-per-dollar basis, up to $10 million.
A collaborative partnership between area education, industry and business interests resulted in a commitment of nearly $11 million in financial and in-kind contributions.
Keith Lund, president and CEO of the Grand Fork Region Economic Development Corporation, said, "I was absolutely thrilled to learn of the decision of the North Dakota Department of Career and Technical Education's board. I know I speak for the entire steering committee that we are extremely grateful they recognized the thousands of hours of work, mostly done by volunteers, and the tremendous community-wide investment toward the full $10 million grant to Career Impact Academy.
"This is a great day for the Grand Forks region."
A steering committee consisting of people from regional public entities, educational institutions and industry leaders raised the local funds in 70 days. More than 60 private businesses and dozens of individual donors and public entities contributed. A full list of donors can be found at https://grandforks.org/inside-the-edc/careerimpactacademy/ .
The state's allocation of $10 million in matching funds for the CIA "is certainly a significant step in the process to make the Career Impact Academy a reality," said Eric Ripley, director of career and technical education and technology for Grand Forks Public Schools.
"The state approval and their feedback on our application was very supportive," Ripley said. "They commented specifically on the strong collaboration that was evident in our application between the secondary schools, the post-secondary partners and, of course, our business and industry partners that contributed heavily to the matching (portion of the project)."
The comments from state CTE board members "were very positive on the strength of our application – and so we were very pleased, obviously, to get their full support and the full $10 million match for our project," Ripley said.
The Career Impact Academy will provide hands-on, relevant career and technical education experiences for students in the Grand Forks region. High school students will be able to complete their high school diploma and obtain credentials or college credits. Academy training pathways will be open for 11th- and 12th-grade students. Participating post-secondary institutions, including UND and Northland Community and Technical College, also can provide training pathways, certifications and degree programs for adult learners.
A comprehensive needs assessment that assessed student interests, industry demand and post-secondary options helped to determine the 10 career pathways to be offered at the Career Impact Academy. Additionally, the student survey guided the development of a block schedule, allowing more area high schools (Central Valley, Hatton, Hillsboro, May-Port CG, Northwood and Thompson) to attend.
Ripley said he expects the $10 million in matching funds from the state will be provided on a reimbursement basis. The school district will show expenditures, and then be reimbursed by the state.
In the Grand Forks grant application to the state, Ripley is named director of the proposed Career Impact Academy.
"Certainly, we're excited," he said. "We're very very happy with that sign of support (Monday), and there are more steps to come ahead, but this is obviously a pretty significant one. We needed to get that state approval so we can continue to proceed with the project."
Becca Cruger, the Grand Forks Region Economic Development official who co-chaired the Grand Forks CIA steering committee with Ripley, said, "I am so incredibly excited, elated and relieved that we got the full $10 million matching grant from the state.
"And I'm also incredibly thankful in this moment for everyone who participated and made that happen – whether it was the businesses which stepped up to fund it or the city and the school district and the county who also participated, and of course our state leadership, who really made this grant opportunity possible and felt they wanted to invest in our future."
The funds were allocated from the Career and Technical Education Capital Projects Fund, a grant opportunity provided by the 67th Legislative Assembly to increase access to career and technical education by building new or expanding existing career and technical education centers throughout the state.
This was "an extremely competitive grant process," said Cruger, noting that several communities did not receive funding. Grand Forks' application scored No. 2 overall of the 17 submissions from across the state.
The application for the Southwest Area CTE Academy in Dickinson was ranked No. 1, with a score of 90, Lund said. Grand Forks' score was 89 and Grafton's North Valley Career and Technology Center did "very well" with a score of 88, he said.
Cruger, who recently was promoted to director of workforce development at Grand Forks Region EDC, said, "we were biting our fingernails, but we knew we put our best foot forward and we knew that we had a really strong proposal.
"What's most exciting for me personally is knowing that 30 years from now there will be a whole generation of students who really understand Grand Forks careers and have been connected to our employers and our post-secondary institutions – and I think that's what's so great for me, is it's truly a legacy project."
The Career Impact Academy will be an entity of Grand Forks Public Schools and governed by the Grand Forks School Board. The 56,900-square-foot building is expected to open in fall 2024 near the intersection of Highway 2 and Interstate 29.
Virginia "Ginni" Thomas is active in conservative political circles and said she attended a rally held by former President Donald Trump before thousands of his supporters stormed the Capitol on Jan. 6, 2021.