Gov. Doug Burgum, Grand Forks leaders tout career center vision, promise of boosted workforce
There's already momentum to bring a career center to Grand Forks.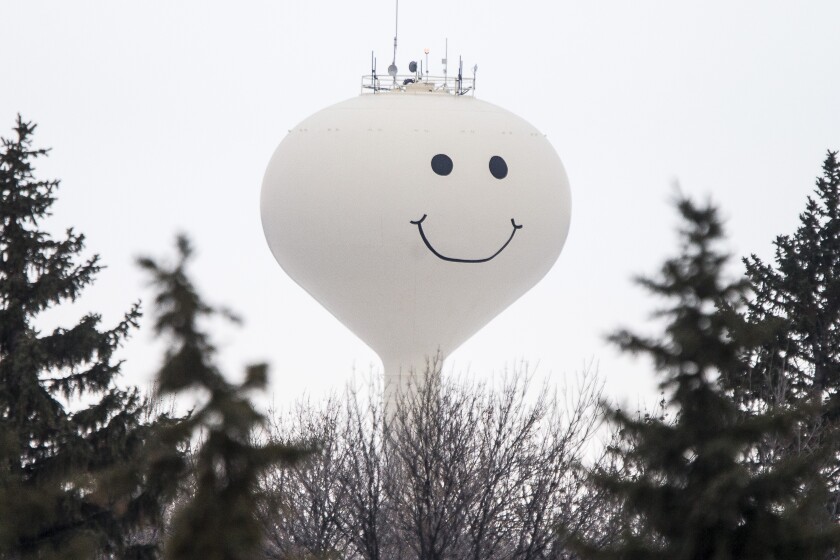 Eric Ripley has been with Grand Forks Public Schools for 22 years, starting out teaching computer courses at Valley Middle School.
And in the two decades that have passed, things have changed considerably. The Flood of 1997, fresh in Grand Forks memory back then, is long gone. So are many of the fixtures and airmen at Grand Forks Air Force Base that powered the local economy, replaced with high-tech autonomous aircraft. And Ripley, nowadays, is out of the classroom and behind a desk, heading up career and technical education for the district.
One thing has stayed surprisingly similar, though: Grand Forks' workforce. It has grown and decreased over the last 25 years — up and down and back again — but it's still more or less where it was in 2014 (and in 2003, and in 1994).
Ripley is part of a team that's working on that. The group's potential cure: a new career and technical education center. Aimed at bridging the gap between high school, college, trade school and the workforce, it's a way for local employers to meet and grow their employee base — and give students a closer look at career paths in the process.
"If you can imagine a location that, underneath the same roof, has the presence of K-12 and postsecondary (education) and industry," Ripley said, "that is what a center should look like, or what it should represent."
And there's already momentum behind the effort to bring one to Grand Forks. The local Economic Development Corporation is leading a local feasibility study, with a view to finish by the end of the year. The state allocated $70 million in funding to help pay for new centers around the state. And Ripley is one of a nearly 20-member committee helping steer the process, alongside business leaders from Altru, Northrup Grumman and UND and more.
"I would describe a career center as a one-stop shop for assisting people who are interested in developing the necessary skills for entering a new career or furthering an existing career," said Jeff Holm, a vice provost at UND and another member of the steering committee.
To hear members of the committee tell it, that could mean different things. High school students could be learning about agricultural technology, for instance. Adults could be taking classes, too.
There isn't much detail yet, and it's not clear where the center would be housed. But backers are enthusiastic that it would be an important addition to the community.
"What we're seeing is the need in really every industry to maintain and develop a talent pipeline," Ripley said. "That starts with exposing students to career opportunities while they're in high school."
It's a good way, proponents reason, to tackle local brain drain. As talented students leave Grand Forks Public Schools — or UND or Northland Community and Technical College — they're often taking classes and jobs elsewhere. But if the region can capture the talents of its fleeing youth, local leaders reason, maybe it can match the workforce gains seen in places like Fargo and Bismarck.
RELATED: Grand Forks 'running to stand still' in jobs market and labor force, economist says
Gov. Doug Burgum touted building more career centers on a recent visit to Grand Forks, which he said can help students find their way between high school, continuing education and the workforce.
"I think we're going to see in Fargo and Grand Forks and Minot, Williston and Watford, Dickinson — we're going to see these regional career and tech centers coming that will help bridge that gap," Burgum said.
Brian Huschle, the provost at Northland Community and Technical College, points out that it will help students come to trade and technical courses at NCTC prepared to tackle the course material.
"Any of this kind of training and exposure for our students, while they're in high school especially, is absolutely valuable," Huschle said. "Many of the students we see here at Northland don't necessarily fit into the model of learning styles for liberal arts and science curriculum. Having that exposure and having them understand career opportunities is very valuable."