Fire at Ambassador Motel causes more than $30K in damage; cause under investigation
Crews responded around 9:36 p.m. to the motel, located on South Washington.
Fire and police crews responded Friday evening, April 23, to a fire at the Ambassador Motel in Grand Forks.
Crews responded around 9:36 p.m. to the motel, located on South Washington.
Crews arrived on scene to find fire in two areas of the structure, according to a news release from the Grand Forks Fire Department. They extinguished the fires and the cause is currently under investigation.
The structure sustained significant fire damage to the areas involved. Total damage is estimated at more than $30,000. The structure was vacant at the time of the fire.
The Grand Forks Fire Department responded with five engines, one truck and one command vehicle with 20 personnel. There were no injuries to the public or emergency responders reported. The fire department was assisted by the Grand Forks Police Department, Altru Ambulance and the North Dakota State Fire Marshal.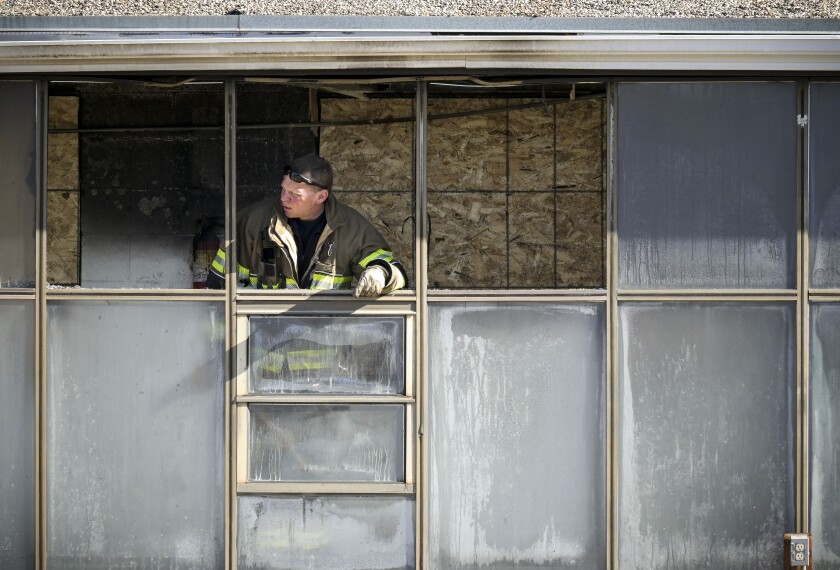 The Ambassador has been in the news lately . Earlier this month, the city of Grand Forks declared the motel unsafe for occupancy, and more than two dozen long-term residents were told to vacate the building. During a visit, city inspectors found numerous safety problems at the motel and, on April 9, the city gave the residents there 48 hours to leave. That deadline later was extended .
A judge signed a restraining order Thursday, April 22, telling the remaining residents at the condemned Ambassador Motel it was time to leave.
Police showed up at the motel along with city workers who cut all the utilities to the building, WDAY News reported.
A handful of residents had remained at the Ambassador at the time, nearly two weeks after the city told the 34 people who were living there that their lives would be in danger if they stayed any longer.
Kenton McGregor, who has overseen the trust that owns the motel, said it may cost upwards of $100,000 to fix up the motel and bring it up to code.
1
/
4:
Grand Forks fire department crews inspect the now-vacated Ambassador Motel following a fire on Friday, April 23, 2021. After being declared unsafe for occupancy earlier this month by the city of Grand Forks, more than two dozen long-term residents were given 48 hours to leave on April 9. Nick Nelson / Grand Forks Herald
2
/
4:
Grand Forks fire department crews respond to a fire at the now-vacated Ambassador Motel on South Washington Street on Friday, April 23, 2021. Nick Nelson / Grand Forks Herald
3
/
4:
Emergency crews responded Friday evening, April 23, 2021, to a fire at the Ambassador Motel in Grand Forks. The fire appeared to be extinguished shortly after crews arrived. (Sydney Mook/Grand Forks Herald)
4
/
4:
Grand Forks fire department crews inspect the roof at the vacated Ambassador Motel from a ladder truck basket following a fire on Friday, April 23, 2021. Nick Nelson / Grand Forks Herald