Should Fargo hire an independent firm to review shootings by police?
The initiative has hit snags even before being approved. But if an independent consultant does find criminal charges are warranted against police officers, the road leads back to prosecutors who have already declined to pursue charges in the two shootings in question.
We are part of The Trust Project.
FARGO — An effort calling on Fargo leaders to hire an independent consultant to review police shootings that killed two people has run into several hurdles.
Even if city leaders approve the initiative and wrongdoing is found, seeking criminal charges will still lead down a road toward prosecutors, who have already declined to pursue charges. The power of prosecutors to decide whether to file charges, against police officers or civilians, is cemented in North Dakota law.
The Fargo Police Advisory and Oversight Board is slated to review a request by human rights activist Wess Philome who's asked for an "unbiased" investigation into the fatal shootings of Shane Netterville and Andrew Martinez .
A white Fargo officer shot Netterville, a Native American man, in July as Netterville drove a minivan out of a garage toward police.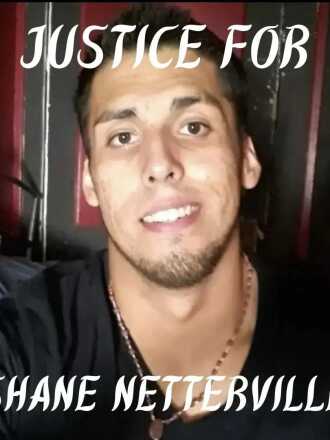 Less than a month later, four white Fargo officers fired multiple rounds at Andrew Martinez , a part-Hispanic, part-Caucasian man who had a mental health crisis in August at his Mapleton, North Dakota, home. Law enforcement said he was involved in criminal activity, fired a gun several times before police surrounded his home and pointed an AR-style rifle at officers before he was shot.
In both shooting investigations, to avoid a potential conflict of interest, Cass County State's Attorney Birch Burdick asked North Dakota Attorney General Drew Wrigley to decide whether to press criminal charges against the officers. Wrigley, who oversees the state Bureau of Criminal Investigation that investigated the shootings, said both shootings were justified.
Internal investigators at the Fargo Police Department also determined officers didn't violate any policies during the shootings.
Philome has doubts that city leaders will approve hiring an independent firm to look at whether officers violated Netterville's or Martinez's rights, or otherwise committed a crime. The activist initially made his request to the Fargo Human Rights Commission, and it voted in September to form a subcommittee that would have chosen a firm.
But city officials told the Human Rights Commission last month that the motion did not follow proper meeting procedures since it wasn't listed on the agenda. Furthermore, the initiative should first be reviewed by the police advisory board since it falls under that board's purview, said Terry Hogan, Fargo's director of diversity, equity and inclusion.
The police advisory board couldn't make a move either in its October meeting since the matter wasn't put on the agenda. It was on the November agenda, but a snowstorm forced city officials to cancel the meeting.
"It's a dream," Philome said. "It's a dream and a better reality. It's probably not going to happen."
No agenda has been published, but the proposal is expected to be discussed at the Dec. 8 police advisory board meeting. The Fargo City Commission would make the final decision on whether to hire an independent firm.
Fargo Police Chief David Zibolski declined an interview for this story, saying through a spokesperson that "it is important that this proposal first works its way via the Police Advisory and Oversight Board to the City Commission, if decided upon."
Who gets to prosecute police?
North Dakota law gives prosecutorial authority to state's attorneys. One in each county is elected to office.
Changing that would require legislation that would need majority approval from both the North Dakota House of Representatives and Senate, as well as a signature from the governor.
Typically, a law enforcement agency investigates a crime, sends the investigative documents to the state's attorney's office and sometimes recommends whether charges should be sought. The state's attorney and their prosecutors decide whether there is enough evidence to file charges, Burdick said.
Prosecutors won't seek charges if they believe they can't prove beyond a reasonable doubt at trial that the defendant committed a crime, he said.
A government entity can submit recommendations for charges, Burdick noted. His office doesn't have a division that would take complaints from civilians, so he recommends residents go to police to investigate allegations.
A state's attorney can hand off a case to another office if there's a potential for a conflict of interest. The Netterville case was the first time Burdick asked an out-of-county prosecutor to determine if charges were warranted in an officer-involved shooting.
Burdick said he has felt comfortable making decisions in the past about potential charges against officers. Of the six officer-involved shootings Burdick reviewed, no officers were charged.
Burdick said he believed his office didn't have a conflict of interest in the Netterville and Martinez shootings, but he didn't want the public to have a perception that there was a conflict.
"I think an important part, at the end of the day, is people think we handled this correctly," Burdick told The Forum.
Wrigley told The Forum's editorial board in September that he is not instructing state's attorneys to send officer-involved shooting cases to his office so he can make a prosecutorial decision. It's up to a state's attorney's office to decide whether to ask the attorney general's office to review a case, he said.
"Do I trust that Birch Burdick could make an independent judgment about a matter involving Fargo police? Absolutely," Wrigley said.
Call for independent consultant
The call for an independent consultant to look at the shootings is rooted in the history of law enforcement not facing charges in North Dakota, Philome said.
"Traditionally, when law enforcement commit acts of crime on the job or injustices period, they're not held accountable," Philome said. "It's not easy as a person of color, when the justice system wasn't built for you and has been stacked against you, to have the confidence and belief that you can get justice from it."
Philome said he felt Wrigley "oversold" what happened during the Netterville shooting, which is why Philome requested an independent investigation.
Wrigley said his office doesn't come in presuming law enforcement officers are in the right. Everyone is entitled to prosecutors looking at all of the evidence in a case and coming to a decision, he said.
Wrigley said he believes his office is transparent and fair when investigating officer-involved shootings. His office is "at arm's length" from the Fargo Police Department, Wrigley said. He said he believes his office made unbiased decisions in the Netterville and Martinez shootings.
"We're inherently independent because sheriff's departments don't work for the AG. Police don't work for the AG," Wrigley said.
When asked about public perception that state's attorneys and the attorney general have a relationship with law enforcement that is "too cozy", and whether an independent body should review a police shooting, Wrigley said, "No, totally inappropriate."
He said he and state's attorneys are held accountable to the people who elect them to do that work. An independent consultant cannot be held accountable.
"The public has the right to have accountable people making unbiased decisions," Wrigley told The Forum.
Before making a decision on whether charges are possible from an independent firm, Burdick said he would have to know who is investigating the shootings, their process and whether evidence presented by the investigators would support enough probable cause to pursue a criminal case.
He acknowledged the call for an independent review by the public. People want to feel that the process is fair, he said.
"I think our system works fine," Burdick said.
Mark Friese, a Fargo attorney who often represents police officers, said he feels comfortable with the attorney general reviewing officer-involved shootings.
Friese, a former police officer, said he has advocated for separating the attorney general's office from law enforcement. Instead, he would like to see a cabinet appointee head the Bureau of Criminal Investigation, such as a commissioner of law enforcement.
"The AG should be the state's chief legal officer, not the state's top law enforcement officer, and most certainly, not both," Friese said.
Friese said the state Legislature should look at separating the Bureau of Criminal Investigation from Wrigley's office.
"In the end, I fear it's unlikely that they would change the status quo," Friese said of lawmakers.
In defending the current system, Wrigley said having the bureau under his office works well in North Dakota and other states.
David Hogenson, who sits on the Fargo police advisory board, said during an October meeting many see a cloud over the Fargo Police Department. Pursuing an investigation from an independent entity would not necessarily result in charges, but it may lift that cloud, he said.
The Fargo Human Rights Commission has also voted to draft a letter that would ask the U.S. Department of Justice to review the Netterville and Martinez shootings for potential civil rights violations.
Philome said his push for a review by an independent firm is about gathering feedback and finding ways to prevent future officer-involved shootings. He said he wants the city to investigate how police can better deal with people suffering from mental illness and drug addiction, as well as how officers can learn from deescalation training.
Seeking charges or civil action could be part of the initiative, but that should come on a case-by-case basis, he said. There should be some type of mechanism for accountability and justice, he added.
Fargo police and the FBI went door-to-door reaching out to residents as they investigated reports of gunshots that plague The Arbors at McCormick Park.
The magnitude of spring flooding likely will hinge on how much late-winter snowfall the region gets as well as the timing of the spring thaw.
Jeremy L. Carlson said enforcement orders by North Dakota securities officals make it impossible for him to operate investment businesses he manages. He wants a receiver to oversee accounts.
The bill wouldn't force students, teachers and elected officials to say the pledge, but it gives them the opportunity and encourages them to do so, lawmaker said.