Protesters demand Fargo police release footage in fatal shooting of Native American man
Protesters who spoke during the demonstration called out to Fargo Police Chief David Zibolski and to Mayor Tim Mahoney to release the body camera footage of the incident.
We are part of The Trust Project.
FARGO — About 50 people gathered outside City Hall on Monday afternoon, July 11, to protest the fatal shooting of a Native American man by a Fargo police officer.
Shane Netterville, 28, was shot by Officer Adam O'Brien on Friday morning, July 8, after police were called to the 3400 block of 15th Avenue South to investigate a report of individuals slumped over inside a vehicle in a garage.
As officers tried to contact the men in the van, the van "began to flee directly towards officers," court documents said. One of the officers, Adam O'Brien, fired his gun at the van and hit the
Gary Netterville, Shane Netterville's oldest brother, attended the protest, thanking the crowd for attending. He stood before a hand-drawn sign that said "Justice for Shane."
"Bad things happened to a good person. Too young," said Gary Netterville, 34. "I feel sadness. My baby brother — we just have a lot of questions."
Described as a funny person who loved cats, Shane Netterville lived in Fargo and also did not have a violent bone in his body, said his brother, who also lives in Fargo.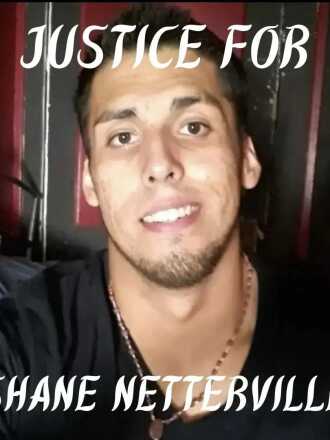 Gary Netterville was notified about his brother's death around 5 p.m. on Friday, hours after the shooting occurred, he said.
"We tried to go see the body but couldn't see him as the case is still under investigation," he said.
Protesters who spoke during the demonstration called out to Fargo Police Chief David Zibolski and Mayor Tim Mahoney to release the body camera footage of the incident.
Citing the 1985 U.S. Supreme Court civil case Tennessee v. Garner, in which the high court decided that a law enforcement officer may not use deadly force to prevent a suspect's escape in many situations, Lillian Jones said Fargo police enforced an "illegal search and seizure" by stopping Shane Netterville with a bullet.
"That officer's body cam footage has to be released. Was there cause for that officer to shoot?" she said.
Jones, a member of the Mandan, Hidatsa and Arikara Nation on Fort Berthold Reservation, also questioned why the situation became violent when police responded to a call for someone being slumped over in a vehicle.
Zibolski told reporters that police encountered a van with three people inside, which later accelerated quickly and fled the garage. Court records said the van drove "directly towards" officers.
O'Brien, a white officer, was placed on paid administrative while the North Dakota Bureau of Criminal Investigation looks into the shooting. The BCI declined to release the body camera footage until after the investigation is completed.
Faith Shields-Dixon, a local Black Lives Matter organizer and founder of nonprofit Faith4Hope, said she remembered two years ago when thousands marched in the streets to protest the killing of George Floyd.
"I saw the breaking news and started prayers because deep down inside I felt it was someone of color. Then I went down to the scene, where I heard it was a police shooting, and I immediately started crying," Shields-Dixon said.
"We've been in the streets for the last two-and-a-half years for this not to happen. I found myself getting back to that place I was at two years ago with the loss of our brother George Floyd," she said.
Turning her megaphone toward City Hall, Shields-Dixon also demanded the release of the body camera footage.
"Today makes 96 hours from the time he died, and we were told this morning we would not be getting the video," she said. "This family deserves to know what happened."
The protest was organized by the Thechihila Collective, an Indigenous-led group seeking to abolish societal violence, among other goals. When the protest finished, many went inside the City Commission meeting to directly address city leaders.
"We shouldn't even be here, but unfortunately we live in a system and a city that doesn't care about our lives," said Tracey Wilkie, an activist and member of the Turtle Mountain Band of Chippewa.
"We are here to call for justice for Shane. Native men are endangered here in North Dakota. Our women are more likely to be subjected to sexual violence. The things that have happened at boarding schools, mental health, addictions. This has got to stop," she said.
Wilkie said Native Americans are more likely to be killed by police than any other group, including African Americans. "We often hear in the media about African American deaths, but we very seldom hear about Indigenous folks," she said.
Andrew Blackbird told the commission that an Indigenous friend of his told him he was too scared to leave the house after the shooting.
"I love Fargo except for when things like this happen. We have to do way better for our minority population," Paige Dauphinais added.
The discussion with commissioners turned informal after the meeting in the chambers.
Many protesters stuck around to discuss issues further with Mayor Tim Mahoney and City Commissioners John Strand, Arlette Preston and Denise Kolpack. Police Chief David Zibolski also sat nearby listening, while Commissioner Dave Piepkorn left.
Mahoney said he and others couldn't make any comments due to the lack of a report on the case, but added he was open to a community listening session with the Native American community and others.
During the informal discussion, police officers kept some of the protesters out of the chambers, but they were quickly let back in.
No security issues were anticipated, said Gregg Schildberger, a city spokesperson, before the protest began.
"The City of Fargo and the Fargo Police Department welcome public comment," he said.
Additionally, no permit applications were filed before the protest, but such permits would only be necessary if the demonstration included amplified noise, street closures or access restrictions, Schildberger said.
Organizers of the protest spread word the online over a Facebook page called Justice for Shane.
"Whether Shane was driving the vehicle with homicidal intent or not, police should never be the judge, the jury, and the executioner. Shane was a son, brother, a wonderful uncle, and a member of this community," organizers posted on the Facebook page .
According to the Fargo Police Department, Friday's shooting was the first since the department began using body cameras in the latter half of 2021.
The last time a Fargo police officer shot at someone was in 2018, when officer Cory Luckow shot at Richard Anthony Torres. Torres was not shot and was eventually apprehended by another officer.
Reporter Barry Amundson contributed to this story.
Respiratory syncytial virus, which continues spreading in the area, can cause serious breathing difficulties in very young children with tiny airways that can become obstructed.