East Grand Forks Senior High moves to remote learning amid reported student illnesses
Students in grades 9-12 to stay home through Friday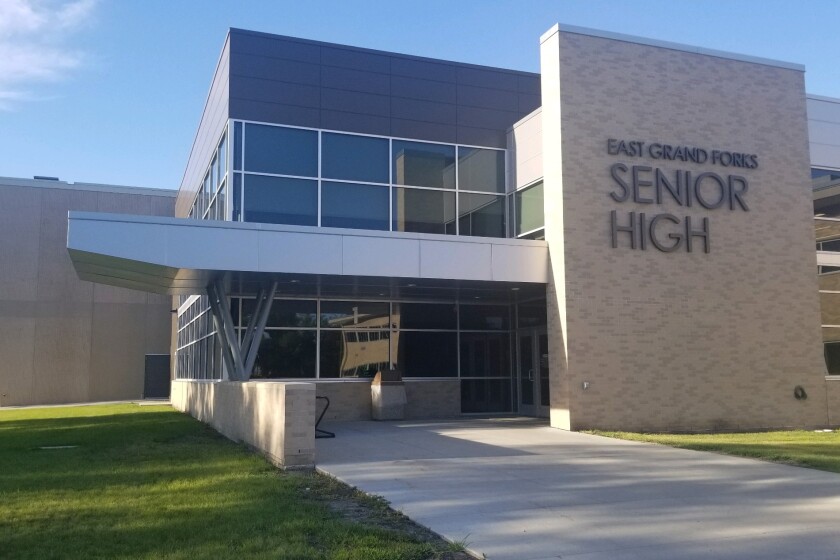 We are part of The Trust Project.
East Grand Forks Senior High School students are set to study from home for the rest of this week after about half of them stayed home on Tuesday, Dec. 14.
Superintendent Mike Kolness told Eastside parents and staff on Tuesday afternoon that the high school would move temporarily to distance learning through Friday, Dec. 17. About 560 students are enrolled in the high school this year, according to Minnesota Department of Education data, and Kolness told the Herald on Wednesday that 230 of them were absent on Tuesday. About 10% of that figure represents students who had "unverified" absences that aren't necessarily health-related.
The Senior High School school is TEMPORARILY transitioning to distance learning for the remainder of this week-Dec. 15th thru 17th. See the attached letter from Mr. Kolness for details. pic.twitter.com/53yJxqDjZD

— EGF Senior High (@EgfHigh) December 14, 2021
Fewer than five of the parents who kept their kid home told district staff it was due to a positive COVID-19 test, Kolness claimed.
"We had definitely more reports of positive Influenza A cases that were reported to us," he said Wednesday morning. "We had a very small number of positive COVID cases reported."
Classes are set to continue normally, at least for the moment, in grades K-8.
The number of reported flu cases is "definitely" higher than normal, Kolness told the Herald. Absences among district staff are about on par for this time of the year, he added, even among high school teachers who would presumably have been in contact with students who have since stayed home.
"I don't know why, and that could change tomorrow," Kolness said.
Staff at Polk County Public Health did not return a Herald request for comment before this article's publication deadline.
East Grand Forks Public Schools students have been learning in-person to this point. Students there in Kindergarten through eighth grade are still set to head to school as normal. The distance learning decision only applies to Eastside high schoolers.
The superintendent and other district leaders are set to revisit their decision on Friday morning, and they're also set to consider absences and reported illnesses in younger grades. Kolness said he hopes they don't have to decide if they'll push middle school and elementary school students to learn remotely, as well. If that happens, though, Kolness said he and other district staff would try to provide parents with younger students at least 24-48 hours notice.