Bochenski begins process of molding style, staff at City Hall
Incoming mayor says he plans to keep Todd Feland as city administrator.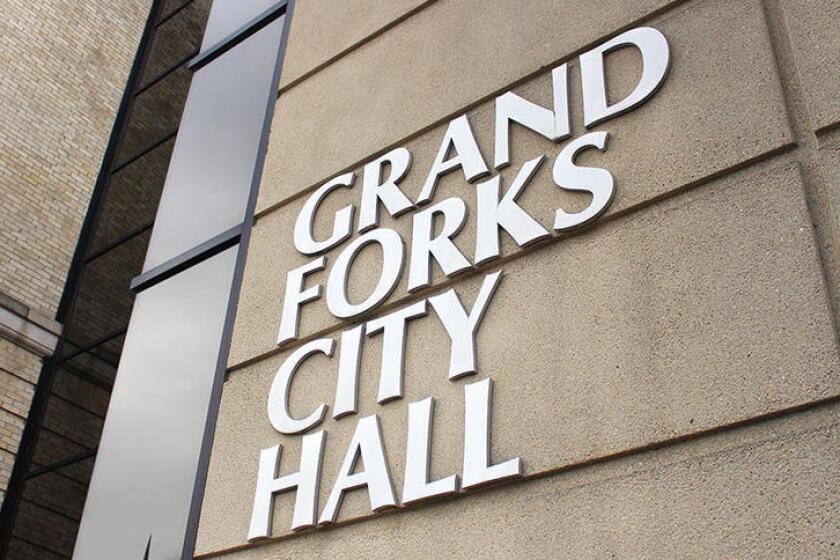 Grand Forks City Administrator Todd Feland will remain on city staff after Brandon Bochenski takes office as mayor, both said this week.
The move puts to rest speculation about the future of the city's top staff job, which answers to the mayor and City Council and wields significant day-to-day power over the city's operations. A search for a new city administrator could have been a consuming task — similar to the search for a university president — and would have unfolded in the midst of a pandemic and shaky city finances.
Feland's future with the city had been unclear in the wake of Bochenski's victory in the June 9 mayoral election, in which the real estate developer ousted 20-year incumbent Mike Brown. During the campaign, Bochenski had criticized Brown as an absentee mayor — with top staff running the city — and was a strong critic of city "vibrancy" initiatives, with which Feland was closely involved under Brown.
Those initiatives prioritized issues like city beautification, public art and downtown development. Bochenski, by contrast, has argued for cutting nonessential spending and has said City Hall is too focused on investments downtown — often at the expense of the rest of the city.
"(Bochenski) has told me that he intends to retain me as city administrator, and I know he's further contemplating other things in the organization, and I think he's still in a thinking mode," Feland said. "Other than myself, you'd have to ask mayor-elect Bochenski first."
Bochenski is expected to remake City Hall in his own image after he is inaugurated on Tuesday — a customary process for executives entering office. But who stays and who goes is still unknown, and Bochenski declined to go into details in an interview. He only confirmed Feland's position after a reporter quoted Feland's own understanding to the mayor-elect.
"There's certainly going to be a few moves I'm going to make," he said, though he described them as minimal and said he will not have a significant support staff. "The plan right now is to go forward with Todd. The rest of the decisions haven't been made 100 percent yet."
Bochenski's decisions in coming weeks will be significant as he forges his relationship with community leaders — many of whom are accustomed to working with the City Hall veterans of outgoing Mayor Brown's administration.
"I think that without having spent significant time in City Hall, it's probably difficult to understand the role some people fill and have been filling in our community," City Council President Dana Sande said. "And so I certainly want to talk to (Bochenski) about our department heads and the roles they play and make sure he understands the value in the people we currently have in City Hall."
Two staffers in particular are not certain of their status. Pete Haga, a senior City Hall aide who worked closely with Mayor Brown, said in a text that he had "no word on staffing. Just working smooth transitioning." The other, Robin David, was an immigration and workforce staffer for the city prior to her own candidacy for mayor against Bochenski.
"I'm very aware there are different directions that things could go, and have been preparing for that," David said. "He and I had a private conversation a few months ago, and he said, if I'm elected, of course your position would stay. (But) I don't know what to expect."
Whatever happens at City Hall, city staff themselves are quick to point out that their role is in civil service — and volunteer few opinions about the changeover. Already, city staff and Council members say Bochenski is taking a flurry of meetings to prepare for a budget season that will begin immediately on his arrival.
Bochenski laughed when a reporter wondered if he was "drinking from a fire hose" — an expression often heard in Bismarck from freshman legislators — and said he had already heard a half-dozen others offer the same phrase.
"It's just getting ready so I can hit the ground running. I'm not going to wait until I get in to start taking some of these meetings," Bochenski said. "I think it's good to get up to speed — there's no sense in wasting these two weeks."