As average cases rise in Polk County, East Grand Forks schools monitor COVID numbers closely
There are no plans yet to transition to a more restrictive learning model. As of Monday, Sept. 29, there are zero confirmed cases among East Grand Forks students and staff, and 30 close contacts quarantining at home.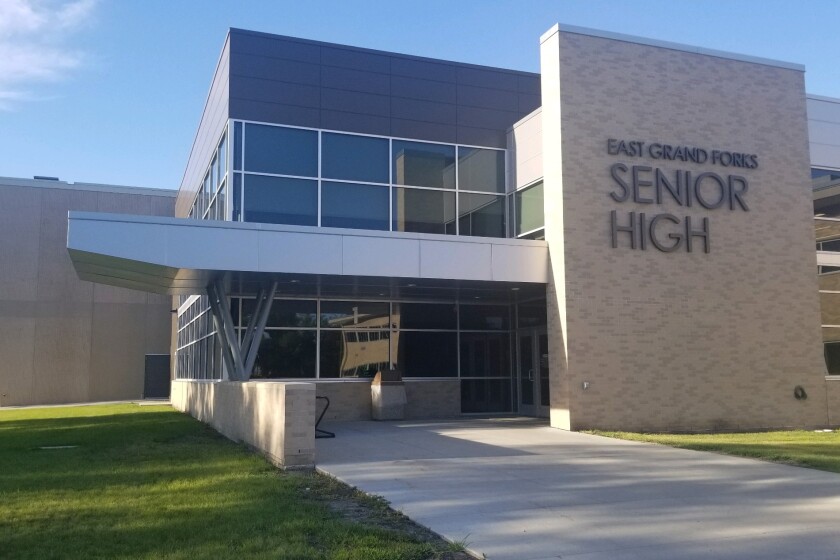 We are part of The Trust Project.
Four weeks into the school year, East Grand Forks school leaders reported to the school board Monday night, Sept 28, that students and staff are settling into their routines well despite the added stress of the pandemic.
But district Superintendent Mike Kolness offered his regular reminder to the school community to be ready to adapt to any situation necessary - a reminder that was perhaps especially pertinent as Polk County's 14-day average of COVID-19 cases has nearly doubled in the last month.
"We're just under 17, so we're looking at that closely," Kolness said. "The last thing we want to do is have to move into a hybrid model with the younger ones, or distance at the high school and middle school. We would hate to do that, but we'll just continue to monitor those numbers."
The East Grand Forks Public School District bases its learning model off a 14-day average of positive cases per 10,000 tests administered. At present, elementary-aged students in the district are attending full-time in-person learning, while middle- and high school-aged students attend in-person classes and distance learning classes on alternating days to keep their school buildings at 50% capacity.
The Minnesota Department of Health recommends that model for counties that have an average of 10 to 20 positive cases per 10,000. Polk County's average remains in that range, but Kolness said Polk County Public Health suggests the numbers likely will continue to increase slightly in the coming weeks.
This week, Polk County's average per 1,000 was 16.78, up from 14.88 two weeks ago, and nearly double the 8.86 average in early August.
Thirty students and staff members who have been identified as close contacts of people who have tested positive for COVID-19 are quarantined at home as of Monday, but Kolness said there are currently no confirmed cases of COVID-19 in the schools.
In a Sept. 25 letter addressed to East Grand Forks families and staff, Kolness urged families to continue following CDC guidelines, wearing masks, social distancing, and washing hands frequently. He said that for the time being, there aren't any plans to switch to a more restrictive learning model.