Area school leaders embrace new tactics to address 'unprecedented' hiring shortages
Based on the experience of a couple of other North Dakota school districts that "have had tremendous success hiring teachers from the Philippines, we followed that model," Superintendent Terry Brenner said.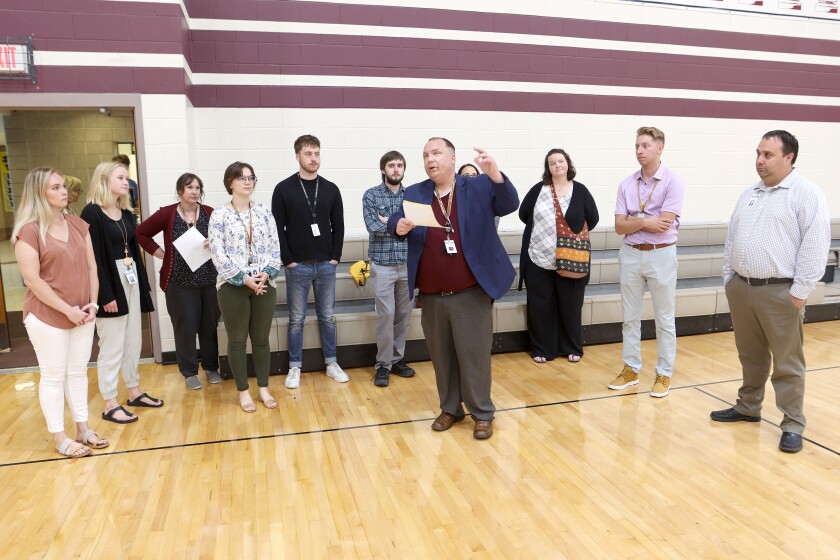 We are part of The Trust Project.
GRAND FORKS – Some area school districts are using new creative ways to coax more teachers into the classroom, as they struggle with an "unprecedented" lack of applicants for these and other positions.
In Grand Forks, administrators have enlisted strategies such as an employee referral program, advertising on online venues not normally used due to their higher cost, and hiring international teachers.
Based on the experience of a couple of other North Dakota school districts that "have had tremendous success hiring teachers from the Philippines, we followed that model," Superintendent Terry Brenner said.
"There just doesn't appear to be enough applicants in the pool — regionally, locally — to hire teachers from," he said. "So we've reached out internationally."
This is an entirely new phenomenon for Grand Forks Public Schools, Brenner said.
"Gone are the days of one elementary teaching opening and 250 applicants for that job," he said. "That's just not the case any more."
Across the region, superintendents have noticed the same pattern. Elementary teaching positions in Crookston used to get 60 to 80 applications, said Dave Kuehn, interim superintendent, but this year, the district had to recruit to fill those openings.
"They had really no applications for three elementary positions that they advertised in April and May, which is just unheard of from the olden days," he said.
In Grafton, Superintendent Darren Albrecht said elementary teaching positions would have 50 to 60 applicants each.
"We don't get even close to that right now," he said.
In Grand Forks schools, hiring staff "is very challenging," Linsey Stadstad, director of human resources for Grand Forks Public Schools said in a recent interview with the Fargo Forum. "All places from my understanding and from what I'm hearing are struggling with workforce shortage, we are also struggling with unprecedented staffing shortages."
The number of teaching positions that need to be filled just before the start of school this week in Grand Forks was "a moving target," Brenner said in a recent interview with the Herald.
When asked what schools are affected by teacher shortages, Brenner said in an interview last week that at that time the district was doing some "shuffling and reorganizing of some instructional staff" so it would be difficult to say where the openings were at the time. But Brenner added he was "confident" the district would start the school year on Wednesday, Aug. 24, "staffed appropriately at the classroom level and at all levels."
Recently, 112 new certified staff were eligible to participate in the New Teacher Workshop, according to Tracy Jentz, communications coordinator for the Grand Forks school system. Certified staff includes teachers, counselors and social workers, but not paraprofessionals.
The district does not have records readily available to determine if this is the largest number the district has ever had for that orientation, Jentz said in an email.
And it's not only teachers some school districts urgently need.
In Grand Forks, hourly classified employees represent "a large gap" in the school system, Brenner said. "We are short many, many paraprofessionals right now, as well as evening custodial staff and child nutrition staff."
One of the last open positions for the school year in Larimore schools is a high school counselor position, which has been advertised for four months, says Superintendent Steve Swiontek.
"I think our elementary counselor is going to help out a little bit, and she's tremendous, but how can you ask one counselor to take care of 390 kids?" said Swiontek. "Pretty tough."
School districts in the region have had similar challenges with hiring this year, and have also had to implement new strategies to draw employees into the district and fill essential positions.
Faced with fewer applicants for teaching and paraprofessionals, the strategy at Grafton Public Schools for drawing in new employees and retaining current employees is offering incentives to work in the district.
"You try to make your district an inviting and good place to work," Albrecht said.
He says the district is working with Walsh County and the Walsh County Job Development Authority to implement a student loan forgiveness program that will give first- and second-year teachers up to $17,000 in student loan forgiveness.
The district also assists with tuition costs for employees pursuing a higher degree, such as paraprofessionals trying for a bachelor's degree to become teachers.
Crookston Public Schools is still looking for a few paraprofessionals and bus drivers, says Interim Superintendent Kuehn, and has seen fewer applicants from outside of the Crookston area this year than in previous years.
"We really have to rely on trying to engage, secure and hire people from the surrounding area, so it's been a challenge because everybody is looking," he said. "The county is looking, restaurants — you're vying for the same people."
Along with recruiting new staff members, shuffling roles within the district has been one way East Grand Forks Public Schools has filled open positions.
Mike Kolness, superintendent of East Grand Forks Public Schools, said his district is applying for a number of out-of-field permissions, which allow teachers to instruct a subject in which they did not receive a degree, but are still equipped to instruct.
One fifth-grade teacher with experience in welding will move into a career and technical education role to teach middle and high school students. A 30-year high school business teacher in the high school will be transitioning to a special education teaching position.
"We're going to make sure we have strong support in place for teachers similar to that individual," said Kolness.
In Grand Forks, school administrators have turned to hiring international teachers to help the district out of this serious bind.
Brenner and his colleagues have been working with the Vogel Law Firm to expedite the process of securing H-1B visas for 13 international teachers, "to make sure that we have all of our ducks in a row," he said. That visa provides them with a more direct path to obtaining a green card.
The district becomes like a certification agency to bring teachers into the country through immigration status, he said. "So we're basically their sponsors. …
"If international teachers remain with us for three years, that moves them closer to green card status. As long as we are their sponsoring agency, they can only work for us."
Most of the international teachers are from the Philippines; others are from Nigeria and Ghana, "and they're teaching anything from special education to English language arts" at all grade levels, Brenner said.
Not all of the international teachers were expected to arrive in Grand Forks before the start of school this past week, he said. So, in some cases, other employees are stepping into the teacher's role.
Those assignments may continue for a week or up to two months, Brenner said. "They'll fill in until the international teachers arrive. The same holds true for one or two of our instructional coaches who really help support teachers in their teaching. But the priority is to make sure we have teachers in our classrooms."
The Grand Forks school district launched an employee referral program, midway through the last school year, whereby a current employee can refer a candidate for a position and if that person is hired, the referring employee receives a $250 check.
If the new employee remains on the job for several months, he or she would receive $200, Brenner said. "We did 83 of those last year — 83 internal referrals – so that's how we found some people."
A video, posted in mid-August on the district website, alerted the public to the need for part-time workers.
District administrators are also relying on word-of-mouth advertising, Brenner said. "The ambassadors for the district are always our employees, so they've been helpful to recruit."
The district has also offered, for general education teachers with experience who want to earn their special education certification or endorsement, "we will pay for that, as a school district. And we'll also pay you $2,000 a year above and beyond your contract for the work that you're doing outside of the workday for your program of study," Brenner said. "And we've had a few people sign up that way. And then the agreement would be they'd stay with the district for a period of time after they've completed their program."
The Grand Forks school district has partnered with UND on streamlining the master's and specialist programs in special education "for the unique situation that we're in, to try to fast-track the whole certification process" and determine if some courses currently-employed teachers have already taken, do not need to be repeated, Brenner said.
Another idea that's been discussed, but not finalized, is paying student teachers, Brenner said. "That's not something we have ever done, and I'm not aware that any other school district in North Dakota has done.
"The concept behind that would be, if we're paying our student teachers — even if it's a no nominal fee — that might increase our student teacher pool and that might increase the likelihood that we have a greater pool to draw from at semester time or at the end of the year to hire from."
Students who are majoring in education at UND and at other area universities, such as Mayville and Valley City state universities, and Minnesota State University Moorhead, would be eligible.
In his decades-long career, Brenner has never faced a hiring situation like this, he said.
"This is a very unique time. The vernacular I've been using is, it feels like Shark Tank – school district to school district," he said.
But the lack of teachers and other school workers is not just an education problem, Brenner observed. "It's a workforce issue across the country," he said, citing recent data that shows the number of child births is not keeping pace with the amount of open positions.
"So public education may change, as we know it, as a result of the restrictions that we're working with."
The Touchdown Pepperoni Cheese Ball features a medley of popular pizza flavors including mozzarella, Parmesan cheese, olives, jalapeños, onion, garlic, crushed red peppers, oregano and pepperoni.