After statewide mask mandate, Grand Forks City Council removes its own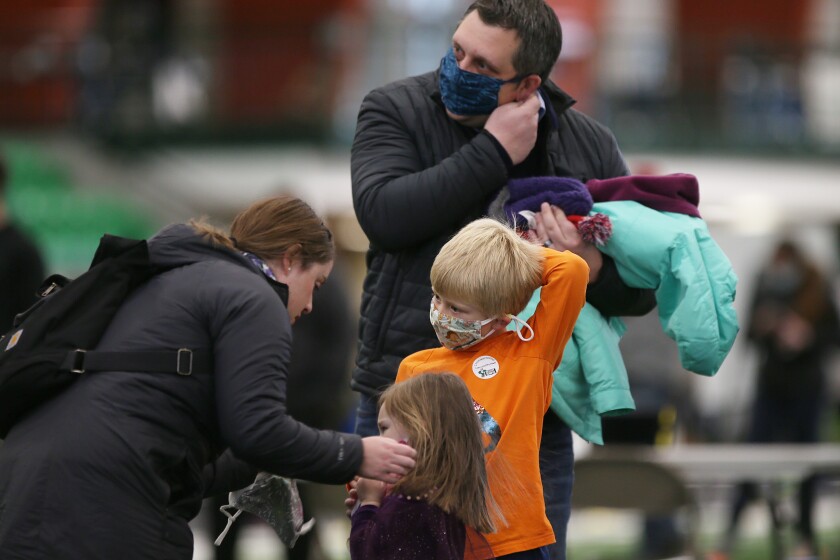 The cascading effects of Gov. Doug Burgum and state interim Health Officer Dirk Wilke's Friday night COVID-19 orders continued in Grand Forks.
City Council members on Monday voted 4-1 to rescind their late-October citywide mask mandate, which was made redundant by Wilke's order that requires people across North Dakota to wear a mask in all businesses, indoor public spaces, and outdoor public settings where they cannot properly distance from one another. On Saturday, Mayor Brandon Bochenski rescinded a handful of orders he issued earlier this month that were also largely the same as Burgum and Wilke's, and Grand Forks County Health Officer Joel Walz did the same .
But the vote at Grand Forks City Hall to follow suit was relatively narrow because some council members didn't see the need to undo their own mask mandate.
"It makes sense to leave ours," said council member Katie Dachtler, whose microphone was muted during the vote but who later said she would have voted against rescinding the city mandate. "The governor's is only set for a month and, yes, he can renew his, but I just think instead of yanking people back and forth, if the governor's already trumps ours, it would make sense to just leave it."
Council member Jeannie Mock, who also opposed the idea, said she assumed the city would keep its order in place.
"So that we don't have to go through this conversation repeatedly," she said.
The key difference between the three mandates that were, briefly, imposed on Grand Forks residents over the weekend is the penalty for noncompliance. The citywide mask mandate prescribed no penalties for people who violated it, but the two health officers' orders did.
Running afoul of Walz's now-rescinded order would have meant up to 30 days in jail and a $1,500 fine. Violating Wilke's order could mean up to a $1,000 fine, but multiple North Dakota jurisdictions said they wouldn't enforce Wilke's order and would focus on educating residents instead.
Wilke's statewide order is set to expire on Dec. 14. If he doesn't renew it, Grand Forks city leaders will have a few choices to make: should they put their largely toothless order back in place? Should they reinstate it with actual penalties for noncompliance to maintain some kind of status quo in the hypothetical absence of Wilke's order?
"It probably carries more weight if we come back and do it again so it's clear at the end and gets rid of any ambiguity from two different orders," Bochenski said of a citywide mask requirement. "The county health officer, Dr. Walz, has made it clear, too, he's willing to act if, say, that the state health officer was to pull his."