Trip on a Tankful: Glamorous camping? Yeah, it's a thing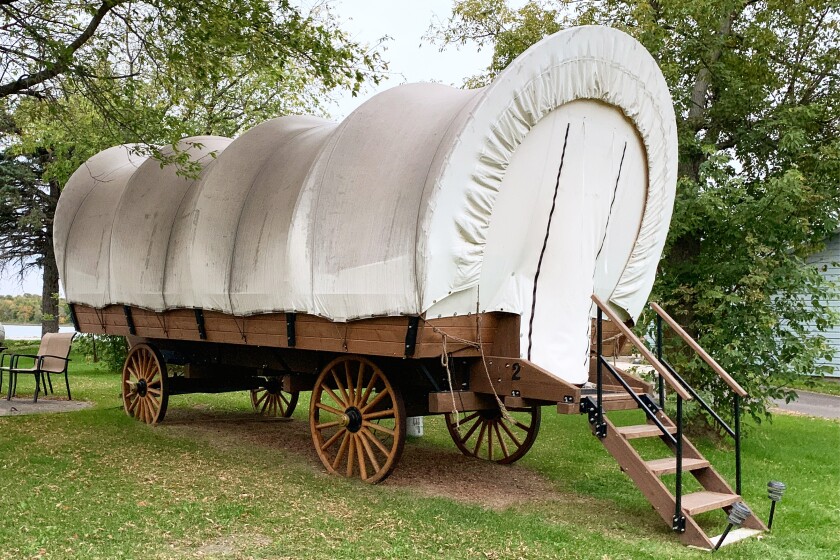 We are part of The Trust Project.
VERGAS, Minn. — The pioneers had it bad. Like, really bad.
If "The Oregon Trail" game — played by many throughout their elementary school days — taught us anything, it was to be glad that we were born after the creation of penicillin.
From cholera and dysentery to uncharted wilderness and animal attacks, the pioneers unflinchingly persevered through the American Frontier, paving the way for forward-thinking development.
And although 'glamping' (a.k.a glamorous camping) in replicas of their Conestoga wagons probably wasn't high up on their list of hopes for future advancements, it's a developing trend in outdoor lodging that's making headlines — and it's happening right in our own backyard.
Along the north shore of Rose Lake in Vergas, two custom-made covered wagons from Utah overlook the waters of one of Minnesota's pristine lakes.
Rose Lake Glamping offers a home-on-the-range experience for guests to sojourn as Wild West pioneers in the comfort of glamped-out covered wagons featuring king size beds, bunk beds, heating and cooling units, electrical lighting and dining areas.
Outside, guests have access to their own grill, an outdoor table and a fire pit. For recreation, yard games, a dock with a swimming area and a pontoon rental are also included.
And because this experience is still technically camping, private bathrooms are also outside — but only steps away from your wagon in an indoor facility where a laundry room and kitchenette are also found.
"Our glamping experience has become a popular option for those looking for a unique vacation experience or someone who just simply would like to spend a couple of nights close to the water on beautiful Rose Lake," Josh Hanson, the owner of Rose Lake Glamping, said.
In summer 2018, a popular Yosemite National Park resort captured national attention when it revealed a new way for folks to glamp.
Forget RVs and luxury tents with California king beds and indoor plumbing. Covered wagons were the new way to experience the 'pioneer spirit' alongside the great outdoors while still lapping it up in luxury.
But around this same time, the Vergas wagons were sleeping their first guests, too.
"I am always looking for new and exciting ways to attract tourists and friends to the Vergas area," Hanson said. "With many traditional cabin rentals available in the area, I wanted to bring a new accommodation to Vergas that would provide a one-of-a-kind experience for visitors."
A quiet, understated community, Vergas and the surrounding area offer any stressed or over-worked weekend visitor a quaint getaway in the fall.
From glamping on Rose Lake — an experience which allows a break from technology — to visiting a local pumpkin patch, taking a trip to the town with the world's largest loon statue will be a time to appreciate yourself, family and the changing seasons.
Each Conestoga wagon can accommodate up to four people, so bring along the kids, and for animal lovers, feel free to also bring Fido.
Throughout the month of October, there's an abundance of fall-friendly activities one can delve into around the area.
For those interested in seeking out fall colors, head over to Maplewood State Park. It features the scenic Hallaway Hill Overlook Trail, which gives terrific views of vibrant autumn foliage.
Need a pumpkin for your porch or apples for your pie?
Grab your gourd at Thea's Pumpkin Patch, a farm that is fantastic for kids and offers games, a petting zoo, hayrides and an 11-acre corn maze.
For lovers of autumn produce, Maple Hills Orchard is the way to go with a variety of Minnesota apples and U-pick raspberries available.
If bellies get to rumbling that evening, try out a local favorite called Spanky's Stone Hearth. The menu has an array of dishes for any particular palate, but don't be afraid to try the "Trust Me."
With a vague yet enticing description — which instructs you to let the chefs astonish your taste buds with their culinary talents — it's sure to make for an interesting and tasty surprise.
After appetites are satiated and the sun goes down, return to your wagon and build a one-of-a-kind fire in a metal fire pit designed to resemble the world.
And as bedtime approaches, get lulled to sleep by the sounds of Rose Lake and surrounding nature, which are only a wagon-covering away from where you rest your head.
Excited about trying out glamping? Here are some tips:
Bring extra warm clothes. Although you're glamping, nature will still be at your doorstep so prepare in advance for unpredictable weather.

Bring extra security. There's only a zipper keeping the outside world out of your wagon. Perhaps, bring a padlock for peace of mind.

Bring a reusable water bottle and snacks. Save yourself the trouble of running to the store once you arrive.

Bring extra towels and blankets. Glamping is all about keeping the comforts of home intact, so bring some extra staples just in case.

Bring a portable phone charger. If you decide to stay 'plugged in' while glamping, a charger is great for convenience's sake.
What: Rose Lake Glamping
When: Available from May through October.
Where: Vergas, between Detroit Lakes and Pelican Rapids
How to book: Search 'Vergas, MN' in Airbnb or VRBO; or contact Josh at Spanky's Stone Hearth