Fargo couple shares the gifts of their sons' open adoptions
Kacie and Ryan Schulz talk about the abiding love that led them to their family and guides them in their parenting journey
We are part of The Trust Project.
It all comes down to love.
That's the resounding message you take away from a conversation with Ryan and Kacie Schulz about their journey to adopting their two adorable sons Fletcher and Arlo and the beautiful relationships they have with the biological parents of those little boys.
Because they are all family, bound by the endless love they have for the boys and for each other.
The first chapter of a love story
Like so many, Ryan and Kacie's story started long before their cherubic children entered the picture. They met in 2011 through mutual friends just before Ryan was deployed overseas, and while they made the most of their time together before he left, the majority of their dating life consisted of video calls in different time zones. Not only that, but the couple exchanged many letters – yes, personally written, mailed pieces of paper – with one another. "Not necessarily what young people today experience when they're dating," Kacie laughed.
Shortly after Ryan returned, the pair became engaged and married in August 2013. Thanks to the many hours they'd spent talking, Ryan and Kacie knew they wanted a family and planned to start one as soon as they could. "I've always loved kids, and I thought I'd be the first of my friends to have kids," Ryan shared. "So when it wasn't happening for us, we started talking about adoption. I'd always known I wanted to be a parent, so I said, 'Yes, let's do it.'"
Arriving at adoption as a way to grow their family happened after testing and consultations for their unexplained fertility as well as exploring assisted reproductive technology. But something wasn't quite right. "That just wasn't where we felt comfortable, where we felt called," Kacie shared about reproductive assistance. "Faith is really a huge part of our life . . . so we felt like we needed to explore other options, and fertility options didn't feel like where we were being led." They explained that their prayers changed from asking God to give them a pregnancy to asking God to grow their family in any way that was meant for them.
Kacie shared that as they contemplated infant adoption , she experienced a few "God moments" that seemed like signs they were headed in the right direction.
One of those moments happened when Kacie was traveling to Florida, and a couple next to her on a flight began talking about their children. They did not know she had considered adoption, nor did they know she had silently wondered if parenting feels the same for both biological and adoptive parents. It turned out that the couple had both biological and adopted children, and they looked at her without prompting and said, "The love is just the same."
She understood this to be an answered prayer. She explained that she now understands, "God makes families in so many ways; families don't have to match," Kacie shared. "Love is God given."
Opening their hearts to love
Once Kacie and Ryan started the adoption process, they felt a rush of excitement as people asserted that they would match quickly with a prospective birth mom and have no trouble being chosen as the adoptive parents. But, that process was fraught with some frustrations and waiting as well. They remained optimistic about God's plan for them, standing firm in their faith that they would match when it was right.
And then they matched. They were "on Cloud 9", Ryan said, as they traveled to another state to meet the mother and baby, and then they got a call that shattered their hearts. "Our case worker called and said, 'Are you alone?' and that's not what you want to hear," Ryan explained. "She said the mother had decided to parent." So they returned home…with no baby.
As they coped with the disappointment, Kacie and Ryan got another call soon after. "It was scary to say yes again," Kacie said. As they contemplated whether they should open their hearts again to what could be another devastation, they learned the baby was a boy. "And I said, 'Yes'. In my head, we were already planning for a boy, so I said, 'Yes, let's do it,' " Ryan shared. Less than two weeks after the first match, they hopped a plane to Arizona to meet the woman who made them mom and dad to their son Fletcher.
Before they matched with Fletcher's birth mom, Ryan and Kacie had planned to have a semi-open relationship with the birth parents, but after meeting with her in person, they felt that having an open adoption just made sense .
"It is the faith, love and trust of our children's biological families that has made us a family. Ultimately, they're the ones who loved their babies first."
Kacie Schulz
"We felt a bond then, and now she's become family to us," Ryan said. They knew the benefits for their son would be greater with an open relationship, plus it aligned with their own values. "We are called to love people, all people," Kacie shared. "We just knew that if this woman is trusting us with such a big part of herself and her heart and her love, the least we can do is be open to having a relationship with her."
Fletcher, who is now 4, knows his biological mom by name and that she carried him in her tummy. "We have visited quite a few times since his birth and have enjoyed making memories together. We have photos of her helping him learn to walk, swimming with him at the pool, and all of us celebrating his second birthday. She's a dear friend who loves him," Kacie said. "We all just love him."
When the time came for Kacie and Ryan to expand their family, they hoped to adopt again in Arizona. So they again asked God to grow their family, and after several months, they matched with their second son Arlo's birth mother. They loved the open relationship they had with Fletcher's birth mom, but Kacie and Ryan prepared themselves for the fact that all adoptions look different so an open relationship with Arlo's birth mother may look slightly different. They were delighted to discover that his birth mother welcomed an open relationship with them and Fletcher. In fact, she invited Kacie to stay in her room with her and Arlo because there wasn't a separate room available in the hospital, a lovely story Kacie shared with Love What Matters in 2019.
In thinking about her family's story, Kacie recognized that while she and Ryan overcame hardships in their journey, the biological parents of her sons had to make the hardest decision first. "It is the faith, love and trust of our children's biological families that has made us a family. Ultimately, they're the ones who loved their babies first," Kacie said.
Kacie and Ryan have become advocates for open adoption, sharing their struggles and joys with anyone in need of an empathic ear or supportive friend. Both Kacie and Ryan have backgrounds in education (he graduated from NDSU and she graduated from Concordia), so they have a natural inclination to want to help others. "A lot of people don't know who to turn to, who to talk to," Ryan said.
One way they've shared their story is through an Instagram account called @SchulzScripted . The page originally began as a way for people to support their adoption journey and the costs associated with it by purchasing leather bracelets Kacie made with Bible verses on them, such as Proverbs 16:3, Jeremiah 29:11 and Ephesians 4:2. The page has now become a way for them to chronicle their family's story of love, adoption, family and faith.
"Everyone needs encouraging stories…we all desperately need that in our human journeys and the authenticity of stories of struggle, too," Kacie explained. "We were willing to share that this is something that has been a rollercoaster journey; we took risks and relied on our faith and had the happiest ending we could imagine."
While Kacie and Ryan acknowledge that they can't speak for the biological parents of their sons, they are confident that having open relationships with all of them has been beneficial for everyone involved. "Their roles in our children's lives is something we could never replace and we wouldn't want to," Kacie said. "Because of openness we still get to be a family…and openness has become a testimony to the goodness in this world
Kacie and Ryan's faith has played a major role in their adoption journey, and they both recognize that it has been an anchor for them when facing challenges or disappointments. "Could we have gotten through this without our faith?" Kacie shared. "Unequivocally, no…we all need something bigger to believe in, and to believe that there is good and a plan for us. That is what got us through this."
A special Bible verse for the couple is Proverbs 16:3: "Commit to the Lord whatever you do, and he will establish your plans."
"We just laid it down, from a faith perspective, at the cross, and we just prayed to God, and gave it to Him to show us," she shared. "We said we are here to have our plans established by you, God…we just trusted in God, and now we have two sons who are the highlight of our lives and we thank God for them every day."
Kacie and Ryan also talked about their gratitude for the incredible support they have received throughout their journey, mostly from friends and family but often from acquaintances or even strangers. Family members of friends let the Schulz family live in their houses for nearly a month after they adopted each of their sons. "That's not a small amount of time to have someone else living with you, and they gave us that gift," Kacie shared.
"Adopting my children and everything that comes along with it has been the most humbling thing I have ever been through in my life, bar none. To be entrusted with something that is literally part of someone else is so humbling."
Kacie Schulz
A woman donated her breast milk, which had to be properly stored and delivered to the Schulz family. "That's literally hours and hours of time that somebody had spent saving extra breast milk for their own child that they gave to us," she said.
A woman they do not know found out about their story and gave them the proceeds from selling candles she makes once a year. "She sent us that money to help with our adoption costs," Kacie explained, obviously still incredulous at that unexpected gift. "Never underestimate the power of being kind."
Looking back on those instances continues to humble Kacie, even years later. It's a feeling she's used to, though, after the journey she and Ryan have been on. "Adopting my children and everything that comes along with it has been the most humbling thing I have ever been through in my life, bar none," Kacie shared. "To be entrusted with something that is literally part of someone else is so humbling."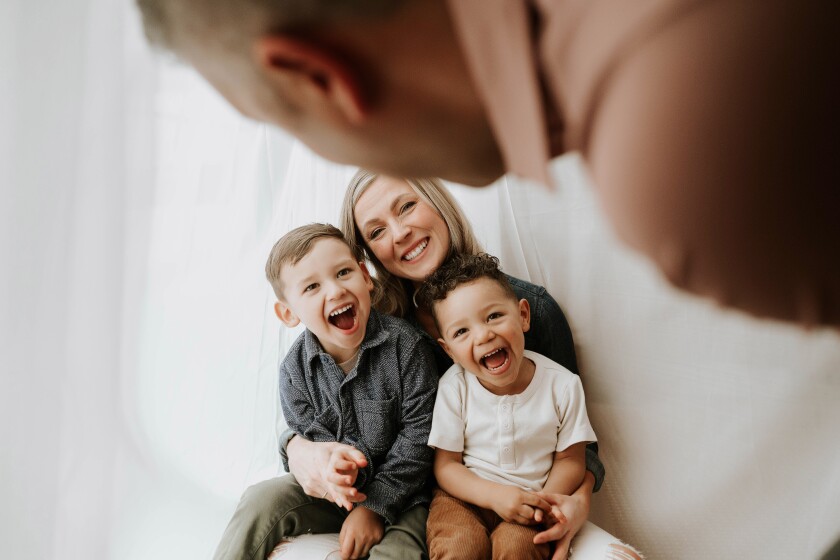 7
/
7:
Kacie and Arlo look at items contained in his birth box.