For Grand Forks parents, George Floyd part of ongoing talks about race
Darcey Lunski's youngest son was 5 when a kid at school told him to wipe the black from his skin.
She told her son that there would be people in the world who wouldn't like him because of that skin color, and, in the years since then, they've had deeper talks about race and racism as the national conversation increasingly turned to the police killings of black people -- particularly men and boys. Lunski's son is now 13.
"He is biracial, but society looks at him as a black male, so, as a mother of that child, it's a scary world," Lunski, who is white, said. "It's just been a big topic."
The same is true for six other Grand Forks-area parents who spoke to the Herald on Friday, June 5, a day after hundreds gathered downtown to decry the death of George Floyd, a black man who was killed late last month in Minneapolis by a white police officer. Floyd's death -- which Hennepin County's medical examiner and an independent autopsy requested by his family both deemed a "homicide" earlier this week -- sparked demonstrations across the world and, in several U.S. cities, they've turned violent.
Aiyana Luke, a black woman with three black children, told them where that destructive anger comes from. She compared the United States to a rigged game of Monopoly.
"You're working for somebody 400 years, and you don't get anything. You can't win that way, right? And then for the past, I want to say the past 50 to 60 years, it was OK, you work and you get a smaller portion than others," Luke said. "So now people are just angry and fed up and they're saying, if you're not going to give me a decent portion of the pie, then I'm going to take it. And it's sad that some people feel like their only chance at getting something nice or receiving something nice is to vandalize and to riot and to loot because they don't feel like they're getting the opportunity."
Luke stressed to the Herald that she's in favor of peaceful demonstrations and said the same when she spoke at the Floyd march on Thursday, June 4, in Grand Forks.
Hamzat Koriko hasn't talked about racism with his 2-month-old daughter, of course, but he's thought about how he will.
Koriko, who is black, said he plans to surround his daughter with toys and books that depict black people, and then have relatively light conversations with her about race when she's 5 years old or so, explaining that people might treat her differently because of the way she looks. He said he'd be careful using words like "hate" and instill that other people's criticisms of her won't always be based on her race or skin color. When she's older, Koriko said, he plans to move into deeper conversational waters.
"She needs to be careful what she does when she's around people because people might read that in a different way," said Koriko, adding that he also wants to instill in her a mindfulness of her surroundings and push her to read about the African American experience.
That gradual approach aims to avoid some of the shocks Koriko felt after he moved to the U.S. from Togo in 2004. That, Koriko said, is when he first realized he was a black person, rather than just a person.
"That was pretty shocking to me," Koriko said. "It feels very isolating ... what I realized was that, because of the extended racism structure, I was right away forced into a group that looks like me. I was forced to become a black American even though I did not have the necessary experience to be a black American. And then we have to learn to be black Americans."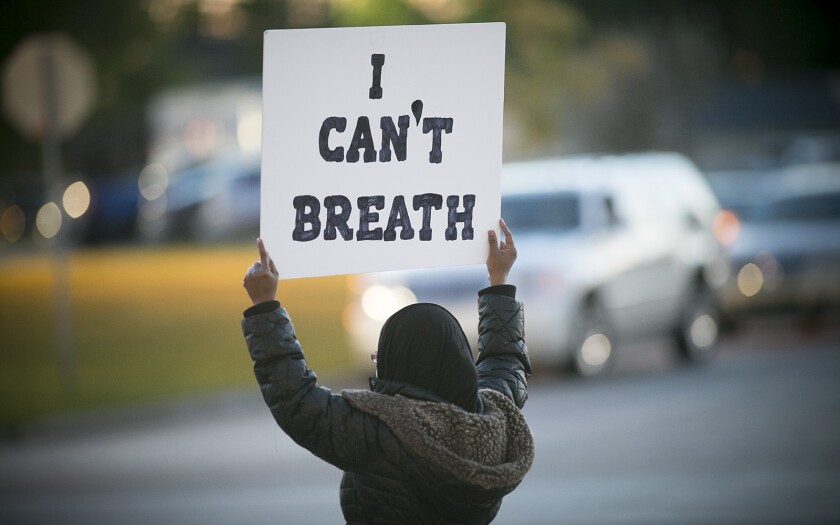 Chantal Kerr, who is Hispanic and American Indian, didn't immediately tell her 8-year-old son, who is multiracial, about Floyd's death, but he intuited that something was amiss.
"I had to be blunt with him: The police murdered a black man," Kerr said. "And people stood by and let it happen, and other police officers stood by and let it happen. And that it's happened before and will happen again, and that's what's causing people to protest, and that's what people are protesting against."
But, Kerr said, she also made sure that her son paid his respects to officer Cody Holte, the Grand Forks Police officer who was killed assisting a pair of Grand Forks County sheriff's deputies as they attempted to evict a man. She said she won't raise him to believe that all policemen are bad.
Hillary Kempenich, who is Anishinaabe from the Turtle Mountain Band of Chippewa, said her youngest daughter, who's 12, asked why Floyd's death in particular pushed race and racism to the front of the national consciousness. She said that led to a talk about how black and indigenous people are tired of being overlooked and oppressed, then to people who've been victims of police brutality, then to how people should be able to trust their leaders.
"Changes are slow to arrive, if changes happen at all. And oftentimes, we receive performative responses, without action taking place afterwards," Kempenich told the Herald. "Our own family has not been spared from experiencing various forms of racism. We are continually advocating for ourselves as well as others in society. We have to recognize our own privileges and utilize them for good in our communities. It is a responsibility we carry in our home to help uplift others ... And I think it's important that the biggest conversation is about our duties as individuals to work together in our community and to be involved in civic engagement."
More than one interviewee indicated that white parents of white children have more room to maneuver before bringing up Floyd's killing -- or at least its broader societal implications.
Daniel Knight's 6-year-old son knows that people are protesting Floyd's death, but Knight said he and his wife haven't delved into its racial overtones.
"We just kind of approached it as someone died who shouldn't have died and a lot of people are very upset around Minneapolis and other parts of the country," Knight said. "But as far as race -- we haven't really got into that as much with him or that being the reason why, necessarily."
Knight, who is white, said he didn't know when they might try.
"I guess when he starts asking questions about it, we'll start to open up about it more. It's never really been like we're avoiding it or anything," he said Friday.
Maura Ferguson said her two oldest children, who are 10 and 8 years old, have watched footage of Floyd protests with her, and said both had a hard time understanding why he was killed. They've had ongoing conversations about race and racism.
"We have the privilege of being able to decide when we're going to talk to our kids about these things," Ferguson, who is white, said. "But black children don't have that same luxury because their parents have to have those discussions with them because they're thrust into this system of oppression that they did nothing to earn."