Edinburg, N.D., woman chronicles the lives of deceased Walsh County residents to ensure they aren't forgotten
When Kim Pewe was researching and chronicling genealogy on the Find A Grave web site, she noticed that there were requests from people around the world who were searching for information about their ancestors buried in Walsh County cemeteries.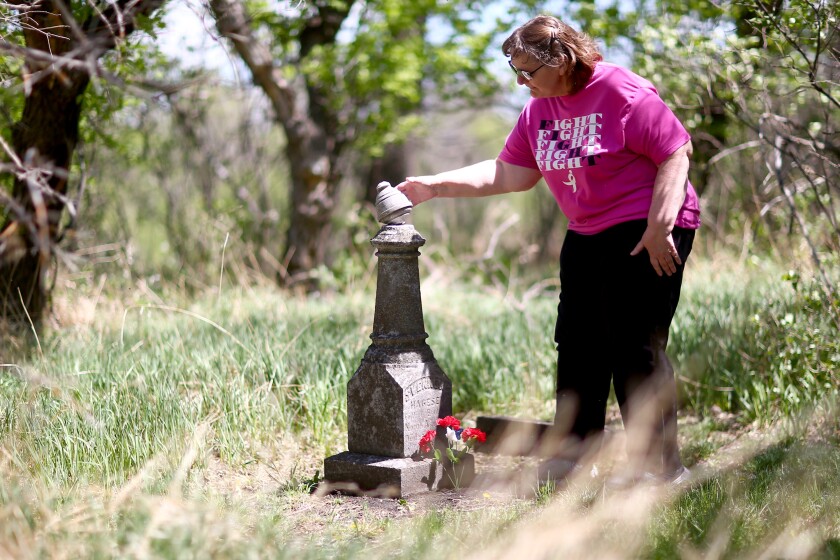 EDINBURG, N.D. – When COVID-19 shut down Kim Pewe's daily routine in 2020, she found new life walking through cemeteries to photograph graves and researching information about the people buried in them.
Since last summer, the Edinburg woman has uploaded to the Find A Grave website more than 3,000 photographs of graves in a dozen rural Walsh County cemeteries, including Trinity, the largest, which has 590 graves, and Langemo Pioneer, the smallest with 21. Pewe also strives to include a short biography of the people buried in the graves so searchers on the Find A Grave website can learn something about the lives of those they are researching.
Some of the photo requests on the website are from people who have been waiting for many years to have them filled, Pewe said.
"I get 'thank yous' all of the time. Since last summer, I've gotten more than a hundred," she said.
Pewe, who grew up in Edinburg, took on the role of family historian in high school when she did a genealogy project. She continued to research her ancestral heritage when she attended UND, and later her family, knowing about her interest in genealogy, gave her boxes of photographs and other information that had belonged to deceased relatives.
In early 2020 Pewe, a retired nurse, returned to Edinburg from Fargo, where she had lived the previous 20 years, to help her mother, Carol, take care of her father, Larry. Larry Pewe died in April 2020, and Kim Pewe, who now had time on her hands, decided to dive deeper into family history research. In doing so, she discovered there were people who needed help in their own quests.
The requests on the Find A Grave website were from people across the globe searching for information about their ancestors buried in Walsh County, Pewe said. Initially, she answered each request individually by taking a photo of a single grave and uploading it to the Find A Grave website, then moving on to the next request.
"Then I decided it was easier to do cemeteries. I just started photographing them – lots of walking," Pewe said. "I used my phone, and I uploaded them to my laptop."
It took the entire past winter to upload the photos, but she didn't mind doing it because she knows it was much more difficult to trace family history in the pre-computer and internet days. Pewe also appreciates that she can use technology to find cemeteries off the beaten path. She sometimes uses GPS to search them out.
Not all graves are marked, so she enlists the help of cemetery sextons. For example, Chuck Mielke, of Edinburg, has helped determine who is buried in a grave that has no name on it. Some of the unmarked graves have a funeral home marker buried beside it, and Mielke uses a metal detector to find it, she said.
"He's been a godsend to me," Pewe said.
She wonders about the lives of the people whose graves aren't marked.
"If I had all of the money in the world, I would put grave markers on every one," Pewe said.
Besides uploading photographs to the Find A Grave website, she includes information she has researched about those who have no biographies, and adds it to the site. Sometimes, that identity is not something a family member necessarily would be proud of, but Pewe believes it's still important to note, both for historical and philosophical reasons.
For example, she created a biography for Franz Emanuel Meritalo, who shot and killed Charles Buck, the founder of Edinburg. Born in Finland in 1883, Meritalo died by suicide after he killed Buck.
"They're part of Edinburg history. They're somebody, too," she said.
Though she's already added more than 3,000 photographs to the Find A Grave website and has 2,000 more on her phone that she will upload, Pewe isn't finished taking pictures of graves and writing biographies.
"There are over 1,000 photo requests in a 50-mile radius of here," she said. "There's always a calling to stop at a cemetery. I can't help myself."
1
/
2:
A pioneer grave is decorated for Memorial Day in the old Garfield cemetery near Edinburg, ND, May 24, 2021 . Photo by Eric Hylden/Grand Forks Herald
2
/
2:
Kim Pewe reviews a record book from a Walsh County cemetery at her Edinburg, ND, home May 24, 2021. Pewe researches and photographs graves and the people buried in them and has uploaded more than 3,000 photos to the Find a Grave website. Photo by Eric Hylden/Grand Forks Herald