Blige's latest: Star-stuffed slick soul, rapid fire hip-hop
Here are reviews of new musical releases. Mary J. Blige - "My Life II: The Journey Continues (Act 1)" (Geffen, 3 stars): Seventeen years ago, Mary J. Blige let loose with the harrowing "My Life." Filled with raw emotions evoked by an abusive rela...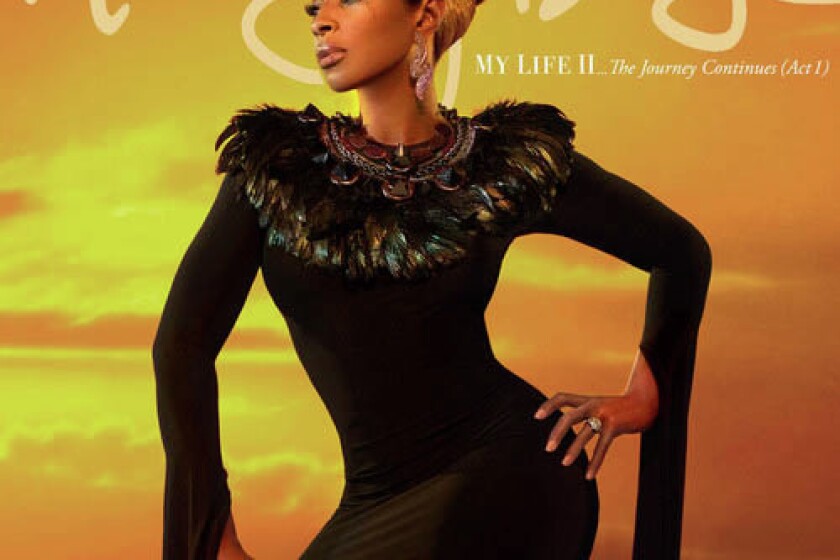 Here are reviews of new musical releases.
Mary J. Blige
- "My Life II: The Journey Continues (Act 1)" (Geffen, 3 stars): Seventeen years ago, Mary J. Blige let loose with the harrowing "My Life." Filled with raw emotions evoked by an abusive relationship and addictions of all kinds -- to say nothing of her personal and professional move from pavement to penthouse -- "My Life" set a high bar for all rap/R&B belters. Even Blige couldn't often match "My Life's" nervously fatalistic yet hopeful soul.
Blige's life and sound have famously moved past "My Life's" messiest business. This second volume's first act (more continuation here than the "Final Destination" film series) is a sequel, a star-stuffed (Drake, Nas, Beyoncé) slice of slick soul, rapid-fire hip-hop and sappy but solid ballads. Of course, it contains MJB's patented brand of angst anthem on "The Living Proof," in which Blige starts out beaten down, only to rise like a self-affirming Technicolor phoenix. There are Gamble & Huff and Wu Tang Clan samples to croon atop, covers to be tackled (Rufus/Chaka Khan's "Ain't Nobody"), and battles to be won over her costars. Tracks such as "Empty Prayers" and "25/8" show Blige at her breast-beating best, giving the agonies of 1994 a good run for their money.
Candi Staton
- "Who's Hurting Now?" (Forced Exposure, 3 stars): Alabama-born R&B belter Candi Staton earned her "First Lady of Southern Soul" sobriquet in the early 1970s, recording for Rick Hall's Fame Studios, and she scored one big pop hit with "Young Hearts Run Free" in 1976.
After decades singing gospel, she made a pop comeback with 2006's "His Hands," recorded for Britain's Honest Jon's label. "Who's Hurting Now?," a follow-up produced by Lambchop's Mark Nevers, includes songwriting contributions from '60s song scribe Dan Penn, alt-country singer Mary Gauthier, and indie changeling Bonnie Prince Billy, aka Will Oldham, who also wrote the title track of "His Hands."
The uniformly strong set of raspy-voiced soul was issued in the United Kingdom in 2009, but unavailable in the United States until this month.
Jethro Tull
- "Aqualung: 40th Anniversary Collector's and Special Editions" (various packages; EMI, 3½ stars): Forty years old now -- thus, these anniversary packages -- Jethro Tull's "Aqualung" is justly famous and justly notorious. It's famous for its ambition, its treetop playing and for being one of the few early-'70s concept albums (Ian Anderson denies it; he would) that (a) really did have a coherent, worthwhile concept, and (b) said profound things about it via pop music.
For many, though, it also marks the moment prog vaulted the whale shark. The title track, with its angular chording, sneering vocals and too-clever breaks (from full-on smash to sensitive strummed guitar, back to breakneck jamming), is now rendered a permanent joke via radio overplay, Exhibit A in prog's self-immolation. "Aqualung" might be the one time pop touched the face of God -- but snot is running down its nose. The sour smell of excess does not, however, overwhelm a headlong, flamboyant collection by a group of musicians ready to try anything. This package is worth having just for that.
(I mean, it's frightening what's on offer. You can pay more than $100 for a package with a vinyl album, DVD, Blu-ray, with up to 61 tracks. Depends on how much Tull you want.)
How many albums tackle the nature of God, the problem of evil, the notion of grace and, and, and ... all that? "Locomotive Breath," possibly the best of many strong tracks, depicts a world out of control, with Old Charlie swiping the handle (and the singer says, "I'm glad"!). John Evans kills on piano in "Breath," and Martin Barre is a guitarist splendiferous throughout, especially in "Aqualung" and the superb, unjustly underplayed "Wind-Up."
As Anderson's characters -- Aqualung, Cross-Eyed Mary, Mother Goose ("and she was screaming"), the Jackknife Barber -- shamble through a smeary landscape, we're hit with hair-raising directness: "If Jesus saves/ Well, He'd better save himself/ From the gory glory-seekers/ Who use His name in death," or the startling insistence that whatever God may be, "He's not the kind you have to wind up on Sundays."
The Black Keys
- "El Camino" (Nonesuch, 3½ stars): This is a straight-ahead rock 'n' roll album, and an excellent one. Last year's "Brothers" was the Black Keys' breakthrough, garnering the Akron, Ohio, duo its best sales and several Grammys on the strength of the single "Tighten Up" (not coincidentally the sole track produced by Danger Mouse) and the album's diverse, soulful intensity. For "El Camino," the duo's seventh full-length album, guitarist/ vocalist Dan Auerbach and drummer Patrick Carney decamped to Nashville, brought back Danger Mouse as songwriting partner, keyboard player and producer for the whole record and dialed up the volume.
Although garage-band blues is still the bedrock, these tracks share DNA with the riff-happy best of T. Rex ("Lonely Boy"), Led Zeppelin ("Little Black Submarines"), and the Clash ("Hell of a Season"). There's nothing subtle here: "El Camino" is pure high-octane rock and, as the title implies, perfectly calibrated to be heard at maximum volume on a road trip.
Kenny Vaughan
- "V" (Sugar Hill, 3½ stars): Kenny Vaughan has been the guitar slinger in Marty Stuart's Fabulous Superlatives for 10 years, and the Colorado native has been an in-demand accompanist since he hit Nashville in the late 1980s.
"V" is Vaughan's first solo album, and it's, well, superlative. A brisk and varied set of originals, it blends impressive instrumental mastery with down-to-earth charm.
Backed by the Fabulous Superlatives, including Stuart, Vaughan starts off appropriately with the rollicking honky-tonk of "Country Music Got a Hold on Me." From there, he dives into Western swing with "Hot Like That," goes hangdog for the mandolin-accented lament "Lillie Mae," channels Buck Owens with the propulsive twang of "Stay Out of My Dreams," gets funky with the Oak Ridge Boys on a trip to "Okolona, Tennessee," and closes with the driving gospel of "Don't Leave Home Without Jesus."
Christian McBride
- "Conversations with Christian" (Mack Avenue, 3½ stars): Now 39, Christian McBride, the über-jazz bassist of his generation, drops the big band and the small groups to go one-on- one with each of 13 guests. These duets show how far the Philly native likes to roam -- from funk to Latin jazz to baroque -- and the respect he commands.
Sting is perhaps the most prominent. Their take of "Consider Me Gone" is passionate if a bit forced. McBride's bowed bass is a perfect complement to the late Billy Taylor's homey piano on "Spiritual." He inspires pianist Chick Corea to go modern on "Tango Improvisation #1," while his funky urgency gets singer Dee Dee Bridgewater to lay some spirited sass all over "It's Your Thing."
Duets in other hands are often dreary affairs, but wit and derring-do are never far away for McBride. He and violinist Regina Carter find the blues in Bach on "Fat Bach and Greens." And his duet on "Chitlins and Gefilte Fish" with actress Gina Gershon on the twangy Jew's harp is a goof.
Tomas Luis de Victoria
- "Sacred Works" Ensemble Plus Ultra, Michael Noone conducting (Archiv Produktion, 3½ stars); "Requiem 1603" La Stagione Armonica, Sergio Balestracci conducting (Pan Classics, 4 stars); "De Beata Maria Virgine; Missa Surge propera" Choir of the Westminster Cathedral, Martin Baker conducting (Hyperion, 3 stars): The 400th anniversary of composer Tomas Luis de Victoria's death is calling attention to some of the highest peaks of the Spanish Renaissance, but is testing the capacity of 21st-century listeners to accept beauty. Endless streams of lush, integrated polyphony require great concentration for parsing the intricacy behind the mellifluousness.