50/50: A Ceramics Centennial at UND
UND is preparing to mark the 100th anniversary of the historic and contemporary aspects of its ceramics program with presentations, exhibits and workshops beginning next week, continuing through April and beyond.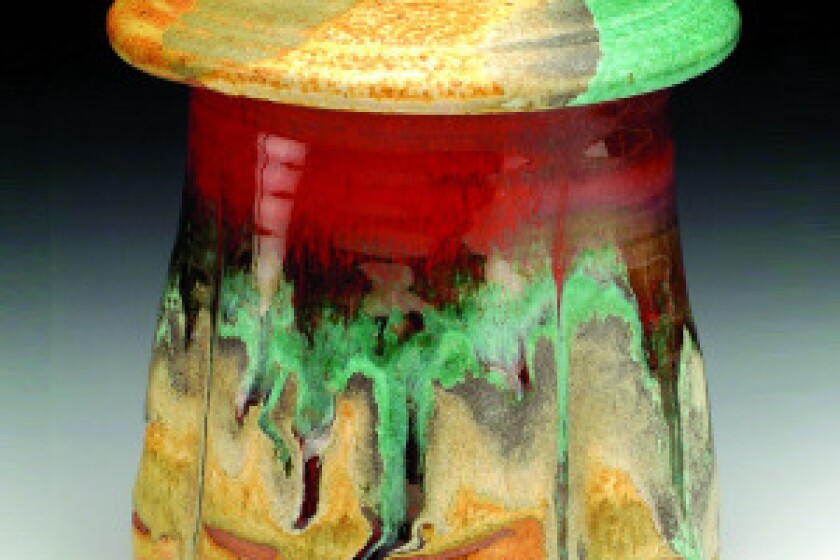 UND is preparing to mark the 100th anniversary of the historic and contemporary aspects of its ceramics program with presentations, exhibits and workshops beginning next week, continuing through April and beyond.
Don Miller, a longtime professor for UND Department of Art and Design, says the centennial is the chance to celebrate history and tradition as well as more modern aspects of the art, and something about ceramics that is basic and special.
"How many people have the joy of coming in and playing in the mud" Miller asked, "and of having it used expressively and in utilization? It's great stuff."
The Ceramics Centennial will begin with a two-day workshop Thursday and April 9 by Jim Ulmer, who earned a master's degree at UND in 1973 and established Springwood Pottery in 1976 north of Frazee, Minn. It and all the other April centennial events (see schedule on Page C2) are free and open to the public.
Workshops April 15-17 will bring internationally recognized clay artists Robert Archambeau and John Glick to UND. Exhibits at two locations will open from 7 to 9 p.m. April 17 for "50/50 The Cable Years/The Contemporary Years."
"The Cable Years" will be in one of the storefronts in the former Target wing of Columbia Mall. "The Contemporary Years" will be in North Dakota Museum of Art on the UND Campus.
Margaret Kelly Cable, founding chairwoman of the UND ceramics program, is remembered as the heart and soul of UND pottery, practically a legend to many pottery fans, artists and collectors.
"That Cable influence in pottery has that kind of almost a mystique about it," Miller said.
Cable was a native of Crookston and a nationally known clay artist, teacher, and researcher at UND from 1910 to 1949. The pottery made under her tutelage bears the cobalt blue School of Mines seal and has made those works valuable.
After Cable left, the seal continued to be used on pottery made through 1963, during which time Julia Mattson continued to teach at UND. When Mattson retired, the seal was retired, too, Miller said.
Another important person in UND's ceramics story was Margaret Pachl, who came to teach in 1949 to replace Cable. She was "one of the bridge people" who links UND's Cable years with its contemporary years in ceramics. Pachl never used the UND seal in her work, Miller said, and her pieces reflect the contemporary ceramics of the time. In the late 1950s, American ceramics, previously seen mainly as utilitarian and a craft medium, were changing to become more of an individual expression. Pachl, too, taught ceramics as an individual activity, not as a corporate one, Miller said.
Today, UND offers a ceramics major but most of its approximately 150 ceramics students are humanities majors. At UND, the history and tradition of ceramics includes growth, development and change, Miller said. Too many people see ceramics at UND as being just the first 50 years and nothing else, he said.
"The celebration is really about our program having the ability for students to do what they want in this area and in the future. It's about a kind of maturing," Miller said. "I've been around 40 years, so I've seen most of those 50 contemporary years. We started out very much as throwing and utilitarian ceramics and we've moved beyond that."
Nationally, few universities can boast a 100-year-old ceramics program. A century of ceramics has meant a rich history of involvement in everything from the Arts and Crafts movement to the contemporary trends of postmodernism.
The ceramics department was created 100 years ago to advertise and exploit the region's clay deposits. Today, Miller and Professor Wesley Smith emphasize the potential of the individual artist, according to a news release. The UND program includes a biannual lecture and workshop series and a new kiln yard. It has added a wood-fired Manabigama, a downdraft salt kiln, and a downdraft soda kiln.
The UND School of Mines, founded in 1890, experimented with and developed many clays and glazes: Dickinson, Beulah, Hebron, Mandan, Weigel, Red and Grey Ross, McCurdy, Hettinger and bentonite.
According to "University of North Dakota Pottery, the Cable Years," some early UND pottery is characteristic of the arts and crafts style, or shows art noveau or art deco influences. Other works feature native flora and fauna, Indian and Western motifs or farming and hunting scenes. Others show exquisite gradation from one color to another.
Early sales of UND pottery were primarily to locals and friends of the department and university. By the late 1920s, souvenirs were made for sale at Glacier Park hotels. Soon shops in North Dakota and surrounding states were ordering pottery.
By 1938 a salesman was hired and a list of samples prepared. Gift shops, drug, jewelry and department stores in North Dakota, South Dakota, Nebraska, Iowa, and Minnesota began selling UND. In addition, many special order souvenirs for conventions and groups were produced in the '30s and '40s, including vases, plaques, medallions, paperweights and ashtrays. Groups that ordered souvenirs included the Boy Scouts, 4-H clubs, Masons, Rainbow, Odd Fellows, Rebekah, PEO, American Legion and Auxiliary, Lions Club, Daughters of Norway, Medical Association, Young Republicans, Non-Partisan League and others.
A number of special presentation pieces were made at UND. Queen Marie of Romania received a vase and bowl in 1926 upon her visit to North Dakota. In 1928, a Lewis & Clark bowl was presented to Sarah Anderson (a descendant of Meriwether Lewis) who christened the Lewis & Clark bridge at Williston. Crown Princess Martha of Norway received a vase in 1939, and a vase was presented to President John F. Kennedy in 1963.
The North Dakota Pottery Collector's Society will hold its June 10 convention in Grand Forks, coinciding with the close of the "50/50 Cable Years/Contemporary Years" exhibits. For a schedule of the conference and activities, go to www.NDPCS.org .
Reach Tobin at (701) 780-1134; (800) 477-6572, ext. 134; or send e-mail to ptobin@gfherald.com .