Tickets on sale for 'Roy Orbison Tribute' show
David K and his band play the artist's memorable hits, hoping "to keep Roy's music alive," he said.
GRAND FORKS – Tickets are on sale for the "Roy Orbison Tribute" show at 7 p.m. June 4 at the Empire Arts Center in downtown Grand Forks.
Singer David K is known for his multi-octave vocal range, according to a news release about the artist, who performs with a band which includes violin and viola musicians, a bassist and a drummer.
Audience members will enjoy hits from the 1950s and 1960s to early rock to his dramatic ballads, as well as hits that were recorded by others, like Linda Ronstadt's version of Roy's Blue Bayou and "Pretty Woman" from the movie of the same name, and his Traveling Wilburys tunes in the 1980s.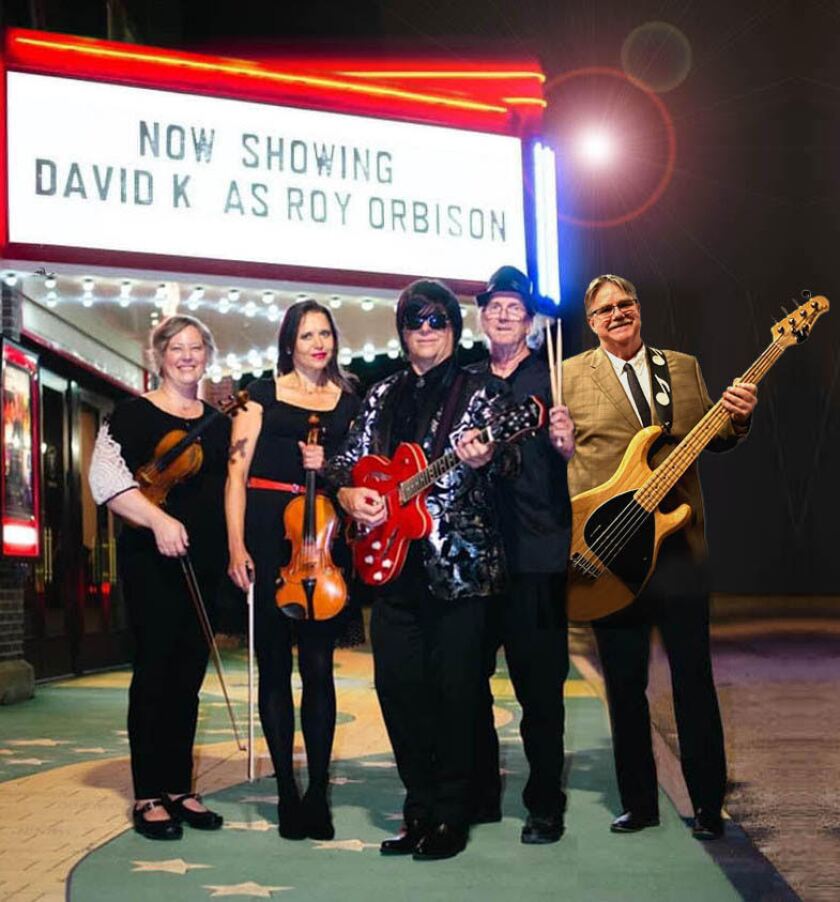 During this show, David K shares tidbits of Oribsons's tragic but legendary career. He performs nearly 30 songs, including "dreamed songs," which he believes were sent from, or inspired by, Orbison.
Purchase tickets, at $25 each, and see videos at www.royshow.com .
Central Middle School to host 'Outsiders Day Car Show'
The "Outsiders Day Car Show" is set for noon-1:30 p.m. Wednesday, May 25, in the bus loop on the east side of Central Middle School in East Grand Forks, according to Amanda Adams, seventh-grade language arts teacher.
The annual event is open to the public. Last year it featured about two dozen classic cars that owners displayed for the students and others, Adams said.
Every spring, her students read the novel, "The Outsiders," by S.E. Hinton, she said. "We discuss all sorts of things with the book, including stereotypes, fitting in, being an outsider, etc. It's the perfect novel for this age of kids and many of their parents and grandparents read it as a kid too."
On the day of the car show, her students dress up as their favorite character from the book and enjoy snow cones by Nate's Shaved Ice, balloons, and more.
Classic car-owners are welcome to bring their vehicles to the school at 11:45 a.m. Wednesday.
The students also celebrate the end of the school year by taking a field trip to the East Grand Forks theater complex to see "The Outsiders" film, based on the book, the day before the car show.
Central Middle School is located at 1827 Bygland Road S.E.
Mrs. North Dakota Pageant set for Sunday at Empire Arts Center
The Mrs. North Dakota America, Mrs. North Dakota American, Miss North Dakota for America Strong and Junior Queens will be crowned Sunday, May 22, at the Empire Arts Center.
The pageant begins at 3 p.m.
This is the official North Dakota preliminary to the Mrs. America, Mrs. American and Miss for America Strong pageants, which will be held in August at Las Vegas. The pageants are directed by Michael and Meg Morley of Grand Forks.
Contestants compete in interview, swim/activewear, state costume and evening gown categories.
Tickets, $25 per person, are on sale at www.empireartscenter.com .
The Empire Arts Center is located at 415 DeMers Ave.
Museum of Art to offer 14 art camps this summer
In response to an uptick in requests from parents, the North Dakota Museum of Art on the UND campus will be offering more art camps than usual this summer.
Fourteen summer camps will give kids an opportunity to create art and work alongside professional artists, said Matthew Anderson, director of education for the NDMOA.
"There's a lot of exciting energy from teaching artists, summer camp staff, and the kids and parents who are already finding our new Summer Art Camp schedule," Anderson said.
The camps, most of which run from 9 a.m. to 3 p.m., begin June 13 and continue through Aug. 12.
Artists and their sessions are: Pirjo Berg, "Plein Air Painting," Danielle Weigandt, "Ceramics Plus 1" and "Ceramics Plus 2"; Jeanne O'Neill, "Extraordinary Printmaking"; Kasandra Gregoire, "The Art of Cartoons"; Carrie Sapa, "Pop Art Ceramics" and "Art Odyssey"; Ligia Carina Feo, "Music in Movies"; Emily Denker, "Paintastic"; Zauna Synnott, "Delightfully Daring Dioramas," Tait Simonson, "3D Design and Printing"; and Anna Jacobson, "Saucy Screen Painting."
The Performance Art Camp, titled "Stages and Safari" and led by Ryan King, Misti Koop and Brad Werner, is planned for July 11-15. It will provide a unique musical theater experience for kids ages 8-18. On July 15, they'll present the play, "Matilda Jr."; the performance will be free and open to the public.
Camp scholarships are limited; early applications are encouraged. Anyone who wishes to sponsor a child in the way of a full or partial scholarship is asked to email Anderson at education@ndmoa.com or call him at the Museum.
For more information or to register, visit https://ndmoa.com/summer-art-camps/ or call Anderson at (701) 777-3599.