Empire Arts Center to present Johnny Cash tribute show
Also, the ArtWise Gallery will open a nationwide show, "Small Works," on Saturday, May 20.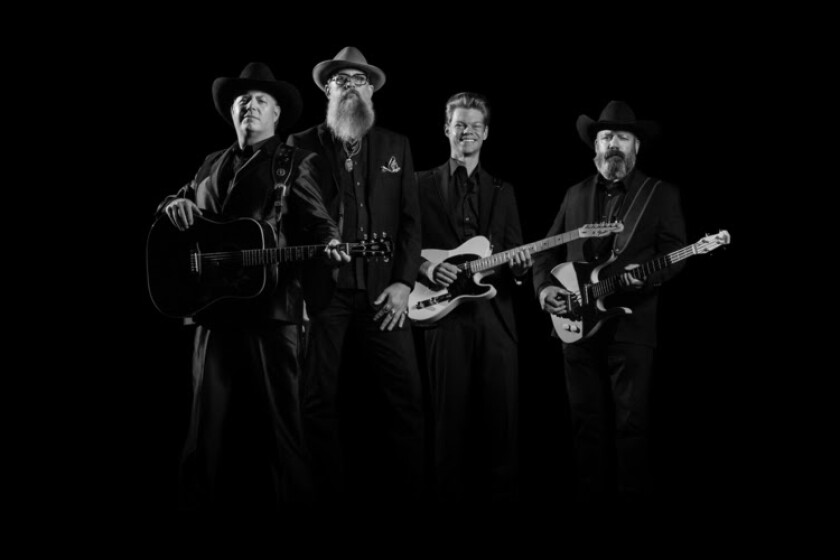 GRAND FORKS – Tickets are on sale for a Johnny Cash tribute show set for 7 p.m. June 9 at the Empire Arts Center in downtown Grand Forks.
A Minneapolis-based, award-winning group, "Church of Cash" performs Johnny Cash classics featuring Jay Ernest on lead vocals and acoustic guitar. Background vocalists Jonathan TeBeest plays drums and percussion; "Jumpin'" Jack Mansk plays electric, baritone and acoustic guitars; and Tony Wirth plays bass and upright bass.
The Church of Cash, which has toured the U.S., Belgium and the Netherlands, received "Best Tribute Act 2019" honors from the Midwest Country Music Organization. Ernest, and by extension the Church of Cash, was inducted to the Minnesota Music Hall of Fame, according to a news release.
"I want to be known as the best Johnny Cash tribute show in the world," Ernest said in a news release. "We have the credibility, and we have four studio albums as Church of Cash. I grew up loving the sound of the choir and the booming voice of Johnny Cash. This is in my blood."
The latest of those four studio albums is "Flowers for June," released in October. It features inspired but lesser-known Johnny Cash covers, including "Ballad of a Teenage Queen," "Thing Called Love," "One Piece at a Time," "(Ghost) Riders in the Sky" and "One on the Right Is on the Left".
Tickets for reserved seating at the June 9 show are $24-$29.40, including fees.
For more information, go to www.churchofcashmusic.com .
ArtWise to host nationwide 'small works' exhibit
The ArtWise Gallery will open a nationwide show, "Small Works," on Saturday, May 20.
An artists reception and awards ceremony is planned for 2-4 p.m. Saturday in the gallery at the Columbia Mall's center court. The works of 55 artists in 28 states will be displayed in the exhibit, which continues through June 30.
The exhibition juror Brian Paulsen, UND professor emeritus of art, chose the artworks for this exhibit. Each piece of art is 10-by-10-by-10 inches or smaller.
Since 1960, Paulsen has juried seven national shows and exhibited his work in 2000 shows, according to Rita Haag, ArtWise executive director. A college art teacher for 41 years, he is the recipient of a National Endowment for the Arts grant and is a member of the National Academy of Design in New York City.
Area artists include Louie Albertson, Laurie Crummy, Suzanne Gonsalez-Smith, Kaitlyn Winter-O'Hara, Kristen Peterson, Deanna Rose, Jamie Sebby, Wesley Smith, all of Grand Forks; Jeanne O'Neil, East Grand Forks; Heather Szklarski, Grafton, North Dakota; and Michele Gorres, Hatton, North Dakota.
The exhibition is open Tuesdays and Thursdays from 10 a.m. to 2 p.m.; Wednesdays and Fridays, 1 to 6 p.m.; and Saturdays, noon to 4 p.m.
"ArtWise is dedicated to creating connections between artists and communities," Haag said in a news release. "This exhibition will bring artists from around the U.S. to celebrate art with our community."
For more information, visit www.artwisegf.com .
Sacred Heart student art selected in Congressional Art Competition
A watercolor painting by Alyssa Christopherson, a senior at Sacred Heart School, has been selected for recognition in the Congressional Art Competition sponsored by Congresswoman Michele Fischbach, who represents Minnesota's Seventh District in the U.S. House.
Christopherson's watercolor, titled "Winter Sunlight," received honorable mention. It will be displayed in Fischbach's Moorhead office for a year.
The first- and second-place artworks will be displayed in the tunnel between the House chambers and the Capitol and in Fischbach's Washington, D.C., office, respectively.
Fischbach's office received more than 40 submissions for the contest.
"(Christopherson) is a wonderful student; she's very hard-working," said Carrie Sapa, art teacher at Sacred Heart School. "She has blossomed in her art this past year. We're very excited for her."
Christopherson, who is valedictorian of the Sacred Hearts School's Class of 2023, had another piece of art selected in a Minnesota Senate art competition. The watercolor is on display in a state senator's district office in the Twin Cities, Sapa said.
Empire to host 'The Music Box'
The Empire Arts Center and Visit Greater Grand Forks are presenting "The Music Box" on Saturday, May 20, at the arts center, 415 DeMers. Doors open at 6:30 p.m.
The main show, which begins at 8 p.m., will feature Roberto Kerry & The Cheron, and Brio Manyeki & The Worm King.
Guests are invited to sing or play an instrument during the jam session that starts at 7 p.m.
Tickets, $10 each, can be purchased online or at the door.
For more information, visit www.empireartscenter.com or call (701) 746-5500.
Braaten receives Gold Note Award
Karen Braaten, pianist and music teacher in Grand Forks, has been selected to receive the Gold Note Award from the Thursday Music Club. At a recent meeting, she was honored for her involvement in local music activities and support of area musicians.
Braaten is a past president of the Thursday Music Club, which was founded in 1898 to promote music in the area.
Membership in the club is open to everyone, not only to musicians; many members are music teachers in the area, Braaten said. Club meetings are also open to the public.
In addition to awarding scholarships for students to participate in the International Music Camp in the International Peace Garden in north-central North Dakota, the Thursday Music Club organizes an annual music festival in February, when students perform and are judged on their performance. About 200 students participated in the festival this year at UND, Braaten said.