Chester Fritz Auditorium to host screening of North Dakota film on Saturday
The film will have a red carpet premiere at 7 p.m. on Saturday, April 1, at Chester Fritz Auditorium on the UND campus in Grand Forks.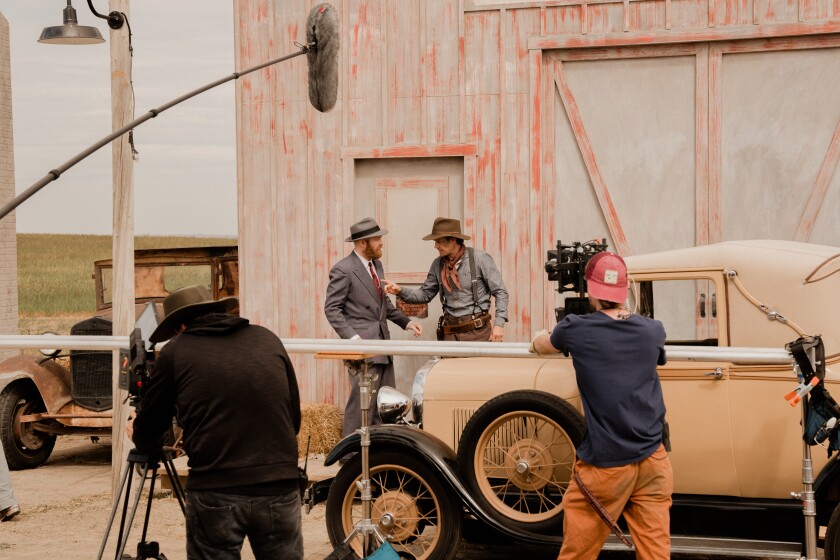 GRAND FORKS — A new North Dakota film will premiere in Grand Forks this weekend.
"End of the Rope" is a crime thriller set in northwest North Dakota in 1931. The film will have a red carpet premiere at 7 p.m. on Saturday, April 1, at Chester Fritz Auditorium on the UND campus in Grand Forks.
The screening will be an interactive event with cast and crew. Merchandise will be available, and sets and props will be on display.
"Based on the infamous Charles Bannon case, it tells the story of a town that rises up to take justice into its own hands when a family mysteriously disappears from the town of Schafer, North Dakota," according to a news release.
The film is based on the history book "End of the Rope," written by the late Dennis Edward Johnson.
The film was shot on location in Burleigh and McKenzie County in 2021 and was produced by Canticle Productions and DN Cinematics in collaboration with Minneapolis director Charlie Griak.
The film had its first showing in Watford City earlier in March.
According to a press release about the film, Johnson was known as a tremendous historian and story-teller, and he committed years to researching the story of the Charles Bannon case.
His book "End of the Rope" is in its third edition. Johnson and producer Daniel Bielinski worked closely as the project developed.
"End of the Rope was a massive production to put together," Bielinski said in the release. "We had a cast of hundreds, we re-built the town of Schafer in the middle of a Watford alfalfa field, we had more than 30 pre-1931 automobiles in the movie. The list goes on. That such an ambitious film was possible is a testament to the tremendous amount of support that poured out in the past couple years, especially from McKenzie County."
Brad Reissig, associate professor of scenic and lighting design and theater arts at UND, was the production designer for the film. Other professors in North Dakota also were involved in the film and several students from the University of Mary and North Dakota State had roles on and off-screen.
Other upcoming showings include:

April 14 – TJ Agnes Theater in Williston
April 15 – Oak Park Theater in Minot
April 21/22 – Grand Theater in Bismarck
April 28 – Belfield Theater in Belfield
Following the initial screenings, the films will play in at least 40 theaters across North Dakota and the surrounding region for a limited theatrical run.
For more information about tickets and screenings, visit endoftheropefilm.com.