Alerus to host country music legend Alan Jackson on Saturday
Tickets, at a wide range of prices, are still available
We are part of The Trust Project.
GRAND FORKS – Tickets are still available for the Alan Jackson concert, "Last Call: One More for the Road," at 7 p.m. Saturday, July 30, at the Alerus Center.
The tickets range from $30.50 to $200.50; four-ticket packages are also available for $199, according to Toryn Jones, Alerus Center director of marketing.
Some of Jackson's most popular songs include "It's Five O'Clock Somewhere," "Summertime Blues," "The Older I Get," "Remember When," "Little Man," "You Can't Give Up on Love," "Little Bitty" and "Chattahoochee."
The singer-songwriter is known for blending traditional honky-tonk and mainstream country pop sounds, as well as composing his own songs. He has recorded 16 albums, three greatest-hits albums, two Christmas albums, and two gospel albums.
To purchase tickets, go to www.aleruscenter.com/events/details/alan-jackson or call the Alerus Center box office at (701) 792-1417. The Alerus Center address is 1200 S. 42nd St.
City Band to present final concert
The Grand Forks City Band will present its final concert of the summer at 7 p.m. Thursday, July 28 at the gazebo on the grounds of the Myra Museum, 2405 Belmont Road.
The concert is presented free of charge. Audience members are encouraged to bring lawn chairs.
Under the direction of Janelle Huber, the concert program will include "Flourish for Wind Band," by Ralph Vaughn Williams; "Emperata Overture," by Claude T. Smith; "The Fairest of the Fair," by John Philip Sousa; "Balladair," by Frank Erickson; "Themes from La Belle Helene," by Jacques Offenbach; "Men of Ohio," by Henry Fillmore; "Loch Lomond," by Frank Ticheli; "Grease!" by Warren Casey and Jim Jacobs; "Instant Concert," by Harold Walters; and "Stars and Stripes Forever," by Sousa.
The band, which includes about 60 members, is conducted by Janelle Huber. She took over leadership this year from Don Langlie, who retired as director.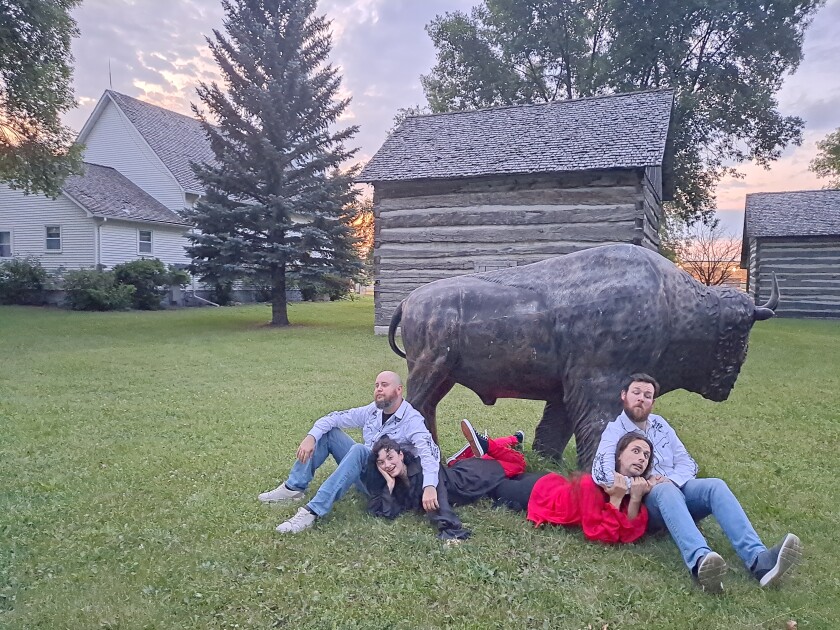 Performances of Shakespeare's 'Comedy of Errors,' 'Sonnet Man' start this weekend
The North Dakota Shakespeare Festival presents free, professional performances of "The Comedy of Errors" at 7 p.m. Friday and Saturday, July 29 and 30, at the Heritage Village in East Grand Forks. Shows are also planned for 2 p.m. Sunday, July 31, and 7 p.m. Aug. 3-6.
The comedy, which features local and out-of-town artists, will transport audiences to the Wild West, said Stephanie Faatz Murry, producing artistic director.
"It's fun for all ages," she said, noting that snacks and refreshments will be available for purchase at each performance. Audience members should bring their own lawn chairs or blankets.
The North Dakota Shakespeare Festival is also presenting "The Sonnet Man" at 7 p.m. Tuesday, Aug. 2, at University Park. The family-friendly performance brings Shakespeare's sonnets to life through hip hop and rhythm-and-blues music, Murry said.
To make reservations for both of these shows, go to www.northdakotashakespeare.com/reservations .
The company is holding "Camp Will Week," for ages 8-18, at the Grand Forks Public Library from Monday to Friday, Aug. 1-5, giving students an opportunity to create adapted shortened versions of "The Comedy of Errors." Details on this camp are available on the "Will Week" tab on the website, https://www.northdakotashakespeare.com . The camp is free thanks to support from the Myra Foundation.
The lead teacher, Devon Glover, is known for conducting workshops and intensives nationwide, incorporating hip hop and rap with Shakespearean text.
Students will present their performances at 6:30 p.m. Aug. 5 and 6, before the regular performances at the Heritage Village. All activities are free. Donations are welcome.
For more information, go to https://www.northdakotashakespeare.com .
Music is live and local at Empire's 'The Music Box'
The Empire Arts Center will feature Nelly Skavlem, Shermstick, and Justine Helgren at "The Music Box" at 7 p.m. Saturday, July 30.
Tickets, $10 each, may be purchased at www.empireartscenter.com/calendar/2022/8/30/the-music-box .
Bring an instrument, and/or your voice, for the open jam following the performance.
YMCA to host Cats Incredible 5K Run/Walk and Kids Fun Run
The Altru Family YMCA will host the second annual Cats Incredible 5K Run/Walk and Kids Fun Run on Saturday, July 30, at LaFave Park in East Grand Forks.
The 5K will start at 8:30 a.m. and the Kids Fun Run at 9:15 a.m.
Proceeds will benefit the Red River Cross Country Team and the YMCA Partner of Youth scholarship program, said Patti McEnroe, membership and marketing director at the YMCA.
You Betcha ice cream is available for pre-order through registration and will also be available for purchase at the race site for $7 per pint, with $2 from the sale of each pint going to support the Red River Cross Country program.
For details on this event, contact Bob McWilliams at the YMCA, (701) 775-2586 or bmcwilliams@gfymca.org, or Richard Dafoe, at the See Dick Run store, (701) 775-1115 or dick@rundick.com .
The U.S. Attorney's Office for the District of Minnesota said Sumalee Intarathong, 61, "owned" Thai women living in the United States until they could pay off a "bondage debt" that ranged between $40,000 and $60,000.