Defending champion Bismarck shuts out Minot to head to state girls hockey semifinals
FARGO — The champions remain to defend its crown, as Bismarck topped Minot 1-0 in the North Dakota girls hockey quarterfinals Thursday, Feb. 21, at Farmers Union Insurance Center at Scheels Arena. The Blizzard will play in the semifinals at Scheels Arena.
Bismarck has won the last four state titles and five of the last six. The Blizzard don't plan on giving up their run without a fight.
"There's a lot of pressure because every team wants to beat us as bad as they want," Bismarck senior forward Kenley Anderson said. "We have to keep calm and take one day at a time."
No. 7 seed Minot gave No. 2 seed Bismarck a fight on Thursday. Nothing was decided in the first period, although Bismarck dominated the frame. The Blizzard outshot Minot 15-1, but Minot goalie Amber Borkhuis stopped all 15.
"We just couldn't crash the net like we usually should," Anderson said. "We didn't shoot as well as we should have. We just had to tell each other to calm down and be confident and not throw the puck around."
It took 24 shots and nearly two periods, but Bismarck broke through late in the second period. Taylor Lenertz drove to the net, made two defenders miss and used a backhand pass across the slot to find Anderson. Anderson had nothing but net in front of her and Bismarck had a 1-0 lead with 3 minutes, 23 seconds remaining in the second.
It was all Bismarck (18-3-3) through two periods, as the Blizzard outshot Minot 24-4. Only one goal separated the two teams thanks to Borkhuis, who finished with 42 saves.
"I think they played their style of hockey, they played a clamp-down defensive style of hockey," Bismarck coach Tim Meyer said. "Their goaltender played outstanding and really we didn't get many second opportunities. We're going to be put in those situations this time of the year where it's not going to come easy and we've got to find a way and we need some kids to step up."
One goal was all Bismarck would need, as goalie Skylar Ackerman stopped two prime opportunities in the opening minutes of the third for Minot (9-14). All three penalties in the game were against Minot and each came in the third period, holding off any chance for the Majettes to get any kind of push. The biggest penalty came with 1:36 remaining cause the Majettes to be unable to pull their goalie for the extra attacker.
"Honestly, this is one you just put behind you," Meyer said. "It's over, it's done with. The focus right now needs to turn to tomorrow."
FIRST PERIOD: no scoring.
SECOND PERIOD: 1, B Anderson (Lenertz), 13:37.
THIRD PERIOD: 3, N-S Grothmann (Friese), 2:01. 4, N-S Myers (Hell, Bry), 2:53. 5, N-S Dorsey (Myers), 14:49.
SAVES: M, Borkhuis 15-8-19—42. B, Ackerman 1-3-5—9.
1
/
2:
Bismarck's Taylor Lenertz fires a shot on goal past Minot's Kaya Shaw Thursday, Feb. 21, 2019, during the North Dakota girls state hockey tournament in the Famers Union Insurance Center at Scheels Arena. David Samson / The Forum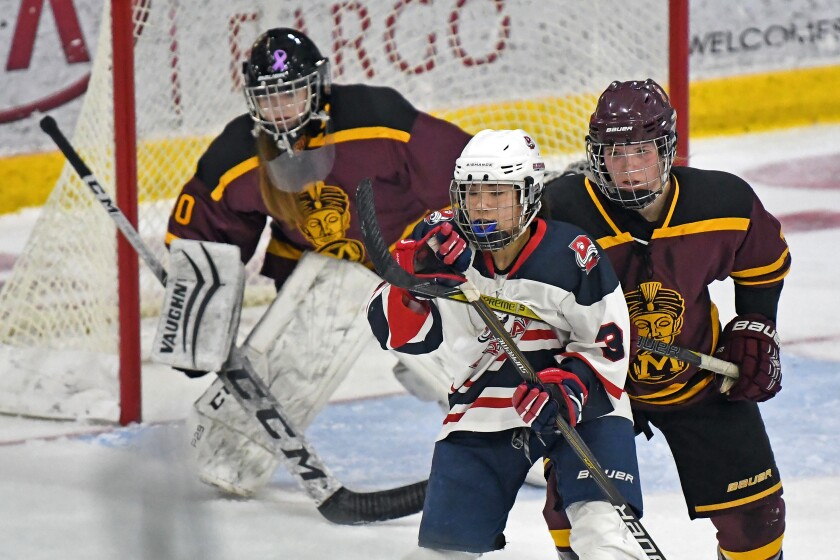 2
/
2:
Bismarck's Noelle Martin tangles with Minot's Tatum Stebleton Thursday, Feb. 21, 2019, during the North Dakota girls state hockey tournament in the Famers Union Insurance Center at Scheels Arena. David Samson / The Forum
1
/
2:
Bismarck's Taylor Lenertz fires a shot on goal past Minot's Kaya Shaw Thursday, Feb. 21, 2019, during the North Dakota girls state hockey tournament in the Famers Union Insurance Center at Scheels Arena. David Samson / The Forum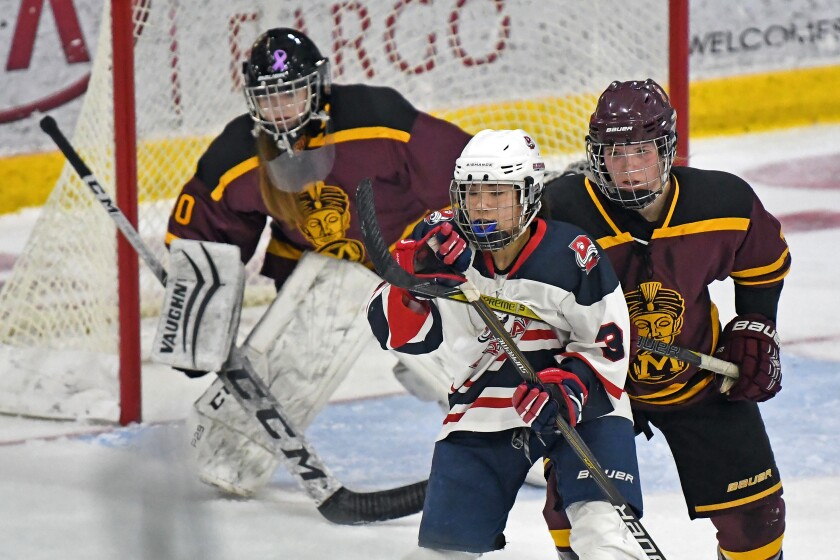 2
/
2:
Bismarck's Noelle Martin tangles with Minot's Tatum Stebleton Thursday, Feb. 21, 2019, during the North Dakota girls state hockey tournament in the Famers Union Insurance Center at Scheels Arena. David Samson / The Forum