Visiting pastor-artist creates religious mural during worship service
At the front of the sanctuary in Our Savior's Lutheran Church in East Grand Forks, Pastor Paul Oman stood at a pure white, 7-by-5-foot canvas, stretched and mounted on an easel, and began painting a mural he would complete before the worship service ended.
Oman, a visiting ELCA pastor and professional artist from Wisconsin, did not utter a word during the church's Wednesday, Oct. 9, evening service.
He let his paintbrush do the talking.
The theme of the service, "Drawn to the Word," offered church-goers an unusual experience: the opportunity to see a painting, with images representing Christ's ministry on earth, come to life before their eyes.
Oman painted quickly, first in broad strokes of bright yellow and orange, then in warm pinks and deep rose shades, followed by cooler tones of lavender, blue, deep purple and mossy green. Then he painted in small strokes, with more precise application, occasionally stepping back to view the entire piece.
Images and shapes began to emerge but not until Oman rotated the canvas upside down did the audience of about 550, filling the main floor and balcony, begin to recognize the figures taking shape -- a woman carrying a large jug on her head, a man seated near a well and, in the distance, three crosses on a hill.
The story unfolded on canvas, as the white space slowly gave way to color and a collage of shapes.
From the Book of John, speakers read passages which matched images that began to appear on the painting.
Members of the church's music and worship committee chose vocal and instrumental pieces performed by selected musicians, as well as hymns sung by the congregation, meant to enhance the experience.
Several church members came up with the plan to invite Oman to Our Savior's Lutheran after seeing one of his paintings at Zion Lutheran Church, Thief River Falls, where they were attending a synod meeting last spring.
"It was an absolutely gorgeous painting," said Jane Norman, one of several church members who attended that meeting. "It was stunning -- almost took your breath away."
The group wanted to know where they could buy such a painting, but learned that Oman had created it, start to finish, in one worship service. They decided to host a similar event.
"It takes all different venues to reach people -- for some, it's music, for others it's silent reflection or a visual experience," Norman said.
At Oman's request, Pastor Paul Trenne, of Our Savior's, provided the artist with ideas for a theme and biblical passages on which to base the mural.
Trenne settled on images of water, thinking about baptismal ceremonies and his practice of bringing the baby into the midst of the congregation where he asks everyone present to "help this baby hear God's call for them," he said. And that "the life of the child should be abundant in joy."
Other images of water from the Scripture followed, he said, such as Jesus offering "living water" to the Samaritan woman, an outcast from Jewish society at the well and Jesus' first miracle, turning water into wine at the marriage in Canaan.
Such passages illustrate how the Lord "breaks into our lives" and offers "abundant joy and fullness of life" on an everyday basis, Trenne said.
Oman, who grew up on a farm in Wisconsin, has made a career of painting inspirational murals, proclaiming the love of God, in the presence of an audience.
He's been at this since 2011, he said, and has traveled around the United States and overseas to countries such as China and Tanzania, as well as to a few prisons -- "wherever I'm invited," he said.
"I've been painting since I was a little kid," Oman said. "I thought it'd never be more than a hobby."
As a student, his goal was to become a veterinarian, but, instead, he became a science teacher, he said.
"I would draw everything I taught," said Oman, who taught biology and earth science in Minneapolis for seven years before entering the seminary. He was a pastor for eight years.
He created the first mural of this type, using acrylic paint, in 2006 as part of a Good Friday service in a church he was serving at the time in northern Wisconsin. In a scene from the Crucifixion, the perspective was from behind an angry Roman soldier holding a spear, he said.
At Wednesday's service, Norman was pleased with the turnout and the audience's reaction, she said.
"It created a joyful excitement here among the congregation, and it spread," she said. "It was refreshing and fun to have that kind of new inspiration."
Roxanne Hagen said the experience "was spectacular; it was interesting to see the basic outline and how it filled in -- kind of like our lives, we're the outline and the Holy Spirit fills it in."
A video of the event may be viewed on the church's website, www.oslecegf.org .
The painting will hang on a large wall in the narthex of the church, Trenne said.
At the close of the service, Oman addressed the audience.
"It's been wonderful to be here," he said. "I hope every time you see (this painting) you see Christ, your Savior, in the middle. Christ is there, offering water, even when you life seems dried up."
In speaking to the outcast, the Samaritan woman at the well, and telling her the number of husbands she's had, Christ breaks all the norms of the day, he said.
"He identifies those things she wants to keep hidden. This is what Christ does," he said.
"He says, 'I can give you living water so you will never be thirsty again.' That's God's promise for you; Christ comes to you," Oman said. "He says, 'When you get to the gateway of death, you will hear me call your name.' Thanks be to God."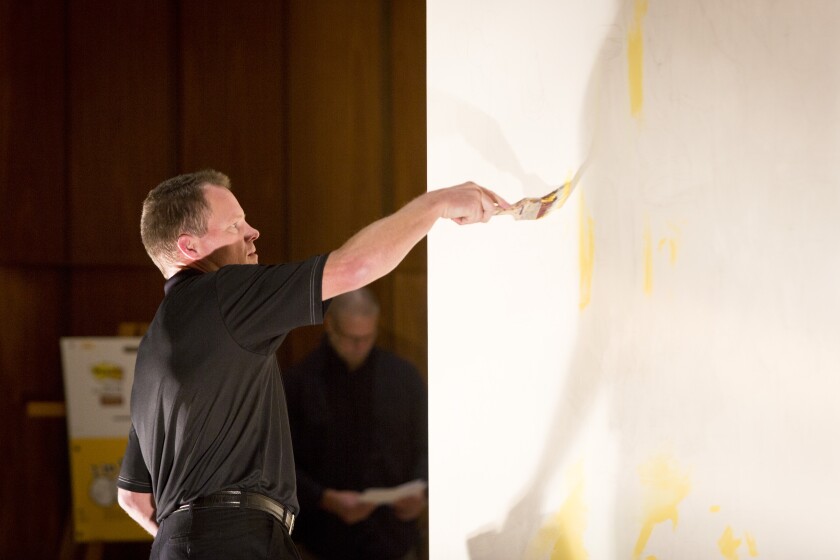 1
/
7:
Artist and pastor Paul Oman paints the first strokes on his mural as part of Wednesday's "Drawn to the Word" event at Our Savior's Lutheran Church in East Grand Forks. Nick Nelson / Grand Forks Herald
2
/
7:
Pastor and artist Paul Oman examines his handiwork during Wednesday's "Drawn to the Word" event at Our Savior's Lutheran Church in East Grand Forks. Nick Nelson / Grand Forks Herald
3
/
7:
Parishioners at Our Savior's Lutheran Church watch as pastor and artist Paul Oman paints a mural during Wednesday's "Drawn to the Word" event in East Grand Forks. Nick Nelson / Grand Forks Herald
4
/
7:
Parishioners at Our Savior's Lutheran Church watch as pastor and artist Paul Oman paints a mural as part of Wednesday's "Drawn to the Word" event in East Grand Forks. Nick Nelson / Grand Forks Herald
5
/
7:
Pastor and artist Paul Oman works on his mural during Wednesday's "Drawn to the Word" event at Our Savior's Lutheran Church in East Grand Forks. Nick Nelson / Grand Forks Herald
6
/
7:
Pastor Paul Trenne addresses parishioners at Our Savior's Lutheran Church in East Grand Forks on Wednesday night. Nick Nelson / Grand Forks Herald
7
/
7:
Pastor and artist Paul Oman works on his mural during Wednesday's "Drawn to the Word" event at Our Savior's Lutheran Church in East Grand Forks. Nick Nelson / Grand Forks Herald