Santa Claus Girls' efforts continue to brighten holidays for children, families throughout community
More than 560 families, including 1,368 children, received gift bags a week before Christmas this year
Becky Mindeman remembers how she felt as a child when the Santa Claus Girls delivered gift bags to her door at Christmastime for a few years.
"When you're little, I mean, that's kind of a big deal and you don't expect a whole lot, and your parents are working really hard to make it a really happy Christmas," said Mindeman. "But to have something like that in our community really meant a lot to me, especially as a young kid."
Recalling how she felt after the charitable delivery, she said, "It made you believe in Christmas. It was kind of magical."
For Mindeman, who's 50, the story of Santa Claus Girls has come full circle.
She is senior vice president of retail banking for Gate City Bank, where she gave employees the option of donating to the charity through the "Wear Jeans on Thursday" program for the last two months. With those funds, coupled with a bank donation, Gate City Bank contributed $875 to Santa Claus Girls this year.
"Those gifts will purchase gifts for 34 kids next year," said Mindeman, who, along with several other employees, delivered gift bags to families a week before Christmas.
"It's fun going and knocking on doors," she said. "I know it means a lot to them, but for me it's come full circle because what started out as a program I've really benefited from, I'm able to give back now to help other families."
The Santa Claus Girls had a "stellar year" with record numbers of children and families who received gifts, volunteers involved, and donations received. The volunteer organization has been providing Christmas gifts for children in need in the Grand Cities for 105 years.
The group brightened the holidays this year for more than 560 families, including 1,368 children — 674 boys and 694 girls, according to Carol Schneweis, treasurer.
In 2020, more than 1,250 children, ages 12 and younger, received a package from Santa Claus Girls, Schneweis said.
Each package contains a hat and pair of gloves, socks, an age-appropriate toy and book, crayons and coloring books, along with a toothbrush and toothpaste. Each family also receives a small bag of candy, wrapping paper and tape, and a coupon for a free large pizza.
Santa Claus Girls spends about $27.50 on each child, not including in-kind gifts, Schneweis said.
This year, the volunteers were "so excited" about the quality of the toys, she said. "Our buyer, Jen Ekberg, does such a nice job in getting really good quality toys for a price that (fits) our budget."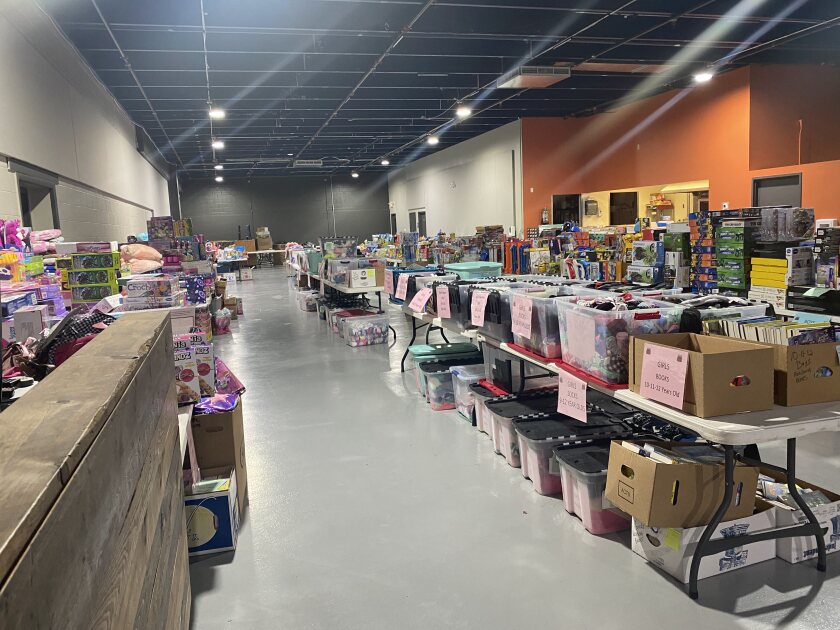 On Dec. 17, volunteers distributed the gift bags from the Hope Church Youth Center in the Grand Cities Mall. A total of 303 families picked up the bags in person, while a dozen or so volunteer drivers delivered gift bags to 266 families. Among the delivery volunteers is a man whose grandmother was a founding member of Santa Claus Girls, Schneweis said.
"We had such good volunteering — it was consistent and we were able to set up stations and pay attention to COVID — that we ended up ahead of schedule for the first time," Schneweis said.
Santa Claus Girls distributed gift bags to 99.5% of families who requested them — only seven bags were undeliverable, she said. "That was excellent. We really got them into the hands of people who asked for them."
Families that are stressed financially face many challenges, she said. With only one day for distribution, it can be difficult to connect with people who have transportation concerns, can't get off work or their work schedules change, and other issues.
Schneweis and her husband took undelivered bags home, contacted the intended recipients and gave them a week to pick them up, she said. "And that worked really, really well."
The entire project "is really a community effort," she said, noting the many groups and individuals who donate labor and equipment to the effort. "The generosity of the community is overwhelming."
Every year, Santa Claus Girls leaders review the entire process and consider how to improve it, she said. "I think we're getting better and better at organizing it, so we can make better use of our volunteers."
Looking back on the roughly 110 volunteers who sorted, packed and assembled the gift bags, "it's pretty impressive," said Schneweis, a retired school social worker who's been involved with the group for 21 years. "That's a lot of bags."
It was a welcome change from a few years ago, when several Santa Claus Girls officers sat around a table facing a grim situation.
"We had a $10,000 that had been purchased years ago — when it made sense to buy CDs — and a little bit of money in the checking account, less than $5,000," Schneweis remembered. "We sat there and really talked about whether or not we could keep going. If we cashed that (CD) in, it wasn't enough. We didn't know what we were going to do. But none of us wanted Santa Claus Girls to close on our shift."
That was a somber moment for leaders of the organization, Schneweis said. "So we took a dive and decided to be more proactive — that's the year we went on Facebook and really tried to be more proactive in gaining donations — and since then the donations have steadily gone up."
The organization met last year's goal of $40,000 "just barely," she said. That was a new high, achieved in part because of a donation from the Myra Foundation.
"And this year we actually exceeded our goal" of $40,000, said Schneweis, who serves on the Santa Claus Girls board with Julie Ekberg, president; Jennifer Ekberg, vice president; Karen Bjornseth, secretary; Alison Peterson, fundraising chair; and Theresa Polkinghorne, member-at-large.
Board members also appreciate the annual $11,000 operational grant from the Engelstad Family Foundation to pay for rent, insurance, shelving, storage tubs, tables, computer printer and other expenses, Schneweis said. "It means a lot to us, because it means that we don't have to take away from donations (which can) go directly to children."
It's not uncommon for them to receive notes from donors who say their mother or grandmother was a Santa Claus Girl, or who were recipients of gifts in the past, she said. They also receive contributions from people whose children have received gifts but no longer need the benefit, because they or their spouse have become gainfully employed.
Among contributions this year was a $10,000 check from a man who said his mother was a member of the Santa Claus Girls, Schneweis said, adding that his note said, "I want to make sure you are able to keep operating."
"We almost cried, all of us," she said. "That gift speaks to the impact of what we do."
How to give to Santa Claus Girls:
Donations may be mailed to: Santa Claus Girls
1726 S. Washington St., #81
Grand Forks, N.D. 58201
Donations may be made with Paypal via Facebook at:
https://www.facebook.com/GFsantaclausgirls/
For more information, contact Carol Schneweis at (701) 739-5480