Library to host traveling exhibit in 'BUS-eum' that highlights significant aspects of American history
Mobile history museum explores 1918 Flu Epidemic, Ku Klux Klan in the Midwest in the '20s, farmer-led rebellions during Great Depression, among other events
A new traveling exhibit, called the "BUS-eum," will be visiting the Grand Forks public library from noon to 5 p.m. Friday, July 30.
In conjunction with this visit, the library will also host a special presentation on the 1918 Flu Epidemic from noon to 1 p.m. that day in the meeting room on the second floor of the library.
This "museum on wheels," to be parked in the library's parking lot, offers insights into America's present issues by revisiting parallel historical events. Grand Forks is among many stops the bus is making across the American heartland this summer.
The retrofitted bus features countless stories of America's past, according to a news release from library staff. Its displays highlight five significant themes in American history: the pandemic of 1918, anti-German hysteria during WWI, Prohibition-era boot-legging in rural America, the "second wave" of the Ku Klux Klan in the Midwest in the 1920s and farmer-led rebellions during the Great Depression.
With first-person accounts of social issues of lasting relevance, presented against colorful backdrops, it features unique artifacts, evocative props and videos.
The director of this project, Michael Luick-Thrams, was born on a century farm in north-central Iowa. He holds a doctorate from Humboldt University in Berlin and splits his time between the U.S. and Germany. He also teaches at Universitat Erfurt and directs "Haus der Spuren," a museum in Thuringen's Bad Langensalza, which focuses on U.S.-German relations from 1933 to 1948.
"By examining this shared heritage anew, we can see our origins and our possible fates in a new light: In seeing them, we might find us," Luick-Thrams says, according to the news release.
This non-profit, educational resource is made possible by ongoing support from Vander Haag's Inc. of Spencer, Iowa.
The library is located at 2110 Library Circle, just south of the Grand Cities Mall.
To learn more about the BUS-eum, visit www.traces.org .
1
/
3:
A photo from the BUS-eum exhibit shows the use of masks worn as a means of protection during the 1918 Flu Epidemic. The mobile historical museum, a retrofitted bus, will be parked at the Grand Forks Library on Friday, July 30. (Photo courtesy of Grand Forks Public Library)
2
/
3:
The "BUS-eum," a traveling bus that features displays about significant events in U.S. history, will be parked from noon to 5 p.m. Friday, July 30, at the Grand Forks Public Library, south of Grand Cities Mall. (Photo courtesy of Grand Forks Public Library)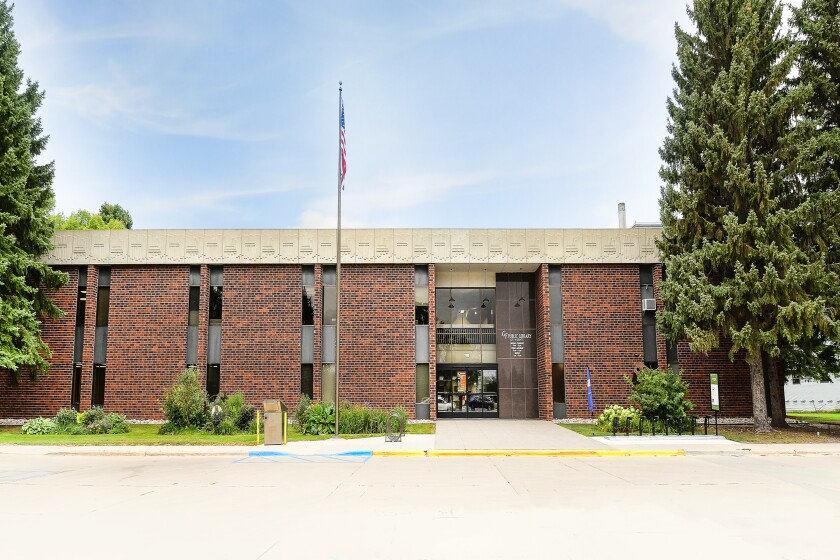 3
/
3:
Grand Forks Public Library (Photo by Alesha Hansen)