Grand Forks makes list of nation's most livable college towns
According to SmartAsset, Grand Forks is in a four-way-tie for No. 23 on the online financial advice website's list. The ranking created its Top 30 list by looking at how 116 college towns across the nation were faring during the pandemic.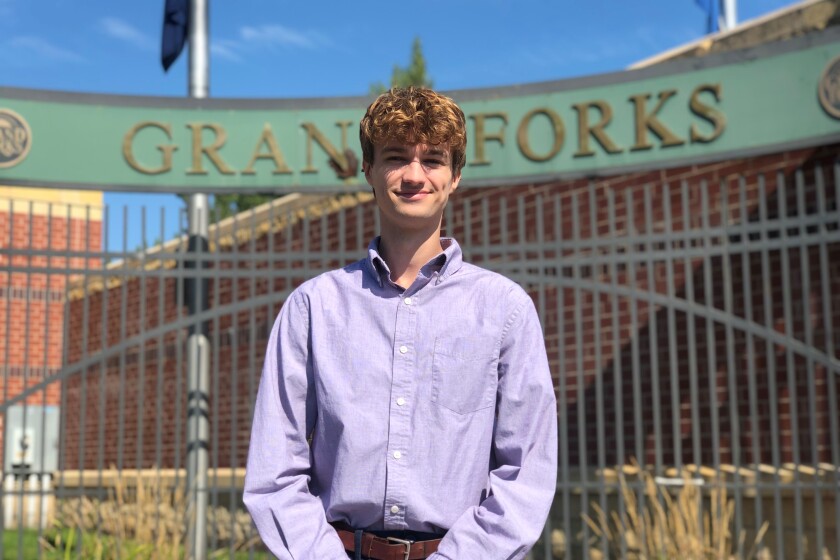 UND Student Body President Kaelan Reedy wasn't surprised to learn Grand Forks made the list of a national ranking of most livable college towns. He already believed that – it's one of the reasons he intends to stay here after graduation.
According to SmartAsset, Grand Forks is in a four-way-tie for No. 23 on the online financial advice website's list. To create the Top 30 list, the ranking looked at how 116 college towns across the nation were faring during the pandemic. The chief concern was how college towns would endure the economic uncertainty when campuses nationwide moved to hybrid and online courses in 2020 after coronavirus cases surged across the country.
"Oh, yeah, it doesn't shock me," said Reedy, from Mandan. "I think Grand Forks is a very livable college town."
Students are back on UND's campus and a wide range of events, like concerts, are lined up at entertainment venues in town, including the Greenway Takeover Festival, set to begin Sept. 9. Despite challenges brought by the pandemic, SmartAsset says college towns are forging ahead.
The survey ranked 30 American college towns based on a variety of metrics, including household income, how much locals spend on housing, density of dining and nightlife establishments and others, such crime and the unemployment rate. SmartAsset pulled county-level data to rank the cities, as well as national data from a variety of sources to make the ranking. Chapel Hill, N.C., came in at No. 1.
Tied with Grand Forks are Richardson, Texas; Bozeman, Mont.; and Moorhead, Minn. At $50,076, Grand Forks ranks lowest of the four in terms of median household income. Locals spend 21.28% of that income on housing. According to SmartAsset, people should aim to spend between 25%-30% of their income on housing. Spending more than 30% means being considered "housing burdened."
Data from the U.S. Census Bureau's 2019 County Business Patterns series show that 10.31% of businesses in Grand Forks are either restaurants, bars or dedicated entertainment venues. Grand Forks leads its peers in that regard, and has a comparable unemployment rate, at 4.3%.
But for Reedy, it isn't just about nightlife, though he said the Urban Stampede coffee shop and downtown bar/restaurant Bonzer's Sandwich Pub are his favorite places to hang out. It's all about the possibilities. Grand Forks, he said, is a place where people can make small-town connections leading to big-town possibilities. While serving as student body president and working at the 701 Coworking space downtown, he's made those connections. It's part of the reason he intends to stay here after he graduates.
"I think Grand Forks is a great place to get your education, (then) move on to living your life," Reedy said. "It's a very tight-knit community but it's a really friendly community."
UND President Andrew Armacost said the connections between the school and the city are what make Grand Forks a livable college town. City leaders, some of whom have either attended UND or work there, collaborate to support events on or off campus.
This connection, he said, has a positive impact on how students feel about where they go to school, and was exemplified when the city and UND were awarded the Larry Abernathy Award from the International Town & Gown Association in May. The award is given each year to a city and university that best collaborate for the betterment of the campus and surrounding community.
"It was such a strong indication of the great partnership between the city of Grand Forks and the University of North Dakota," said Armacost. "When you can have that type of pride within the community, it has a positive impact on how students feel about where they go to school."
That collaboration is continuing. Staff at UND's Marketing and Communications Department worked with entities like the Greater Grand Forks Chamber and Downtown Development Association to create a punch card for new staff and faculty members. The idea is to get people acquainted with local businesses by providing an incentive to shop there. Cardholders can get discounts or free items at local restaurants like the Ground Round or Rhombus Guys, or other services at shops like Valley Tech Pros, among others.
"We're excited to see our community continue to engage with the local businesses," said Meloney Linder, UND's vice president, VP marketing and communications.
Becca Cruger, workforce development manager for the Grand Forks Region Economic Development Corporation, said part of what makes Grand Forks a livable college town is the number of things to do. She's involved in the city's arts community, and said there are plenty of opportunities, from productions at the Firehall Theater to the North Dakota Museum of Art.
Concerts, she said, pop up all across the city from larger acts at the Alerus Center, to smaller indie concerts, put on by Ojata Records at an event space located in the DogMahal DogHaus, at the corner of University Avenue and Washington Street. These attractions, and Greater Grand Forks' concentration of dining and nightlife establishments, belie any notion there isn't much to do here.
"Grand Forks might not have 10 of everything, but it's definitely got one of everything," Cruger said.
However, there is room to grow, she said, and Grand Forks leaders in various sectors are working to address adding more year-round entertainment options for families. Ideas have been floated from an indoor aquarium – not without some controversy – to Mayor Brandon Bochenski's proposals to create places like a children's museum and indoor turf facility, ideas he first broached in his March State of the City speech.
With the nascent downtown tech accelerator, Grand Forks is continuing to work to diversify its economy. Cruger said those efforts have resulted in a 30% growth in wages over the last 10 years. It's a trend she expects to continue.
But for young residents like Reedy and Cruger, one of the aspects of Grand Forks that cements it as a good place to live are the possibilities, and also the willingness of leaders to listen.
"If you have an idea and you're committed to it, the leadership in Grand Forks is very accessible," Cruger said. "You'll find people who are willing to help, so it really feels like this is a community that comes together to make things happen, and that's an exciting place to be."
For his part, Mayor Bochenski said websites that create rankings can flip their positions from one year to the next. Still, he's convinced Grand Forks can improve its position in future polls, once construction projects get underway and come to completion.
"We've got some work to do but we're on the right track here," he said.