Dedicated zookeepers give 24/7 care to Fargo's baby red pandas
A zookeeper's life is more than animal care: They're ensuring the survival of endangered species through controlled breeding and hoping to educate the public about the importance of preserving ecosystems
FARGO — The births of three Chinese red panda cubs this summer have meant some long nights for staff at the Red River Zoo in Fargo.
Early on, zookeepers spent nights at work, sleeping on an office floor, waking up every two or three hours to check on the newborn cubs through a live video stream or to feed them through a slender plastic tube.
Red pandas like to nurture their cubs in tree hollows, so zookeepers made nest boxes for the creatures, which are similar to racoons.
"We need to keep it quiet and calm," zookeeper Marcy Thompson said. "There are a lot of things that could go wrong. Mom might not have enough milk. Being a first-time mother she might not know how to take care of her cubs."
One cub in particular born to Pepper, the feisty mother, and Bo, the shy father, worried Thompson and other zoo staff the most.
Thompson watched the courtship between Pepper and Bo blossom into live births in July, a rare occurrence that hadn't happened at the zoo in eight years. However, one of their cubs was slowly becoming weaker.
"We noticed right away that it was struggling to keep up. It's very sad," said Thompson, who has worked at the zoo since it opened 22 years ago. "Our last feeding that we had done with the babies we could tell she was still struggling, and then it went really fast."
The week-old cub died July 16, leaving Bo and Pepper with one surviving cub.
A third cub, born to mother Phayara and father Kharo in June, was born severely underweight, but has quickly gained weight with mother's milk and extra feedings.
Chinese red pandas have a mortality rate of about 50%, said the zoo's executive director, Sally Jacobson.
"The births are a tribute to our faculty here. Animals don't breed unless they are healthy and happy," Thompson said.
Now that the two remaining cubs are both thriving and beginning to open their eyes, Thompson's nightly watches aren't as demanding. Mothers Phayara and Pepper are beginning to take longer breaks away from their young.
Thompson can check on the two red panda families through the live feed accessible from her cellphone. And the cubs were recently injected with tiny microchips to accurately identify them and track their whereabouts.
From the red pandas to the massive Bactrian camels and the takins (large, arched-nose, ox-like creatures), a zookeeper's life is more than animal care, Thompson said. They're ensuring the survival of endangered species through controlled breeding and hoping to educate the public about the importance of preserving ecosystems.
In addition to caring for the red pandas, Thompson and Minnesota State University Moorhead senior Alexis Taylor make sure the camels stay healthy.
Their daily chores aren't simple. Thompson and Taylor, like other zookeepers at the Red River Zoo, practice light training with animals using hand signals, and reward them for obedience with a clicker and a favorite treat.
Every morning the animals' overall health, teeth and weight fluctuations must be checked, which for a nearly 2,000-pound camel can be a daunting task.
While some believe animals should not be kept in captivity, Thompson and Jessica Tremblay, a newly arrived zookeeper from the Connecticut area, said zoos are more than a fun place for field trips, they're dedicated to ensuring animal survival.
Tremblay, who has a bachelor's degree in zoology and a minor in marine biology, originally wanted to become a veterinarian, but found her calling working at the zoo.
"I've always had a love for animals. I wanted to spend my life with animals in some way," said Tremblay, her fingers directing a 660-pound takin named Sulu. At her hip, a radio chirped and alerted her to activities across the zoo.
"Zookeeping isn't about scooping poop and feeding them, we want to make sure they have the best lives possible," Tremblay said. "A lot of people have their own opinions, and are uneducated about what goes on here. We work really hard here and it takes a toll, but it's an incredible career."
Taylor, an intern at the zoo, hopes to become a zookeeper. She follows the lead of Thompson, who's teaching her like an apprentice.
"A lot of people get the impression that we just play with animals all day. That's not true. It's a lot of hard work, but there are moments you get with animals and it's like nothing else," said Thompson, who first decided to become a zookeeper after watching the 1988 film "Gorillas in the Mist," starring Sigourney Weaver.
Zookeeper Emily Swenson works with the zoo's river otters, wolves and other animals with the goal of reintroducing them back into their natural habitats across the Midwest.
"Zoos are important for a lot of reasons, educating the public, species survival programs to increase the populations that we have, and to reintroduce animals back," said Swenson, in between feeding fish to an otter.
Thompson agreed, saying that breeding animals like the Chinese red panda helps to ensure a species can exist if their counterparts in the wild become endangered. Once the surviving red panda cubs are old enough, they will most likely be sent away to other zoos.
"You can only save what you love," Thompson said.
1
/
2:
Zookeeper Jessica Tremblay trains Jiang Li the takin with hand signals and treats at the Red River Zoo on July 21, 2021, in Fargo. C.S. Hagen / The Forum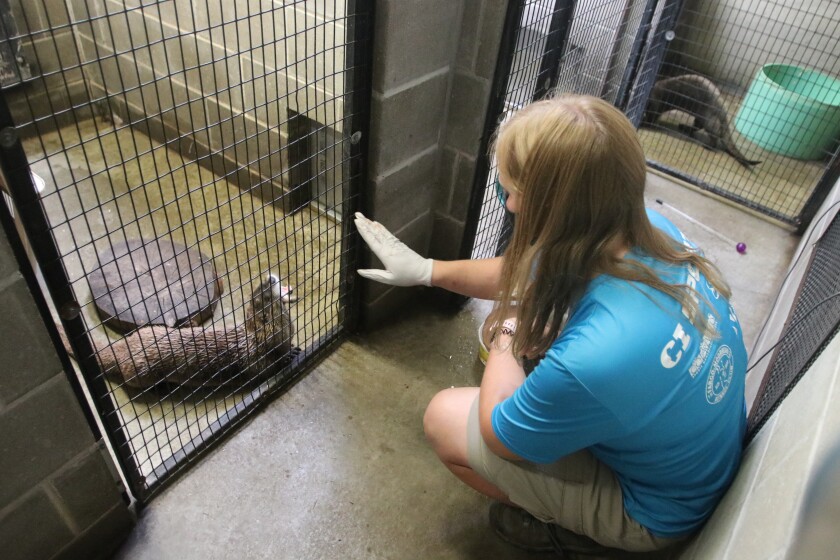 2
/
2:
Zookeeper Emily Swenson uses hand signals to communicate with a North American river otter at the Red River Zoo on July 21, 2021, in Fargo. C.S. Hagen / The Forum
1
/
2:
Zookeeper Jessica Tremblay trains Jiang Li the takin with hand signals and treats at the Red River Zoo on July 21, 2021, in Fargo. C.S. Hagen / The Forum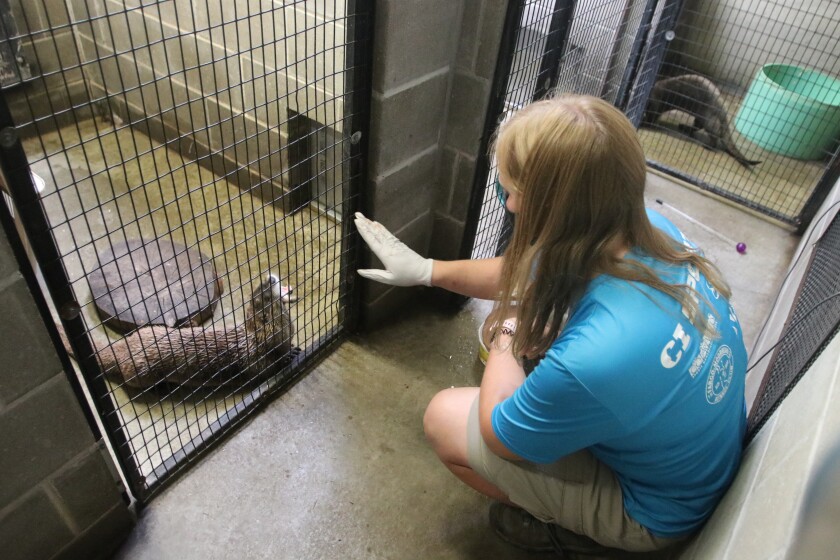 2
/
2:
Zookeeper Emily Swenson uses hand signals to communicate with a North American river otter at the Red River Zoo on July 21, 2021, in Fargo. C.S. Hagen / The Forum