Chuck Haga: 'This country has a heart': Global Friends picnic highlights Grand Forks' New Americans
The annual community picnic is one of the best things going in Grand Forks – a chance for people born and raised here to meet and talk with New Americans and see them as individuals.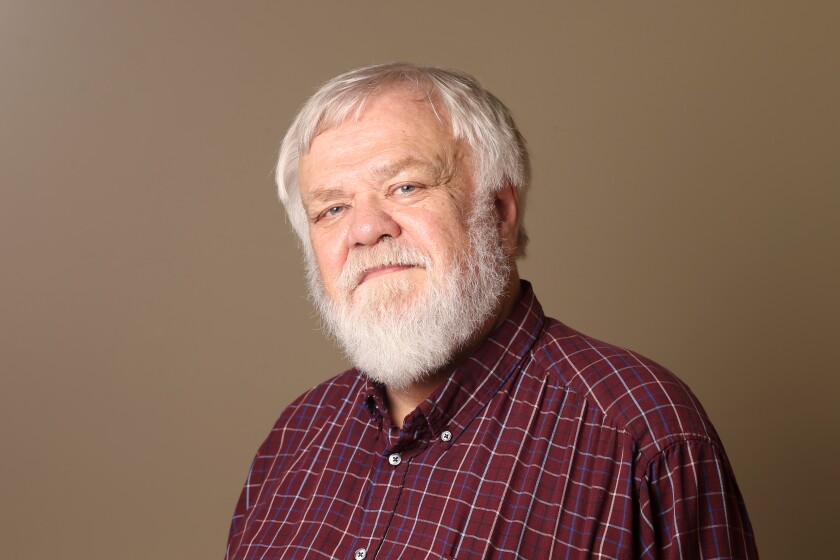 Aisha Hassan clearly enjoyed her appointed role last Sunday, earnestly and fluently translating speakers' remarks from English to Somali at the annual Global Friends community picnic in University Park.
Then, wearing badges that declared them to be ambassadors, she and Habsa Ali mingled in the crowd, offering to bridge the linguistic divide between English-speaking picnickers and elders of the area's Somali community. Young Nepali speakers, who started to learn English in refugee camps long before they were allowed to come with their families to the United States, stood ready to provide similar connections for their elders.
Three years ago, one of those young ambassadors helped me visit with a woman, a grandmother, who told me about her youth in Bhutan. She had been in Grand Forks for six years then, living with a son and his family. "America is an easy place to live," she said through the young interpreter, and she said she was grateful to be here.
"I want to be a citizen," she said.
I shared part of her story then through the We Are Grand Forks project. "When I was a child, I worked in the fields," she said. "I was married when I was 14, and my husband was a farmer. I took care of the cows, chopped wood. We had rice and silk. We were a poor family, and it was a hard life, but I was happy."
Full disclosure: I was a member of Global Friends' board for several years, and I continue to volunteer with the organization. The annual community picnic is one of the best things going in Grand Forks, I believe, a chance for people born and raised here to meet and talk with New Americans and see them as individuals, as mothers and fathers, sons and daughters, uncles and grandmas. I've said many times: I am the son of an immigrant, and I look into the faces of these New Americans – proud, hungry, hopeful, determined – and I see my father.
Aisha, 20, a student at Northland Community and Technical College in East Grand Forks, has been here for six years. What does she hope to be someday? "A diplomat," she said. Habsa, 14, a freshman at Red River High School, has been in Grand Forks for three years. She wants to be a writer.
They said they believe this is a welcoming place, generally, and getting better as it becomes more diverse and grapples with growing pains.
"People are more friendly now," Aisha said. "At first, people would look at us because we were 'different,' but they wouldn't talk to us. Now they do, and that's good. We would rather have people come to us and ask us questions rather than just assuming things about us."
Marina Kojic-Zepackic and her husband, Marko Kojic, fled war in their native Bosnia and arrived in Grand Forks 23 years ago, just in time to live through the Flood of 1997.
"It was a fabulous time to come here," she said, smiling. "We came from war, with almost nothing and not speaking any English, and everybody was trying to be helpful. Then the flood, and we saw the people of the community helping each other."
Now she is helping. She has volunteered with Global Friends for 10 years, and earlier this year she joined its board of directors.
At last Sunday's picnic, she and Marko had a long conversation with retired Judge Joel Medd of Grand Forks, who spoke at last year's picnic on behalf of the area Germans from Russia, who signed on as co-hosts. Later, they watched as a dozen Somali and Bhutanese girls danced together to a pulsing African beat. "I love seeing the high school kids dancing, having fun and blending in," Marina said.
She had been a teacher in Bosnia, and since 2004 she has been teaching Head Start classes here, her pupils often including young Somali and Bhutanese and other immigrant children. They are fewer now, however, as tighter immigration policies have reduced the number of international refugees resettled here from an annual average of 100 a few years ago to just five this year, according to Lutheran Social Services, the resettlement agency.
"I don't want to go into the politics, but I know there is some resistance," Marina said. "Some of it is just not knowing, being scared of other cultures. It can come down to money, too," such as when taxpayers are asked to approve bond issues to expand schools.
A recent Washington Post story took a deep and troubling look at Worthington, Minn., where voters have defeated five school district attempts to accommodate a significant influx of children from Central America, many of them unaccompanied by adults. The resentments and debate in that community reflect how immigration has become one of the most divisive issues of our times.
"But this country has a heart," Marina said. "People are willing to help. I think people who are coming still find that same atmosphere of friendliness and welcoming that we received.
"And that's how this country was built."
Chuck Haga had a long career at the Herald and the Minneapolis Star Tribune before retiring in 2013. He now writes for the Sunday edition of the Herald. He can be contacted at crhaga@gmail.com.
1
/
2:
Retired Grand Forks Judge Joel Medd, left, visits with Marko Kojic and Marina Kojik-Zepackic at the Global Friends community picnic last Sunday in Grand Forks. (Chuck Haga photo)
2
/
2:
Aisha Hassan, left, and Habsa Ali volunteered as interpreters at a picnic that brought New Americans together with other Grand Forks area residents. (Chuck Haga photo)