After nearly six decades, Gerald Sieg to retire from Grand Forks County Highway Department
Gerald Sieg started working at the Highway Department on Nov. 7, 1962, when he was 18. Over the course of those years, Sieg has done a little bit of everything.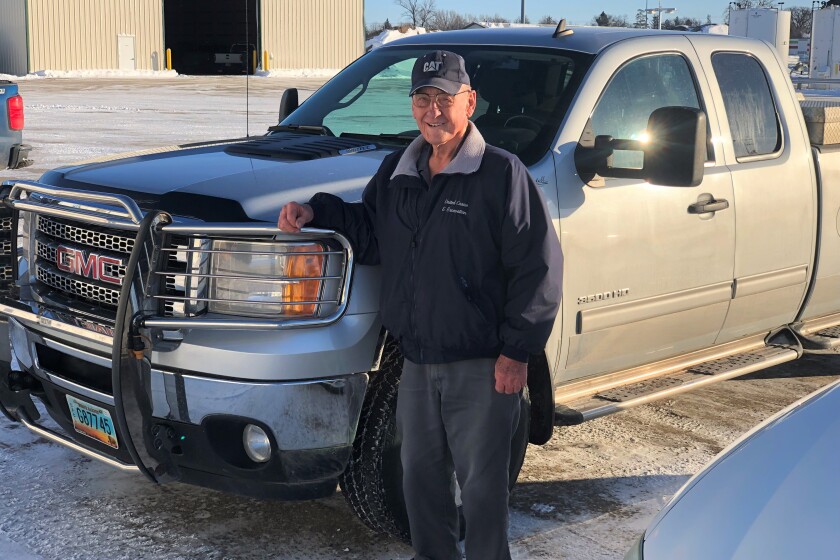 Gerald Sieg knows Grand Forks County roads like the back of his hand. He ought to – he's been driving them for the last 59 years while working at the Grand Forks County Highway Department.
After nearly six decades, Sieg, 78, is set to retire at the end of the year. He started working at the Highway Department on Nov. 7, 1962, when he was 18. Over the course of the years, Sieg has done a little bit of everything, from driving road graders and snowplows on the roughly 2,300 miles of road in the county, to working on the county's 279 major bridges and managing the 24 drivers and mechanics in the department. He worked his way up to assistant superintendent in 1984.
Retirement will be a big change for Sieg, but he says he's ready. And change doesn't come easy for a man like Sieg, who lives in the same house he grew up in, west of Reynolds.
"I'll tell you I'm not a guy for changes," Sieg said, sitting at his desk in the office he shares with Nick West, the county's engineer. "I went to a country school out there in Union Township. There were 17 in our class. Out of that 17, I'm the only one that's still living out there."
Sieg started working for the Highway Department after being urged to take a position there by Ralph Schroeder, who served on the County Commission from 1957 to 1976. He started out as the driver of a road grader. He was lucky, he said, because his equipment had a heater. Sieg recalls washing soot out the cabs of other vehicles, as some of the other drivers used small coal burners to stay warm in the winter. He said it was amazing that no one was asphyxiated from the smoldering charcoal in an enclosed cab.
He recalled some words of wisdom spoken to him by the driver of a road grader in Traill County, just south of Grand Forks County. People would stop the drivers and wonder why they didn't grade a road in different manner, a manner more to the bystander's liking.
"He said 'this is the only piece of construction equipment that everybody knows how to run except the guy who's driving it," Sieg related. "They were the truest words I ever heard."
In the days before cell phones or trucks were equipped with two-way radios, getting stuck meant walking to the nearest house, hoping someone was home and then catching a lift back to their own vehicle. Drivers would then have to take to the county roads in search of another county driver, who could tow him out.
Sieg drove a road grader for 16 years before taking on other duties. He would grade roads in the summer and drive a snowplow in the winter. Over the last 59 years, he said he's never missed a snowstorm, and has always been out driving on a county or township road – first in a plow and later a truck, to assess where crews need to go.
He's driven plenty of miles in those years. His latest county vehicle, a 2013 GMC truck, has more than 220,000 miles on it.
The worst snowstorm Sieg encountered was in early March 1966. The three-day storm dropped 29 inches of snow, and county drivers worked long hours with the National Guard to clear roads. Guardsmen, Sieg said, used bulldozers to push hay bales out to stranded cattle. There wasn't much county equipment then, so drivers plowed until they were exhausted, only to go home and be asked by people when their road would be cleared.
Sieg rattled off memories of the storm as if it were yesterday.
"One neighbor even had to come out the upstairs window to get out of his house; with the wind blowing, it blocked the door," he said. "That was quite a storm."
Sieg said he won't miss driving in those storms, and it makes his family feel better that he soon won't have to. He also won't miss getting up at 3:45 to make the drive into Grand Forks from west of Reynolds. He takes various county and township roads into town, so he can keep an eye on their condition.
West, the head of the department, said Sieg excels at discussing issues with concerned landowners in the county. Issues crop up when people don't understand how a system of culverts is supposed to work, for instance.
"Nine times out of 10 he knows why it was built the way it was, and the reasons behind it," said West. "When you have that background history, you can certainly calm things down with people."
Sieg joked that he knew it was time to retire when someone called him and asked to have a smaller culvert put in. In 59 years, that has never happened, because everyone wants bigger culverts that move more water.
In reality, though, he just knew it was time.
He isn't worried about being bored in retirement. His daughter lives in Northwood and he has two grandsons. He also just became a great-grandfather, and looks forward to spending time with the newest addition to his family. There's also plenty to do on his five-acre spread near Reynolds. Sieg said his wife was shocked when he told her he was going to retire, but she'll be glad to have him home.
"She told me one day I'm the best husband she's ever had, after 57 years," Sieg said.