Urban hemp plot in Grand Forks harvested, will end up in variety of products and building material
Under those looser regulations, states like North Dakota and Minnesota have set up pilot programs that allow people to legally farm hemp for the first time since the 1970s.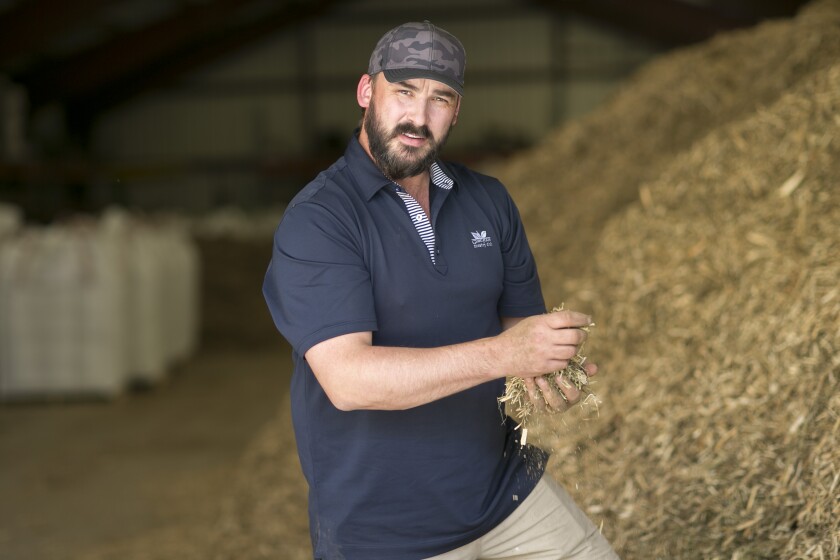 A Grand Forks-area family is part of a nascent market for hemp products.
Chris Adams and his father, Steve, are co-owners of Adams Family Farm, which operates a five-acre industrial hemp plot on 40th Avenue South near Masonic Park and another 400-plus acres north of East Grand Forks. Federal regulations governing hemp, which is similar to cannabis but contains near-zero levels of the chemical that gets people high, have loosened in the past seven years. Under those looser regulations, states like North Dakota and Minnesota have set up pilot programs that allow people to legally farm hemp for the first time since the 1970s.
"I was interested in it because of its history from many years ago, but I'm always looking for a change or something to spice up the farm," Adams said. "Something to get into that's different than what we're already doing."
Adams' company also farms sugar beets, soybeans and other Red River Valley staples on tracts of land that range from Climax and Alvarado in Minnesota to Manville and Buxton in North Dakota. He harvested his Grand Forks hemp crop on Monday, Sept. 27, and his Polk County crop the week before.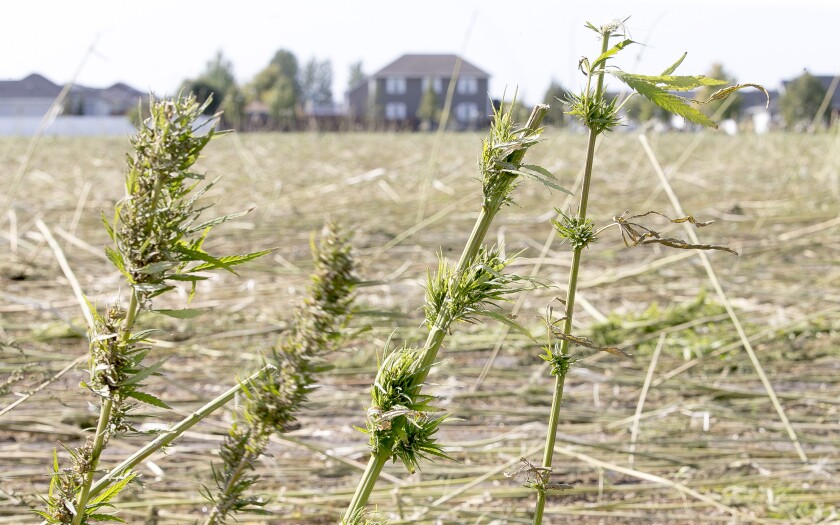 Hemp can be harvested for cannabidiol – "CBD" – oil, a chemical in cannabis plants that is advertised to help users sleep and relieve anxiety and pain without the high produced by tetrahydrocannabinol, or "THC." Federal law stipulates that no more than 0.3% of the plant's total dry weight can be THC, which is the only cannabinoid of the 140 or so found in a cannabis plant that can get someone high.
It was a widely grown crop in the United States, but federal anti-drug legislation enacted in 1937 taxed hemp so heavily that it became administratively and economically unfeasible to farm, and the 1970 Controlled Substances Act made it illegal entirely. The government subsidized its production during World War II.
A 2014 farm bill, though, allowed states to set up pilot programs under which hemp production is legal. North Dakota lawmakers had already legalized hemp production at the state level in 1997, and Minnesota legislators did likewise in 2015. Administrators at North Dakota's department of agriculture announced their pilot program in 2015, and five state-approved growers – two in LaMoure County and one each in Grant, Benson, and Foster counties – planted a total of 70 acres in the spring of 2016.
Minnesota's program got off the ground in 2016 and the first legal crops in the state were planted that same year. Minnesota farmers saw hemp as a "new" crop that they could add to their rotations, Margaret Wiatrowski, who coordinates Minnesota's industrial hemp program, told the Herald. She noted that hemp production has been legal in Canada since the late 1990s.
"Farmers in North Dakota and Minnesota, in the northern parts, were like, 'hey, there are farmers growing hemp and they're making money just across the border,' " Wiatrowski said. "Why can't we do that?"
In North Dakota, hemp growers are required to notify state regulators at least 15 days before they harvest their crop. State workers then test the hemp's THC levels, and if samples show greater than the federal 0.3% threshold, the crop must be sent to a landfill or buried – it's generally too wet to burn. If the crops don't have too much THC, growers have 30 days to harvest. Minnesota's process is essentially the same.
The plant has myriad uses. The stalk can be used for paper, clothing and even construction materials such as "hempcrete." The seed can be used for hemp oil – not to be confused with CBD oil – that can be a health supplement, among dozens of other uses. And the flowers and leaves can be used for CBD oil and pharmaceuticals.
In the same way that some soybean crops are grown for tofu or soy milk and others are grown for oil or soy meal, different varieties of hemp lend themselves to different purposes. Hemp intended for construction materials is generally taller and lankier than hemp intended for CBD production, as well, and most licensed hemp growers in North Dakota tend to pick one or the other, according to a 2019 report put together by the North Dakota Department of Agriculture. Industrial varieties are a mix of male and female plants, which means a lot of pollen would be in the air. Plants intended to produce CBD are exclusively female, Wiatrowski said, and they stop producing that cannabinoid if they're pollinated.
Some of the hemp Adams grew in Grand Forks this year is set to end up in CBD products, but the majority will be turned into commercial products and building materials, he said. From his farm, it will head to a processor who will press it for hemp – not CBD – oil, which could end up in supplements, cosmetics and soaps. His harvest on the Minnesota side is set to be used exclusively for food and building materials.
Still, a large portion of the hemp in North Dakota and Minnesota is used to produce CBD, according to Wiatrowski and Doug Goehring, North Dakota's agriculture commissioner. The price of CBD oil enticed a wave of farmers to try their hand at it in 2019, Wiatrowski said, but that caused the price to crash.
"It doesn't look as attractive anymore," Wiatrowski said.
Goehring said the market for hemp has pulled back, in part because of a lack of federal CBD standards, which means consumers are being presented with CBD products that have drastically different levels of CBD in them.
"It's like putting a Volkswagon and an Audi next to each other and putting the same price on them. But are they really the same value?" Goehring said. "If you have no standards in the market, some people that have done a good job are just frustrated and they've quit or they're pulling back and waiting until something is established for standards."
But the industrial side of hemp production, Wiatrowski said, is underdeveloped because there aren't a lot of industrial processors yet.
"But there's huge potential there," she said. "I think that's only just the beginning, at this point."