Scheibes are giants in the small world of ag toys
Cathy Scheibe, at 82, of LaMoure, North Dakota, continues with Toy Farmer Magazine, more than 22 years after her husband and co-founder, Claire, died. She talks about how the company is changing and preparing for transitions, about how markets for toy tractors and construction equipment have been unusually strong due to the pandemic and supply chain issues for new toy commemorative projects.
LaMOURE, North Dakota — Not everybody in their neighborhood may know it, but the Scheibe family are royalty in the magical world of farm toys.
In 1978, Cathy Scheibe and her late husband, Claire D. Scheibe, launched "The Toy Farmer," a monthly newsletter for farm toy collectors and dealers, from their southeast North Dakota farm. They co-created a nationally important farm toy show that draws thousands annually to Dyersville, Iowa — home of the world famous Ertl Company, which manufactures farm toys. In 1990, they bought a construction toy magazine, and renamed it Toy Trucker and Contractor, also with an annual show.
Since Claire's untimely death in 2000, Cathy has continued to operate the business that still resides in a group of modified farm buildings — distribution and publication offices sandwiched between what started as a machine shed and antique shop.
Forty-five years later, Cathy, 82, is both an optimist and a realist, saying, "I'm not looking to leave anytime soon, but life has a way for making that decision for you."
Wendi Larson, product manager and subscription manager for the company, who works from her family's farm at nearby Fullerton, North Dakota, said the Scheibe family has had a huge impact in the industry.
"They were brave, brave enough to start this magazine. A little newsletter turned into something pretty cool," Larson said.
And the toy selling is about nostalgia, more than toys.
"We sell emotions," Larson said. "Somebody will look a toy and say, 'Aww, I've got to have that one. My dad used to have that one.' Every toy has a different heartstring for every individual person."
Claire was one of a kind, but from a typical farm. He grew up an only child on his parents' small grain and cow-calf operation. He was a grandson of immigrants who came from Luxembourg in 1913.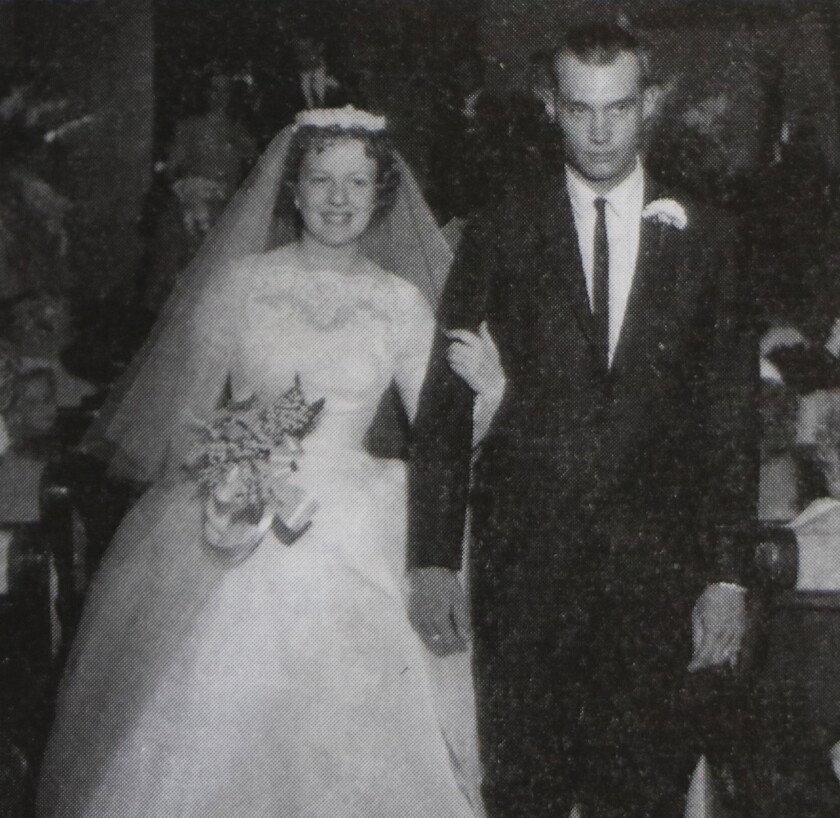 After high school graduation in 1958, Claire started at the University of North Dakota in Grand Forks. In 1959, he met Cathy Jents, of Moorhead, Minnesota, a student at North Dakota State University. (Cathy is a great-granddaughter of Randolph Probstfield, who in 1883 became the first permanent European settler-farmer and politician in Clay County, Minnesota.)
Claire and Cathy married on June 5, 1960. The young couple went farming with his parents and lived in a small trailer on the farmstead. They raised four children — Ann (1961), Michael (1963), Amy (1964) and Matthew (1971).
In the late 1960s the Scheibes started S&S Antiques and built a shop on the farmstead. They traveled to shows and auctions, and Claire developed an interest in farm toys. For extra income, Claire did custom combining, was on the school board and taught in the Veteran's Farm Training Program, an adult vocational agriculture program aimed at returning Vietnam veterans. Cathy was busy, too, raising kids, teaching school, lecturing for Weight Watchers and selling Tupperware.
In 1976, Claire took his vo-ag enrollees on a trip to Minnesota Farmfest. The group stopped at a display by Ertl, the famed farm toy maker from Dyersville, Iowa, that had just changed hands. Not long afterward, Claire and a buddy bought a container of 100 New Holland farm toys that were deemed obsolete, though still new in the box. Claire became something of an authority on farm toys. Tired of answering phone calls, he started publishing a four-page newsletter, initially with 17 subscribers, a precurser to the magazine.
Farm toys were largely a post-WWII phenomenon. The family-owned Ertl Company was founded in Dubuque, Iowa, in 1945 and moved to Dyersville in 1959. A Japanese company, "Tomy," has owned it since 2011. Ertl developed die-cast, metal alloy scale model toys that were like the real ones. Dealers used them as giveaways to people who purchased the full-sized machines.
"It was brand loyalty, given to the kids," Cathy explained.
Eventually, dealerships sold them. The farm toys for kids eventually became collectible for adults. With his connections to Ertl, Claire learned which new toys were coming out and when, and which were being discontinued.
Also in 1978, Claire and an executive from Ertl co-developed a "National Farm Toy Show" — the first show of its type, dedicated only to farm toys. They started show in Catholic church hall, and later in additional buildings.
Cathy called on her high school publication experience to start the magazine. Daughter Ann drew a signature cartoon mascot — "Zeke," and later his wife, "Mildred," and their bulldog, "Oly" — for the publication.
From the get-go, the Scheibes generated buzz for the show by commissioning a commemorative tractor for each show. Every May the commemorative toy would appear on the cover, available to order for the November show.
The first "show tractor" was a 1/16th scale, International Harvester 560 tractor. Eventually, they settled on offering both a 1/16-scale and a 1/64 scale for each show tractor. The larger tractors were stamped on the bottom with the date of the show.
Beyond the show toys, Toy Farmer Ltd. had other toys made for sale. Notably, in 1979, Steiger Tractor Co. of Fargo allowed Toy Farmer exclusive rights to build the Series III Cougar and Panther models. Unable to get a bank loan for the project, the Scheibes raised funds by selling 89 lifetime membership/subscriptions to the magazine. They produced 50,000 units.
As the 1980s farm economy faltered, the Scheibes and their toys took off.
In 1981 and 1982, they even ran a "Toy Factory," on the farm. They employed up to 22 people and assembled 1/64-scale anhydrous tank trailers, a dry fertilizer spreader, machine trailer, manure spreader and liquid spreader — all made of ABS plastic. They dropped that after two years and refocused on publishing.
In 1983, they incorporated "The Toy Farmer Ltd." in North Dakota. In 1987, they incorporated in Iowa, because of the show. In January 1986, the magazine came in its current, full-color format. Subscription numbers rose to 10,000. Also in 1983, the Scheibes launched a North Dakota Farm Toy Show at LaMoure, which continues and still raises funds for local causes.
In 1987, the Scheibe's helped Ertl unveil its new National Farm Toy Museum in Dyersville. In 1990, the Scheibes bought and started publishing Toy Trucker and Contractor, a publication bought from predecessors who had published 1983. (That publication also comes with an annual show in August in Indianapolis.)
In 1991, Cathy started The Toy Farmer Country Store Ltd., across the street in Dyersville, decorated with a "Zeke and Mildred" cartoon motif. The same year, the Scheibes sold 21,000 units of the 1/16 scale International Super M-TA, tractors, in addition to 10,000 1/43-scale tractor — an all-time record-high.
In 1992, Claire and Cathy — along with Fred and Gertrude Ertl — became the first inductees in a brand new National Farm Toy Hall of Fame. And in 1995, Claire and Cathy created their own "Toy Farmer Museum," in a historic barn on their farmstead. Hundreds of people visited, and life was good.
Then — unexpectedly — Claire Scheibe died of a heart attack on July 23, 2000.
He was 59.
Without her co-founder and confidante, Cathy plowed ahead. They eventually closed the Dyersville store. Their on-farm museum closed in 2018.
But the magazine lived on and today has 7,000 subscribers in North America and the world. Topics adapt to the times and interests of collectors — dioramas and making parts with 3-D printers. Cathy and her son, Matt, write a column, under the name "Plowshares."
Cathy thinks about whether to move the whole operation off the farm into a building she owns in in LaMoure, to make it easier for truckers and employees.
But she's still full of energy, and she gets that from employees and collectors. Her favorite part of it all is making the toys. Every year, the family must decide on what model to make.
"I wish I had a little more time to do what I really love doing, is finding the 'real models,' to make into toy tractors," Cathy said.
Once located, an Ertl employee must go out and physically measure it, before arranging manufacturing in Asia.
Asked what makes a commercially successful toy, Cathy said it isn't all about how many of the original machines were made. It's about a love of a machine's story. A favorite victory in the business came in 2001, when Toy Farmer produced collector replicas of the famous Big Bud 747 (900 hp, tires 8 feet tall). They sold 4,000 of the toys, even though only a single "real" model was ever made.
One of a kind.