Northwood's Cool Stuff Drive Inn seeking new owner
Cool Stuff Drive Inn in Northwood, North Dakota, is currently up for auction, with bids starting at $50,000. The auction includes the property, building, restaurant equipment and name.
NORTHWOOD, N.D. – Cool Stuff Drive Inn may be for sale, but it's certainly not closed. On a recent Wednesday morning, tables at the Northwood restaurant were full with the regular coffee crowd. At lunchtime, approximately 30 senior meals were served in the restaurant and for takeout.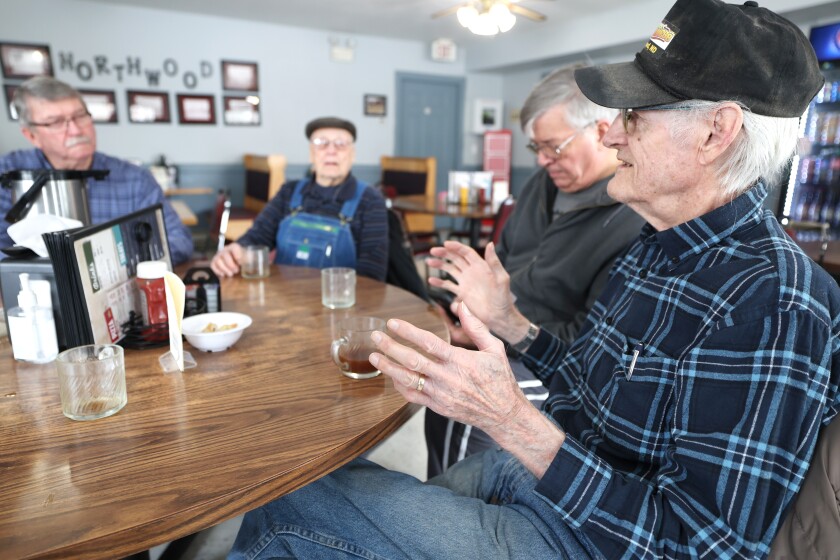 In the kitchen, Melanie Todd operated as a one-woman show, bringing coffee to regulars as they came in. Meanwhile, she also prepared the day's lunch special.
The full-time cook, bookkeeper and daughter of the owner said her family decided to sell the restaurant after a tough winter.
"Hopefully, someone will buy it and keep it going," Todd said. "I don't want to see it close."
Cool Stuff Drive Inn is up for auction, with bids starting at $50,000. The auction includes the property, building, restaurant equipment and name.
"There was a lot of money and effort and time put into this," said the bar owner who was going to host the event. "Literally four days before it was supposed to happen I had to cancel."
Todd says the main reason she hopes to sell is difficulty getting to town in the winter. She drives 20 miles each day, rain or shine, to open the restaurant. When she can't make it, the costs of wasted food and losses from staying closed add up.
Even with a steady crowd on winter mornings, Todd says the early March traffic is dialed back compared to business in the spring and summer. That's why she hopes to find a buyer before then.
Come spring, the restaurant becomes a gathering place.
"Once you start having baseball games, you have to have three (staff) people here. Right now, people are patient with me as I cook their food (and) run it back and forth," she said. "I have two 15-year-old boys who work, but that's it."
The building, located on Main Street in Northwood, has housed a business since 1933. It started as a gas station but became a drive-in restaurant in 1949, when it was acquired by Jay and Evelyn Grotte. Evelyn's Drive Inn was open from 1949 to 1977. After that, the restaurant changed hands multiple times, and a dining room was added in 1994. It was bought by Eugene and Mary Hannestad, Todd's parents, in 1998.
Eugene owned Hot Stuff, a pizzeria in Northwood, when Mary bought the drive-in in 1998, renaming it Cool Stuff Drive Inn. After selling Hot Stuff, Eugene Hannestad became the main cook at Cool Stuff, while Mary cut back to only making soups, desserts and salads.
Todd stepped in as the main cook after Eugene died in 2020. She said her mother wanted to sell the restaurant immediately, but the family ultimately decided to stay open long enough to sell out the restaurant's inventory. Nearly three years later, Cool Stuff is still open.
Cool Stuff's patrons remember Eugene's dedication to the restaurant and its customers.
"He liked to sit around with the guys in the morning, but he would come out and be in here just about every day," said Rod Gabrielson, one of the men who comes for coffee most mornings when the restaurant is open.
The women who meet for coffee remembered his sense of humor.
"He'd sit and drink coffee over there," said Bernadette Braun, beckoning to one of the restaurant's booths. "He always seemed to walk by and have some kind of joke."
At the pizzeria and eventually the drive-in restaurant, Eugene set up a Christmas village every year for the holidays, his collection growing as people in the community gifted him pieces. Today, in the corner of Cool Stuff's dining room, a tiered Christmas village has become a more permanent fixture.
"We didn't put it up the first year, but the second year we put it up in memory of him, and my mom said 'it's going to stay up' because it takes a long time to put it up and down," said Todd.
Eugene's commitment to opening the restaurant every day and creating a welcoming atmosphere for guests leaves big shoes to fill, she said.
"That is probably why it's hard to find someone to help that has that (commitment) – it's more than a job," said Todd.
Other than bars and a gas station, the Cool Stuff Drive Inn is Northwood's only restaurant. Todd has seen nearby towns lose their restaurants, leaving nowhere for young people to hang out. She doesn't want it to happen in Northwood.
"The main thing is the summertime and after school for the kids – they're here all day long, coming back and forth five times," she said. "Pool break at 3 o'clock, line up for ice cream, go back."
Ideally, she would like another family to buy the restaurant and see its legacy continue, either as Cool Stuff Drive Inn or under another name.
"I would love to have another family come in, even if it's just for the summer," Todd said.
Cool Stuff Drive Inn is up for auction on k-bid.com . It will be sold to the highest bidder over $50,000, with the auction closing on March 21.