North Dakota Department of Commerce briefing outlines American Rescue Plan's programs
The American Rescue Plan Act of 2021, the $1.9 trillion economic stimulus program signed into law by President Biden on March 11, will continue the Paycheck Protection Program and create a fund to help restaurants.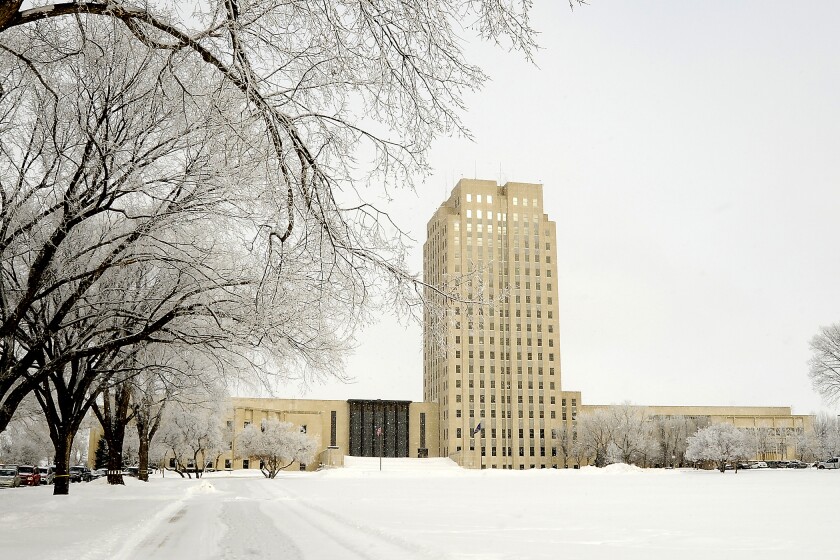 Though some programs are still in development, attendees at a Friday, March 19, North Dakota Department of Commerce business briefing outlined how the American Rescue Plan Act of 2021 will impact businesses and people receiving unemployment benefits.
ARPA, the $1.9 trillion economic stimulus program signed into law by President Biden on March 11, will continue the Paycheck Protection Program, a popular forgivable loan program for small businesses, and has added additional funds to the U.S. Small Business Administration's Economic Injury Disaster Loan Advance program. A Restaurant Revitalization Fund also has been established by the aid package. Some of the programs take a slight turn from previous iterations, by pivoting to focus more on businesses that have few employees and are in economically hard hit, or low income areas.
"2020 was a year of trying to find balance, and our businesses were resilient as they dealt with many of the challenges of the COVID 19 pandemic," North Dakota Lt. Gov. Brent Sanford said at Friday's Department of Commerce briefing. "We are now one of the leading states on vaccinating our citizens, and we're focused on getting our business economy back on track."
The following is an overview of financial assistance programs, including unemployment insurance, either extended or created by ARPA. More information is available at sba.gov/coronavirusrelief , or by contacting Job Service of North Dakota:
PPP loans have been expanded to include all nonprofit 501c(3) organizations that have fewer than 300 employees. Internet publishers are also now eligible to apply. Businesses that have already had a PPP loan can apply for a "Second Draw" loan, provided they already have used funds from the first loan on eligible expenses, including payroll. Second Draw loans also will be available for borrowers, if they can show they will have used all the original funds before the second loan is disbursed. PPP loans originate with a business' local lender, and top out at $2 million.

The SBA's EIDL Advance program has been allocated additional funds to provide small businesses with grants of up to $10,000. An additional $5,000 is available for businesses with 10 or fewer employees, who are located in a qualified low-income area. The businesses must show a 50% drop in revenue due to the pandemic.

According to Al Haut, district director for the SBA in North Dakota, the EIDL Advance should not be confused with a traditional EIDL loan, a staple disaster loan program for small businesses. EIDL loans are just that, loans, and need to be paid back, though payments have been waived through 2021.

The $28.6 billion Restaurant Revitalization Fund is somewhat of an enigmatic program at the moment. Language in ARPA does not clearly identify the program as a grant, though Haut said funds would likely come in that form. The program gives restaurants, food trucks, carts, stands, and the like funds that equal 2019 revenue, minus 2020 revenue, less a PPP loan. If a business earned $1 million in 2019, and $400,000 in 2020, and had a $100,000 PPP loan, they could receive $500,000. The fund will prioritize restaurants owned by women, veterans and socially disadvantaged people. Grants, if that is what they are, top out at $5 million per location, to a maximum of $10 million. Calculations will be available for new restaurants that don't have full 2019 receipts, or started up in 2020. Funds may not be used for expansion or new equipment purchases, but otherwise appear to give owners a wide latitude on how they may be spent. SBA will likely distribute these funds to applicants directly, and the agency is awaiting further guidance for the program.

The application window for the Shuttered Venue Operators Grant, established under previous legislation, but bolstered by ARPA, will open at www.sba.gov/svogrant on April 8. The grant will provide entertainment venues with up to 45% of their gross earned revenue, to a max of $10 million. Applicants for this grant can still apply for a PPP loan, but the award will be decreased by the amount of the loan. Venue operators can not have both an SVOG and Restaurant Revitalization Fund grant.

Pandemic Unemployment Assistance has been extended to Sept. 6, as have other federal benefits to unemployment insurance created due to the pandemic. PUA extends benefits to those not eligible, including self-employed and gig workers, for up to 79 weeks.

Pandemic Emergency Unemployment Compensation, which gives benefits to those who have exhausted state unemployment has also been extended until Sept. 6, or up to 54 weeks of eligibility, as has the Federal Pandemic Unemployment Compensation program, which provides an additional $300 per week in benefits.

Since March 16, the state of North Dakota has paid out $1.09 billion in unemployment, with $404 million of that coming in state benefits. According to Phil Davis, workforce services director for Job Service of North Dakota, there were over 15,000 jobs available in the state, as of February 2021. In Grand Forks County, there were 1,492 openings listed with Job Service, down from the same time last year, when 1,544 jobs were available. Davis said he is not concerned about the decrease in job openings, which have happened in some metro areas in the state, as the decrease is not significant. Cass and Ward counties have added jobs, while Burleigh, Grand Forks, Williams and Stark counties have fewer job openings than the previous year.