Feel the Love program gives new furnace to East Grand Forks resident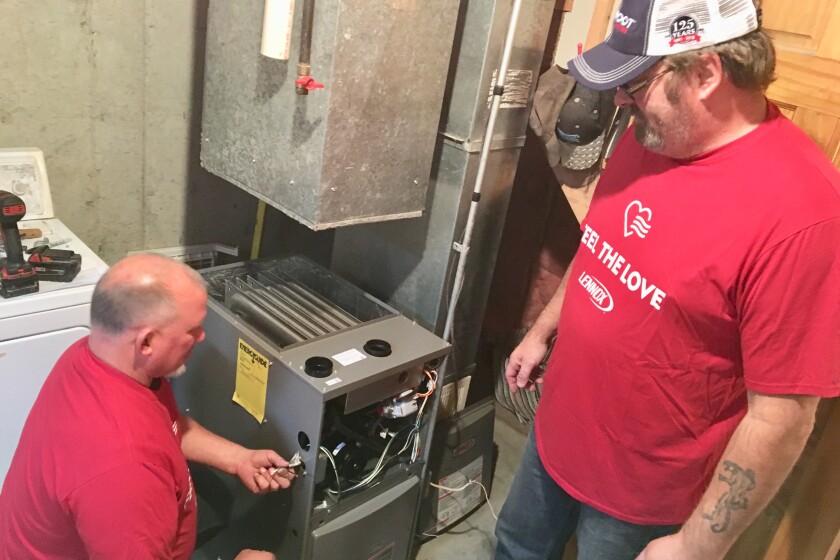 We are part of The Trust Project.
Just in time for winter, an East Grand Forks resident got a lucky break by being selected to receive a new furnace.
Now in its 10th year, the Lennox Feel the Love program, along with C.L. Linfoot, chose Air Force veteran Randy Jenson as the recipient this year.
Jenson said his old furnace, installed after the flood of 1997, has been having problems the past few years.
"I've been having troubles," Jenson said. "It's been nickeling and diming me every now and then, something goes wrong. I've had it since the flood so it's starting to wear itself down."
Jenson was a long-time sheet metal worker who quit working four years ago because of a stage four kidney cancer diagnosis. He has also had tumors, for which he received radiation therapy.
"I've had to cut my work load back, so I quit doing sheet metal," he said. "Now I'm working part-time for Radi's Custom Woodwork. … Whatever my body will let me do."
Chuck Savage, at C.L. Linfoot, said the company is in its fifth year of participating in the furnace giveaway program.
"It's been growing every year," said Savage, about the Feel the Love program. "Last year, Lennox dealers did about 165 of them. This year, it has really taken off."
Lennox donates the furnace, and C.L. Linfoot donates other materials necessary for the installation -- including time.
"The employees actually donate their time, so (installers) Paul Plutowski and Kyle Snobl donate their time," Savage said.
The HVAC and sheet metal company takes out radio ads throughout the year, or takes to social media to get community members to select nominees for the program. The recipients are selected according to various criteria, such as community and military service.
"I feel great; it's a wonderful thing," Jenson said. "I like what they do, they're helping people out and it's a good thing for them. I'm happy I got it."
Jenson said he keeps a positive attitude.
"I'm not a good pity person," he said. "I go out there and try to work as best I can. Try to keep going. That's all you can do (is) push forward."