Epitome Energy project expected to progress smoothly in Grand Forks despite history in Minnesota
A Grand Forks economic developer says local reactions to the soybean crush plant are positive, despite disappointment in Minnesota.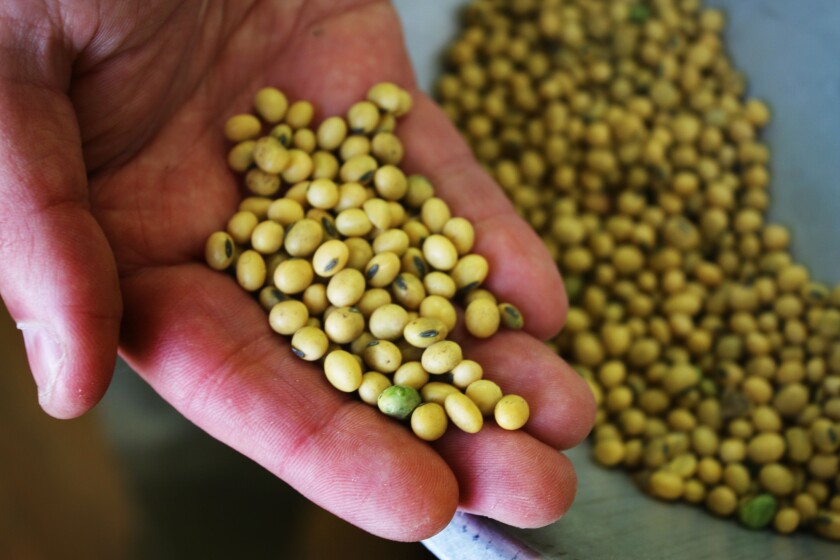 We are part of The Trust Project.
GRAND FORKS — Overall, early reactions to the news that Epitome Energy is coming to Grand Forks have been positive, says a Grand Forks economic developer.
"We've had positive comments about what an opportunity it is for the region and just about all of us," said Keith Lund, president and CEO of the Grand Forks Region Economic Development Corporation. "We've received positive comments from folks in the agriculture community, community organizations and the general public."
Epitome Energy, a Red Wing, Minnesota-based agribusiness company, announced plans to build a soybean crush plant northwest of Grand Forks at the Grand Forks City Council meeting on Monday, Dec. 5. When fully operational, the $400 million plant will create 50 to 60 new permanent jobs and process 42 million bushels of soybeans each year.
A few days out from the announcement, Lund expects development in Grand Forks to progress smoothly, but acknowledges that crafting a development agreement between the company and city will call for some "hard discussions" about some aspects of the project.
"I expect the development process to go smoothly throughout, not that there aren't key considerations locally that have to be reviewed – infrastructure installations and the like – but I imagine it will continue to be positive," said Lund.
Originally, Epitome Energy planned to build the plant in Crookston, Minnesota, less than 30 miles away from Grand Forks. Epitome Energy CEO Dennis Egan said the reason for leaving the state was what he and investors saw as a long, drawn-out permitting process by the Minnesota Pollution Control Agency. Egan said the company was waiting on an air permit for 16 months.
Even though I live in East Grand Forks I support the school in building the new facility and track that will be voted on Feb. 14.
In Minnesota, the announcement sparked a blame game among state lawmakers representing northwest Minnesota, who were quick to say Minnesota Gov. Tim Walz was responsible for the company's decision to leave the state.
"North Dakota Governor (Doug) Burgum once again stepped up to snatch another promising business from Minnesota while the MPCA and the Walz administration push away growth and progress for our communities," said Mark Johnson, R-East Grand Forks on Tuesday.
In a meeting with the Grand Forks Herald editorial board on Thursday, Burgum responded, saying North Dakota's low tax and low regulatory environment draws businesses like Epitome.
"Private capital gets to choose where they want to deploy their capital, and all states are competing right now for capital and talent — we're competing for capital for projects like this and we're competing for workforce," he said.
On Wednesday, the MPCA said its environmental review of Epitome Energy's plans was completed this summer, and an air permit was expected to be issued in February 2023.
"The Minnesota Pollution Control Agency was surprised and extremely disappointed by Epitome Energy's announcement," read a statement issued by MPCA. "Epitome Energy was a priority project and received significant staff attention during the last 15 months to ensure it had completed an environmental review and necessary permits to meet its 2025 schedule."
Egan said he was not aware that the MPCA planned to issue a permit in February 2023.
"That was actually news to us in terms of what that timing was, because it was never specified to us," said Egan. "But it really goes back to the concern that we've had for a number of months, which has been expressed to MPCA staff time and time again, on the conditions that they were putting on that air permit."
Egan said Epitome hopes to have an air permit in North Dakota by August 2023.
"Based on our conversations with the state of North Dakota, that seems to be a realistic opportunity," he said.
Businesses like Epitome Energy go where there is certainty, said Burgum. For Epitome, North Dakota offers certainty in the permitting process.
"We've got the right kind of tax and regulatory environment where we can follow the science and follow the law, but we can get a permit done in a timely fashion," said Burgum. "That's going to attract capital."
Without an air permit in hand in Minnesota, Egan said, it was hard for investors to commit to the project.
"We found it challenging for equity to move forward with any project in Minnesota before an air permit was obtained," said Egan.
When Epitome Energy first came to Crookston, it was a source of controversy, especially surrounding public money to support the plant.
Epitome Energy announced plans to build a soybean crush plant in Crookston in January 2019. Ongoing disagreements between city leaders and allegations of unethical conduct by the Crookston Housing and Economic Development Authority director and board surrounding the plant eventually led to the resignations of Crookston Mayor Guy Martin and City Administrator Shannon Stassen.
In a resignation letter, Martin claimed he had witnessed firsthand Crookston Housing and Economic Development Authority Director Craig Hoiseth, CHEDA board members and some City Council members act unethically. In the letter, he said the $250,000 forgivable, no-interest loan granted to Epitome Energy from the city and Crookston Housing and Economic Development Authority was "just the tip of the iceberg when it comes to this unethical conduct."
Current CHEDA executive director and community development director Karie Kirschbaum said Egan's reasons for leaving Crookston lie with the MPCA, not the city.
"He's been really very respectful to the city of Crookston and trying to make sure it isn't personal, that it is definitely with the MPCA challenges," she told the Herald.
Kirschbaum also confirmed the $250,000 loan had been returned to CHEDA.
Egan credits the business-friendly atmosphere in Grand Forks for drawing Epitome Energy across state lines.
"What intrigued us from the very get-go is the city of Grand Forks wanting to put together a developer's agreement on the front end, just setting expectations in terms of who is going to be responsible for what and what the totality of the project is going to look like," Egan said.
The decision to explore options in Grand Forks came from within Epitome Energy, said Lund. He said Egan reached out to the EDC in June of this year to talk about options in Grand Forks.
"From that time forward, we've been supporting him, providing information that he was inquiring about to see if Grand Forks could be a good option," said Lund.
Conversations are ongoing at a state and local level about the financial benefits of moving the company to North Dakota, said Egan. In Grand Forks, the development agreement will determine what kind of public infrastructure and public investment is needed to support Epitome's plant.