EPA pushed for tighter, more enforceable PolyMet water permit for copper-nickel mine
Newly leaked memo from EPA staffer shares concerns that MPCA's pollution standards for PolyMet would be difficult to enforce.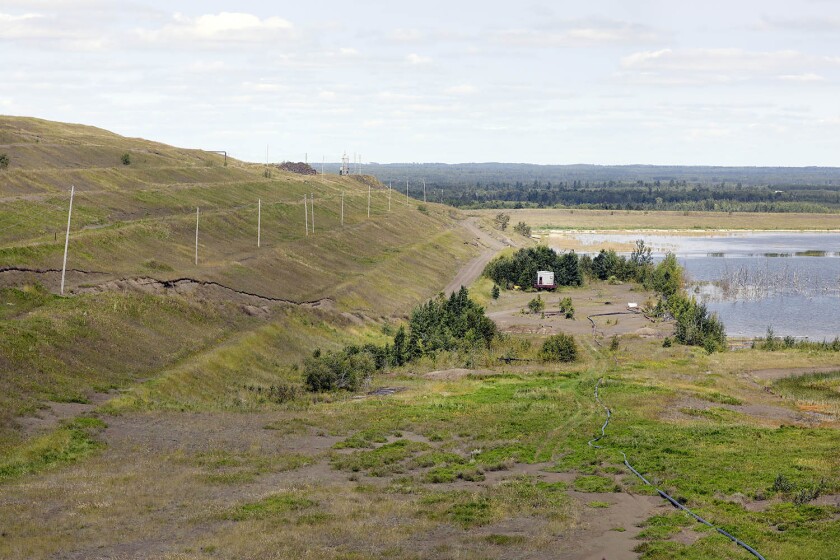 A newly released Environmental Protection Agency memo shows the federal agency continued to urge the Minnesota Pollution Control Agency to set stiffer standards on its water permit later given to PolyMet, the company looking to build the first copper-nickel mine in Minnesota, up until two days before the water permit was issued to the company.
The memo, first given to the Minneapolis Star Tribune by the American Federation of Government Employees Local 704 , which represents EPA employees in the midwest, was written by Kevin Pierard, chief of the NPDES Programs Branch and dated Dec. 18, 2018. The MPCA issued its water and air permits to PolyMet on Dec. 20.
Pierard outlines concerns and comments made by EPA staffers reviewing a draft of PolyMet's national pollutant discharge elimination system, or NPDES, permit, which regulates water discharged from industrial activities.
In the memo, Pierard explains the EPA urged the MPCA to require water quality based effluent limits, or WQBELs, in its permit to PolyMet, instead of operating limits, which the federal agency said are less enforceable.
Opponents of PolyMet argue the project could send tainted runoff into the St. Louis River watershed and Lake Superior.
WQBELs set standards on pollutants discharged into the environment, are enforceable under the Clean Water Act and apply at the discharge point where dilution may occur.
But instead of requiring PolyMet to follow those standards, the MPCA plans to regulate contaminants such as arsenic, cobalt, lead, nickel and mercury with operating limits, which the state agency said is "more conservative and protective" than WQBELs because operating limits are measured prior to discharge and don't require dilution, MPCA spokesperson Darin Broton said in an email Wednesday.
But the EPA memo maintains operating limits are more difficult to enforce.
"Unlike WQBELs and (technology-based effluent limitations), internal 'operating' limits may lack a clear regulatory connection to controlling surface water discharges," Pierard wrote, acknowledging that EPA lawyers determined PolyMet's operating limits set by the MPCA are still "arguably federally enforceable."
But, he added, "We note that federal enforceability of these operating limits is less certain and more complex than if these limits were established as WQBELs."
Broton said the MPCA did not find "reasonable potential" for discharge to exceed water quality standards in the receiving water, which would have required a WQBELs.
"PolyMet's proposed reverse osmosis treatment is extremely effective in removing pollutants," Broton said. "Using this data, staff did not find that the discharge had reasonable potential to result in an exceedance in the water quality standards and therefore needed WQBEL."
Paula Maccabee, counsel and advocacy director of WaterLegacy, an environmental group opposed to PolyMet, has long argued WQBELs for PolyMet are required by law.
"With operating limits, it's uncertain whether it can be enforced at all," Maccabee said Wednesday. "It's uncertain what kind of action could be required, even if there's a violation. So in every possible way, it's a second best or maybe third best alternative. Water quality based limitations are what the law requires and should require."
The EPA memo echoes concerns made by the EPA in an April 2018 document released last month on an earlier draft and a leaked email that critics of the project say shows the MPCA tried to suppress those comments from reaching the public record.
The handling of those comments is being investigated both by the EPA's Office of Inspector General and Minnesota Office of the Legislative Auditor . Similarly, the Minnesota Court of Appeal's cited the permitting processes "procedural irregularities" and sent the case to a district court for a hearing.
Through a rights offering last month, Swiss mining giant Glencore now owns almost 72% of PolyMet shares . PolyMet must still raise almost $1 billion to finance the project.