Army veteran, Grand Forks native builds satisfying custom home-construction business after military service
The following story was published in the Grand Forks Herald's Military Appreciation section.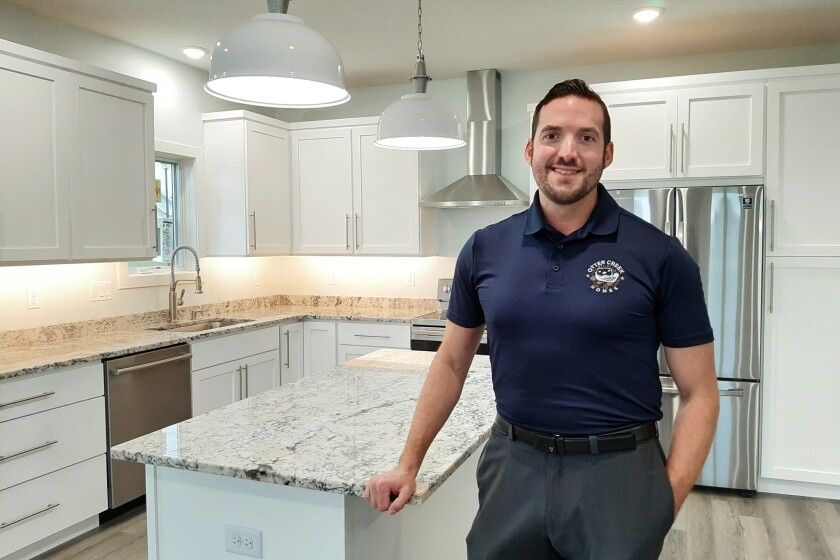 Growing up in Grand Forks, Josh Temple always loved cars and that hobby eventually evolved into an interest in houses.
"I sort of noticed I was driving around town and looking at houses, and I started to love that even more," he said. "And then HGTV and all that stuff" further nudged him toward the home building industry.
Temple, born and raised in Grand Forks, is a 2002 graduate of Red River High School. Joining the military at age 17, he took basic training at Fort Benning in Georgia. During his service, he was stationed in Iraq in 2004 and 2005.
In 2008, after completing military service in the U.S. Army, he returned home to earn an undergraduate degree in sociology and criminal justice at UND in 2012 and then worked as a banker and e-commerce director in Fargo for four years. Returning to Grand Forks, he earned his master of business administration degree in 2018 from the University of Mary program offered at Grand Forks Air Force Base.
While still in college, Temple bought and flipped his first couple of homes, he said. On his very first flip, he earned $28,000 profit, which led "me to think, this is something I could really look into."
In the local marketplace, "I saw a gap for really high quality homes," he said. He also noticed that "there are a lot of large homes that aren't built really well."
He plunged into the study of home design and the science behind the products used in building houses, he said, noting that he discovered he did have a keen eye for design.
"It turned out I was able to do it and put things together that looked good," he said. "If you're a builder who doesn't know design, (the prospective buyer is) going to be able to tell right away."
It took several years for him to save enough money to start his own business, he said. "Banks just don't want to take the risk" on a start-up home-building business.
Six years ago at age 32, Temple started Otter Creek Homes, a custom home-building business, he said. "My business model was: high quality but a fair size."
Temple works in partnership with Jordan Hansen of Craft Masters Construction. Since 2016, they have built 18 homes, with a five-member crew and various subcontractors. Most homes range in size from 1,800 to 2,500 square feet.
Otter Creek Homes is among the roughly 2.52 million veteran majority-owned businesses in the United States, according to the latest U.S. Census Bureau's survey of small business owners.
A couple of years ago, Temple started another business, Otter Creek Development, through which he buys farmland and transforms it into residential areas. The work involves putting in "the road, the power, water, septic, the fill," he said, and "everything we need for these country homes."
Temple and his partner, Craft Masters Construction, are adamant about using products with proven performance attributes, even though they are more expensive than commonly used materials.
Otter Creek Homes is the only "build science builder" in Grand Forks, Temple said. The term is a "self-designation" that denotes a certain level of education on product science and the use of superior materials in terms of performance and functional lifespan.
His adherence to the use of high-quality products in home-building is an example of the values his father, Jon Temple, taught him as a boy.
"Dad was an artist; he was a painter, a sculptor," Temple said. "He believed that something should be done the right way or don't do it at all."
It's also a reflection of his commitment to integrity, a principle that's drummed into veterans during military service, he said. "Especially in the Army, everything is about integrity – or get the hell out."
Employers, he has found, appreciate commitment to those kinds of high standards and other attributes honed by military experience.
Many of his former military comrades are doing well after leaving the service, Temple said.
"(Veterans) are motivated and they're used to a schedule," he said. "They have that 'veteran status,' which means at some level, people trust them, and employers respect that and look up to that."
1
/
2:
Josh Temple, a U.S. Army veteran and owner of Otter Creek Homes, points out the state-of-the-art features of the dishwasher in one of his recently completed homes in south Grand Forks. (Photo by Pamela Knudson / Grand Forks Herald)
2
/
2:
Josh Temple, a U.S. Army veteran and owner of Otter Creek Homes, a custom home-building business, explains some of the innovations of the Bosch dishwasher in one of his recently completed homes in south Grand Forks. (Photo by Pamela Knudson / Grand Forks Herald)