American Crystal Sugar Co.'s signature product makes its way into well-known brands
According to Tom Astrup, president and CEO of American Crystal Sugar Co., 90% of the company's sugar is sold into the industrial market, meaning it is used as an ingredient in other products. The remainder goes into those ubiquitous four-pound bags, seen on shelves at supermarkets across the region, and at big box retailers like Target and Walmart
Buying a nationally marketed sports drink, among other easily-recognizable products, winds up supporting a Red River Valley company that happens to be one of the nation's largest sugar producers.
Gatorade, owned by PepsiCo, is among American Crystal Sugar Co.'s top consumers of its signature product. Tom Astrup, president and CEO of the Moorhead-based beet sugar company, highlighted the drink in a late February keynote address at the Grand Forks/East Grand Forks Chamber's annual meeting , because of its uniqueness in the beverage industry: the product uses real sugar, as opposed to high-fructose corn syrup.
According to Astrup, 90% of the company's sugar is sold into the industrial market, meaning it is used as an ingredient in other products. The remainder goes into those ubiquitous four-pound bags, seen on shelves at supermarkets across the region, and at big box retailers like Target and Walmart.
"As you think about big sugar-using categories, you think about sports drinks, juices, cereals, chocolate and confections," Astrup told the Herald. "These categories make up our big users and we sell them significant quantities of sugar."
And those brands are instantly recognizable. In addition to Gatorade, PepsiCo buys sugar for ready-to-eat packets of Quaker Oats and other products. Hershey purchases sugar for Reese's Peanut Butter Cups and Hershey bars, and Nestlé for Nestlé Quick and Coffeemate creamers. St. Paul, Minn.-based Pearson Candy uses the sugar in Salted Nut Rolls and Nut Goodies. The list goes on to the point where it would probably be easier to find a food company that doesn't buy from American Crystal Sugar.
"If you think of a major food brand, there is a pretty good chance we sell some sugar to them," Astrup said.
However, finding the top consumer of American Crystal Sugar's beet sugar isn't easy. The company doesn't release data about the volume of sugar it sells to each brand, but the company produces about 3.4 billion pounds of sugar each year, or roughly 14 million pounds of sugar each day the company operates. At the Chamber's annual meeting earlier this year, Astrup plugged Gatorade as a way to support local industry.
"If you want to support the local company and you're purchasing energy drinks, Gatorade is the one to buy," he said.
American Crystal has five factories in the Red River Valley, in Moorhead, Hillsboro, Crookston, East Grand Forks and Drayton.
The farmer-owned cooperative raises sugar beets on 440,000 acres, most of which are in the Red River Valley, with another 30,000 acres in Montana. The company partners with Wahpeton-based beet sugar company Minn-Dak Farmers Cooperative, Wyoming Sugar Company, also a beet sugar producer, and the cane sugar company United States Sugar.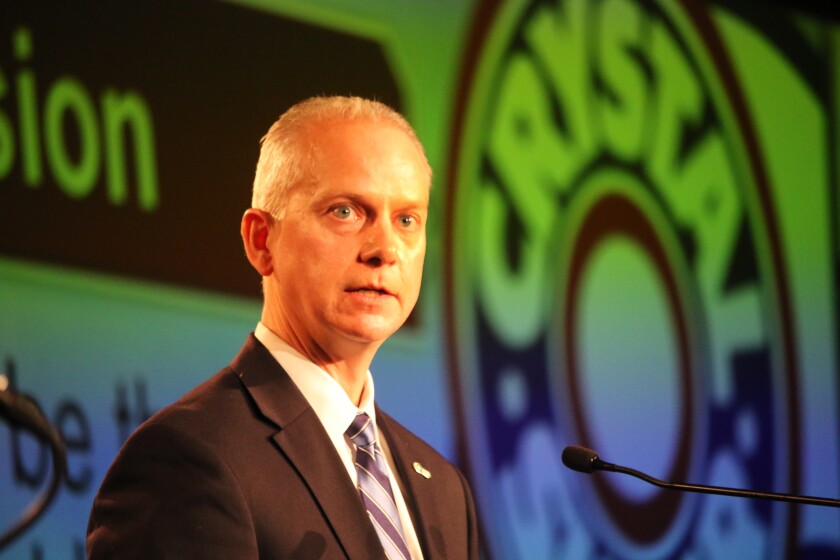 Together, the companies market their product under the name United Sugar. Depending on the year, the group is either the largest or second largest sugar-seller in the country, making about 20% of all the sugar produced in the United States.
This year, lack of moisture is a concern as some farmers prepare for spring planting. Much of the Red River Valley, the Grand Forks area included, is in moderate drought stage, according to the U.S. Drought Monitor map. A protracted drought this year would be the third year in a row that saw weather impact the sugar beet harvest. 2020, while a decent harvest year, didn't see enough rain to allow sugar beets to put on weight, but it was a dramatic improvement over the disaster of 2019, when heavy rain and then snow resulted in farmers having to leave about one-third of the crop unharvested.
"Those of us who work in agriculture tend to be optimistic about the weather, yet at the same time recognize the risks and manage the risks as best we can," Astrup told the Herald. "What choice is there?"
One of the biggest challenges for the company is the demand for sugar. Astrop said the U.S. Department of Agriculture is forecasting the total demand for sugar in the United States to decline by 1.6% this year, as individuals and food companies are both looking to reduce sugar consumption. But Astrup said blaming health problems like obesity on sugar consumption is an oversimplification. People today, he told the attendees at the Chamber meeting, consume 20% more calories than they did in the 1970s. Astrup said he would work to promote sugar as part of a healthy diet, one that needs to be more well-managed.
"We need moderation in everything we eat and drink, to maintain a healthy lifestyle," he said.